Sudhanshu Pandey is a man of many facets -- he sings (Band of Boys ex-member) and acts in television shows as well as in a number of Hindi films. His latest film Singh is Kinng is setting cash registers ringing at the box office.
"I play the role of a member of the mafia gang of sardars and am sporting a very stylish and real beard for this character! My look has changed completely here," Pandey says of his latest hit.
"I relived my Band of Boys days here with a different set of boys! Akshay Kumar, Vipul Shah, Sonu Sood and I made a fantastic group. Ww had a rollicking time while shooting for the film in Australia and Egypt. We never realised that we were away from home for two months."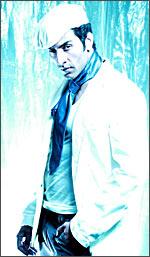 But the suave actor (or singer) continues to be the humble person he is.
Pandey is no newbie in Bollywood having done films like Khiladi 420, Dus Kahaniyan and Unns, apart from television serials like Kanyadaan, Yeh Meri Life Hai and Akela.
"I have even acted in a Hollywood film titled The Myth with Jackie Chan," says Pandey. "Surprisingly, though I have done more films than television shows, people associate me with television more than films!"
Though he is moving ahead in his acting career, Sudhanshu Pandey seems to have hit a roadblock with his career in music. He was an integral part of the Band of Boys for more than three years after which he suddenly snapped off all ties. Did something go wrong between him and the other group members?
"Nothing went wrong. I had given three years of my life to the band and had a real good time. I learned how to perform on stage, interact with the audience and get rid of stage fear. But beyond a point I realised that my acting career was suffering because of my involvement with the band, and I was not ready for that. Thus I decided to part ways -- it was a completely amicable split," explains Pandey.
Though he says so, Sudhanshu Pandey cannot stay away from music for long. "Music is part of my life. Acting is my passion, but I derive my creative satisfaction from music. I sang a song in Dus Kahaniyan and am also singing three numbers in Alibaug. Bappa Lahiri, son of Bappi Lahiri is the music director for the film," informs Pandey.
Apart from Singh is Kinng, the actor-turned-singer-turned-actor is also working on two other films under the banner of White Feather Films.
"I have a three-film contract with them. Apart from Dus Kahaniyan and Alibaug, I am also working on an unnamed action thriller. It is currently in production stage," says Pandey.