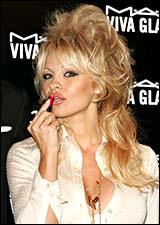 Baywatch
star Pamela Anderson has signed a contract to become the face of MAC makeup, and will be leading a Viva Glam V lipstick campaign which raises funds for people with HIV/AIDS.
'Viva Glam V is a great campaign to be involved with. I feel privileged and empowered to help raise funds and awareness about the importance of getting tested. After
being diagnosed with Hepatitis C, I knew the importance of knowing your status. Only then can you make informed and wise decisions for your health and life,' Fox News quoted the buxom beauty as saying.
Celebrity spokespersons for the Viva Glam V awareness campaign in the past include Christina Aguilera, Boy George and Missy Elliott.
Photograph: Getty Images