The third silent film in Kannada that is getting ready for release is Mirror. Ajay Kumar alias Pakru from Kerala plays the lead role.
Pakru is no ordinary actor; he holds the Guinness Book of World Records for being the shortest actor in the world who has acted in the maximum number of films. He is just 76 cm tall.
He is such a celebrity in Kerala that he is in a position to even reject film offers if the role is not appealing enough for him.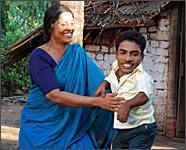 Mirror is directed by Manjunatha Babu, a former journalist. Ajay Kumar said at the press conference in Bangalore, "We don't need any sympathy, we don't need any benefits or reservation. What we need is a social acceptance and fair treatment. Don't put us down just because we are born like this."
Pakru has also travelled all around the world. "I have gone to the US, the UK and the Middle East. I want to entertain people. I want to make people laugh," he declared.
About his first silent film, he said, "The story of Mirror is a reflection of our own life. There are many things in the film which relate to the real life incidents that we encounter. Mother-son sentiment is the key element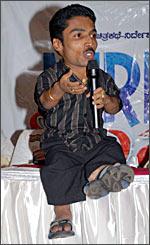 of the film. I have a powerful role that will make people both laugh and cry."
Director Manjunath Babu says that the film deals with the relationship of a mother and her midget son. Pakru has delivered a powerful performance in the film.
Pakru made his debut in Malayalam films fourteen years ago. His first role was that of Gundappa Guru. From then on, he has been acting in films and television serials and his achievements have been too many. He has bagged two Best actor awards from Kerala for Arbhutha Dweepu and from Tamil Nadu for Dishshum.
Pakru holds a Masters degree in Economics and is happily married to Gayathri who is five feet tall.
Pakru is also an active member of the small people's association that has 360 members. "I always encourage my other friends to be self-reliant. I always tell them not to lose their sense of humour."