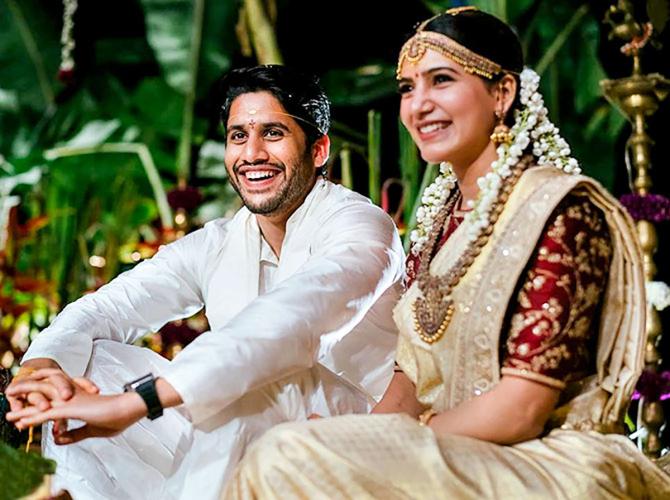 On October 2, Samantha Ruth Prabhu announced her separation from husband Naga Chaitanya with a post that read: 'With much deliberation and thought, Chay and I have decided to part ways as husband and wife to pursue our own paths. We are fortunate to have a friendship of over a decade that was the very core of our relationship which we believe will always hold a special bond between us.'
Her father-in-law Nagarjuna also posted about the separation, tweeting, 'With a heavy heart let me say this! Whatever happened between Sam and Chay is very unfortunate. What happens between a husband and wife is very personal. Sam and Chay both are dear to me, my family will always cherish the moments spent with Sam and she will always be dear to us.'
A superstar's wife in Hyderabad tells Subhash K Jha that no one from the Telugu film industry wants to comment on the separation publicly, but they are talking about it among themselves.
Someone close to the Akkineni family told Subhash there will be no reaction to the separation.
"Let them say what they like. Only Chay and Sam know the truth. Not even their parents are aware of what happened. We are not saying anything, no matter what the provocation," says the source.
As a father, Nagarjuna is very troubled by what Naga Chaitanya is going through. He wants to be a support to Chay but doesn't know how.
Chay has always been an introvert and now, has withdrawn even deeper into his shell.
Incidentally, there is no formal divorce on the cards.
Well-wishers of the couple, including their parents, hope for a reconciliation even if it may not happen.
"Sam has moved on. The decision to part ways was taken some months ago. It is being said that she took a call to go her separate way after the success of her Web series, The Family Man, but that's just framing the split in a conveniently fallacious timeline," a filmmaker friend of the actress says.
"Sam is no stranger to success. She was already a star when she started dating Chay."
On the eve of her wedding four years ago, Samantha had said, 'We (Naga Chaitanya and her) became close from the time we did our first film together in 2010, though at that time, I didn't know I was going to marry him.'
'He has been with me when I left for the US with just 30 dollars in my purse. He has been a very important part of my journey as a human being and an actress. Now when I am all set to marry him, there is no uncertainty about my future.'