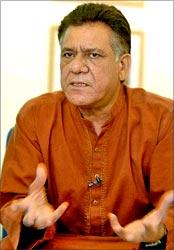 Om Puri is hurt and angry. Reports allegedly originating from a news channel on Friday suggested that the actor was drunk while delivering his impassioned speech at the Ramlila Maidan in New Delhi in support of Anna Hazare.

Even though he apologised for his choice of words, the actor claimed he was not drunk when he delivered his speech.

"You tell me, how can a drunk man speak impromptu on corruption and politics for a good 20 minutes? Did I slur over my words? Am I so insensitive and stupid that I'd actually fly down to Delhi all the way to be part of a movement that has moved millions in an inebriated state at 4 in the afternoon?" he said.

Incensed and humiliated, Om now intends to take legal action against the news channel that initiated the drunken theory.

"In my 35 years in this profession, I've never felt so humiliated except when my wife (Nandita Puri) wrote that book about me. I don't deny that I enjoy my drinks. But not in the afternoon! And that too when I'm at a venue where history is being created! I'd like the channel to explain how it came to know about my so-called drunken state? Did it smell the liquor on my breath? I was in conversation with Kiran Bedi, Prashant Bhushan and Manish Sisodia for a long time. Please ask them if they smelt alcohol on my breath," he continued.
Explaining his wobbly gait that probably started the speculation, Puri said, "I had neck surgery in 2003 which affected my knees. I can't walk properly. I can't do scenes where I have to run. The wooden steps at the Ramlila ground were eight-nine feet high. I had to wobble my way up. If the news channel captured my wobbly walk and decided to read it as a drunken gait, then I'm sorry. I cannot accept this slander. Sadly, Anupam Kher tells me people on twitter have picked up this garbage about me. That so many others have congratulated me in one voice for my speech in support of Anna Hazare has been buried in this tragic travesty of television reportage."
Om says he was asked to react to drunken charges two days ago. "I told all the media to hang on until Hazare Saab's will was done. I didn't want to take away from this glorious moment in Indian history when this one frail old man with the Gandhian smile stripped 120 crore Indians naked and told us we don't have to wait till election time to set the politicians' house in order. Now when he has triumphed, I am ready to take on the slur on my character. Prove I was drunk. Or face the consequences," he said.