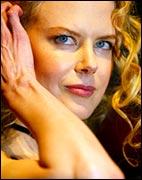 In a candid interview with David Gritten of London's The Daily Telegraph, Nicole Kidman spoke freely of upcoming projects, costar Lauren Bacall, directors on her wish-list, and her new, controversial film, Birth.
The article opens with Bacall's frank quote: 'It's an odd thing about Nicole Kidman: she is widely regarded as the English-speaking world's hottest film star and leading actress, yet without her celebrity, she could have tackled the same roles in her recent career and been a global art-house icon instead.'
This sets the tone for the rest of the piece, and seems to strike a realistic chord. Hollywood, obviously, bestowing her with Academy Award nominations and statuettes with unfailing regularity ever since her massively trumpeted split with then-more celebrated husband Tom Cruise, has found in her a new poster-girl, a beautiful icon. Yet even as she wallows in mainstream millions, she finds herself a toast of the intellectual set.
'Consider the directors for whom she has worked in these past five years. They include a true visionary (Stanley Kubrick, Eyes Wide Shut); high-budget auteurs (Baz Luhrmann, Moulin Rouge; Anthony Minghella, Cold Mountain); European originals (Alejandro Amenábar, The Others; Lars von Trier, Dogville); and talented British newcomers (Jonathan Glazer, Birth; Stephen Daldry, The Hours). She works almost continuously. It's a formidable list, and Kidman isn't letting up,' the newspaper writes.
Talking of things to come, Nicole non-specifically mentions plans to work with von Trier again. She expresses great desire to work with Spike Jonze (Being John Malkovich), just so she 'could say the words of a Charlie Kaufman script.'
More concrete among her future plans is the groundbreaking announcement of doing a film with Hong Kong master Wong Kar-Wai. Gritten attempts to delve deeper into the subject, and Nicole is elusive: 'Who knows? I may never come back from Shanghai, which is where we'll shoot it. Gong Li's in it. There's no title, and no script yet. There is a subject, but I'm not saying what. We've met and talked. He has a strong sense of where he wants to take me.'
Controversy seems on the cards with that director of 2046, but Nicole is already raising eyebrows and stormy protests with her latest, Jonathan Glazer's Birth, releasing in the US on November 5. Here, she plays Anna, an affluent widow, in mourning for a decade. When she does feel ready to re-marry, a 10-year-old boy, claiming to be her dead husband, confronts her. This is hardly a popcorn film, a tough and ruthless take on raw emotion, pain and loss.
Yet, she loves acting, for it gives her a vent to completely express herself, in which she also has the freedom to find herself. She does not look at it as work, but as a cherished passion.
But she cautions against the glamour of it all, and declares it as transient as a fairy tale.
She laughs at the 'world's number one actress' tag, and says she has not planned for it. Kidman takes celebrity and stardom in her stride, and expects it to unravel, which will, she assures, be part of yet another 'show.'
'So it's all going to fall apart at some stage. And you can all watch it happen.'