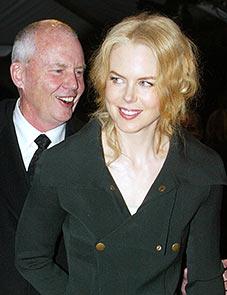 Nicole Kidman's father Dr Antony Kidman passed away after an accident in Singapore on Friday morning.
Dr Kidman was visiting his daughter Antonia, when he fell in his hotel room, after having his breakfast.
Dr Kidman's wife Janelle was in Sydney, Australia, when the incident happened.
Nicole was in Nashville, US, where she lives with her husband and country singer Keith Urban and their two children.
In December last year, the senior couple celebrated their 50th wedding anniversary in Sydney with the family. Nicole and her family also attended it.
Anthony was a biochemist and clinical psychologist. He was awarded an Order of Australia media in 2005 for his work in clinical psychology.
In the picture: Nicole Kidman and her father Anthony Kidman in 2005 at the 16th Annual Palm Springs International Film Festival in California. Photograph: Frederick M. Brown/Getty Images