'I still remember I couldn't buy How To Learn Acting because I did not have sufficient money.'
'Later, when I searched for the book, I could never find it.'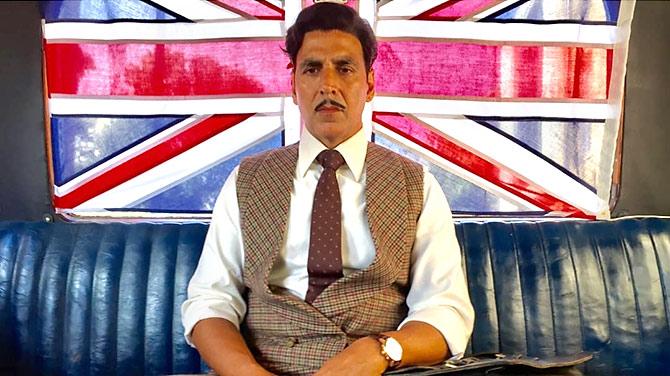 Akshay Kumar hopes to create Brand India and take it forward through his films.
That, he explains, is the reason he does the films he has been doing recently.
Akshay's next release is Gold, and it has been directed by Reema Kagti (Honeymoon Travels Pvt Ltd, Talaash).
Gold traces the golden era of Indian hockey through the journey of Tapan Das, a manager of India's legendary hockey team at the Berlin Olympics in 1936.
Das dreams of free India winning a gold medal at trhe Olympics.
"We have to create Brand India through our films," Akshay tells Rediff.com contributor Sneha Chakraborty.
What attracted you to Gold?
I was unaware of the story; I heard it for the first time from my director Reema Kagti.
In 1948, free India won its first gold medal in hockey.
Post Independence, due to various circumstances, this incident got lost in the pages of history text books, and Google.
This film brings it back. It is based on true incidents.
It's like Airlift -- many people were unaware of what happened. 170,000 people were airlifted and it has been registered in the Guinness Book Of World Records.
I consider myself very lucky that I got to portray a role like this (Gold.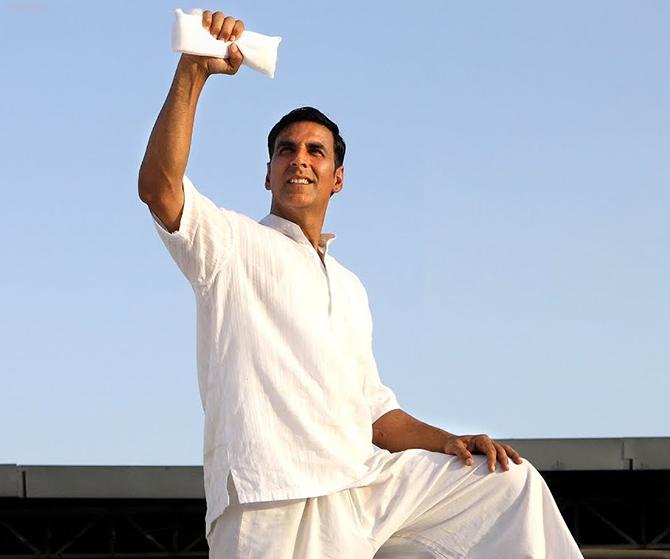 You have been doing films like Airlift, Rustom, Toilet: Ek Prem Katha, Padman, and now Gold and Kesari, What prompted you to make this shift?
One day, I was at home, my neighbour was also there. All of a sudden, he said if there is an alien attack, America will be saved.
If there is a terrorist attack, America will be saved.
We have been taught through Hollywood films that if there is any kind of crisis, America will save the world because they are the superpower.
It is time to change that mindset.
India is the biggest democracy of this world. If they made films like 300, we also have Kesari.
It tells the story of Havildar Ishar Singh who fights in the Battle of Saragarhi (where 21 Sikhs fought 10,000 Afghans in 1897).
We have to create Brand India through our films.
What kind of an impact have you been able to create?
I don't make films to preach.
If a film changes you individually, then I am happy.
I believe in a popular saying: God helps those who help themselves.
Before Toilet: Ek Prem Katha, the percentage of households without toilets was 52 percent. Now, it has come down to 32 percent. So there has been some improvement.
Padman also made a big change.
Girls don't hide periods now. They openly say I am having my periods and go to the washroom with a pad in their hand.
I am happy to see this change.
I urge people to take up at least one sport in their life, whether is is hockey or basketball or tennis.
A country like Croatia, which played the World Cup final, makes sports compulsory.
Whatever age you are, you must take up a sport.
You need oxygen in your mind and that can come through sports.
It can bring a lot of changes in a country.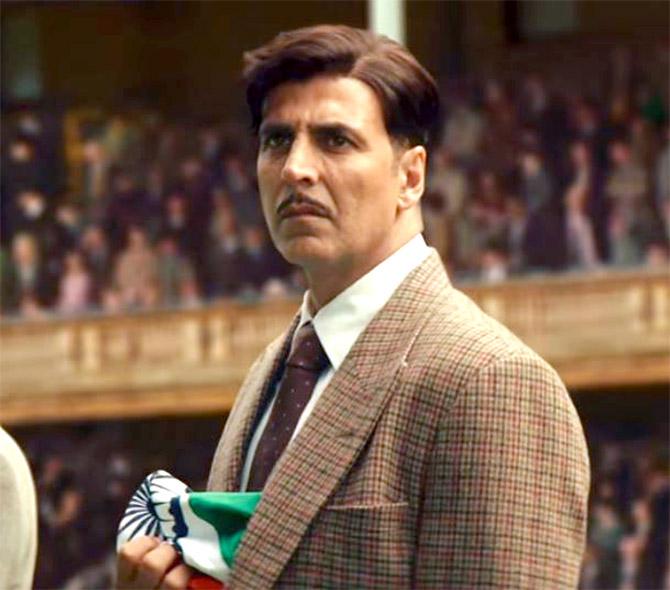 Is there enough open space for sports in urban India?
When I was a kid, I did not have grounds to play in.
I have started practising martial arts in a BMC (BrihanMumbai Municipal Corporation school in Bandra (north west Mumbai).
I used to practice martial arts on the roads.
If you have the urge and the talent, go for it. Go to the seaside or a garden and play.
Stop blaming others and get started.
Don't expect the government to do something.
I know a kid through a reality show, who does acrobatics. He learnt it at home on his bed.
Tell us about your character Tapan Das in Gold.
Tapan Das is an alcoholic and a cheater. He is the manager of the hockey team and a mad guy.
I have stayed in Kolkata for two years and my experiences of knowing the city and the culture came in handy.
Bengalis are very passionate and if they make up their mind to do something, they will achieve that for sure.
I have known so many Bengalis, who are geniuses.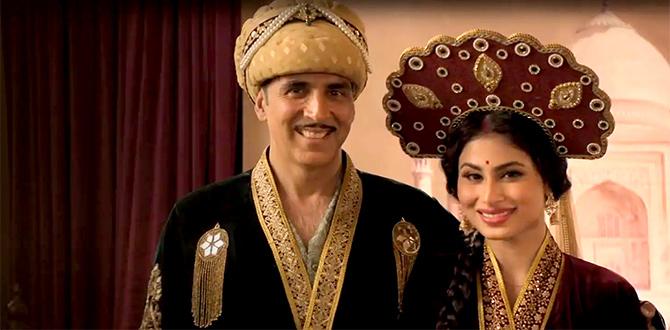 How was working with Mouni Roy?
Mouni plays my wife. I cannot reveal much, but can say that she has a strong role.
She is very experienced and worked so hard in television.
The Hindi film industry is making a lot of biopics. Will there be a biopic on your life?
Biopic is a huge thing to do. Right now, I am not eligible for one.
I have a lot of things to achieve in life.
Gold releases on August 15. What is your favourite memory of Independence Day?
School days were fun. We used to go early to school and sing the national anthem. We would witness the flag hoisting. After that, we would run (home) because it (the rest of the day) was a holiday.
After I become an actor, I did participate in flag hoisting a couple of times in my building.
Honestly, to me, Independence Day is every day. It is about the sincerity and honesty you have towards your nation.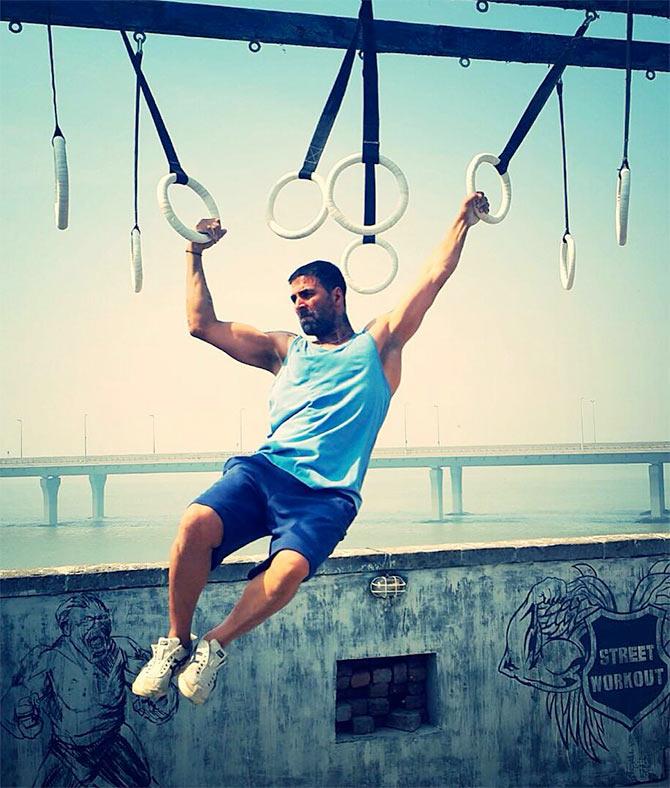 How do you see stardom?
I don't take stardom seriously.
It is there today, but it might not be there tomorrow.
Work hard, be honest and sincere. Do not take things for granted.
Youth still connect with you. Why do you think they do so?
I guess the discipline. Also, I speak from the heart.
In my 28-year career, I have never spoken ill of anyone. Neither would I like to hear bad things about me. You may call me diplomatic.
My training in martial arts has taught me to not talk ill about others.
Mind your own business, do your hard work, be with your family and parents and take care of them.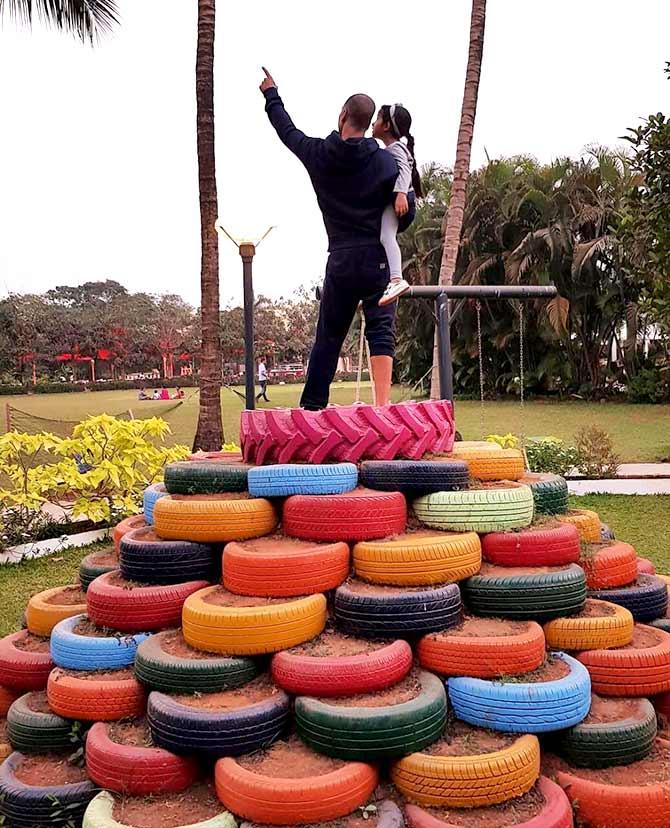 What life lessons are you passing on to your kids?
I want them to be individuals on their own (strength).
They should have no pressure to be like me.
I always urge parents not to pressurise kids to be what they feel.
Let them learn and understand from their own mistakes.
You are among the world's highest paid entertainers according to Forbes magazine, ahead of Salman Khan. How does it feel?
It feels great. I have never thought I would have come this far.
I still remember when I could not buy a book called How To Learn Acting because I did not have sufficient money.
Later, when I searched for the book, I could never find it.