Nauman Sait emerged victorious in the MTV Roadies Hell Down Under show, beating the other finalists Kiri and Palak.
The 21-year old boy from Bengaluru was earlier voted out of the show due to his manipulation and special affection towards fellow contestant Tamanna. But he was brought back with a wildcard entry when the show travelled to Australia. Since then, Nauman excelled at every task and won the maximum immunity. He tells Rajul Hegde about his experiences.
Did you expect to win Roadies?

Winning and losing is a part of the game. The intention was to win but at the same time, I wanted to enjoy and give my best to the tasks. I left the rest to destiny.
After I went back on the show as a wildcard entry, I was smarter and sharper in whatever I did.
I am really excited about my victory.
Did you ever think that Kiri -- after he finished the first task of mountain climbing in the finale -- would chose you over Palak for the final task?

Not actually. Kiri took some time to make a decision and I expected my rope to get cut any moment. To my surprise, Palak's rope got cut. So I had another chance to prove myself.
Besides, now Kiri will have more respect because he has lost to a strongest opponent (smiles).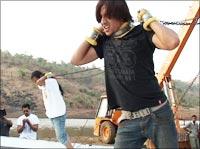 Which was the toughest task?

The final two tasks were the toughest [
mountain climbing, and the winning task, where the contestant had to walk 10 metres with his hands and legs chained
].
How was your experience on Roadies?

It was a like a holiday -- an amazing experience of a lifetime. I had gone to Australia earlier with my family but this was the best visit. It had a mix of everything because we had to be careful when you perform a task. Since it was a competition, we had to act and think twice before we said or did anything. An important thing that I learnt on the show was not to trust people blindly. People can ditch you for materialistic things.
With a competitor like Kiri in the last task, the finale left me stronger. Every bit of effort was worth it. I will never forget this experience. I always believed I was the best, now I've proved it!
Was it difficult for you to stay away from your family?

I have played cricket in England for the English Premier League (Yorkshire) in 2007-2008 and stayed away from my family for seven months. So it wasn't difficult for me to adapt to Roadies.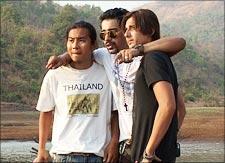 How did your family and friends react to your victory?
I watched the finale with my friends and family. I had not revealed the results to anyone because I wanted to see the happiness on their faces. My mother was in tears when she saw me win. I am very happy that my family is proud of me.
Do people recognise you when you go out?

Yes, it has become a little difficult for me to step out of the house now. People recognise me and ask for autographs, so it's a nice feeling.
What next?

I am doing my second year B Com and am a state level cricket player (Karnataka). I hope I get some TV offers -- especially reality shows like Ashutosh Kaushik [the winner of Roadies 5.0, who went on to win Bigg Boss 2].