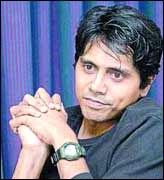 Nagesh Kukunoor has proved his talent once again with Iqbal. The story of a deaf and dumb boy who dreams of playing cricket for the national team was told in an inspiring way, sans the usual melodrama associated with disability.
And when the director chatted with rediff.com, readers were quite vocal in their praise. For those who missed the real thing, here's the last part of the chat transcript.
Click here for the first part of the chat transcript
AnoopSaxena : Hi Nagesh, I have enjoyed your Hyderabad Blues part 1. But I thought Part two, and I am sorry, was superficial. I mean, it is to a guy's credit that he does not succumb to the temptation when a beautiful girl is willing. To fight over that point, and two mature couples at that, who know that fantasies are as natural as anything else, was kind of difficult to digest. YOUR COMMENTS PLEASE.
Nagesh Kukunoor : I like to take the road less travelled, and that was the reason for that rather radical step by Ashvini in the film. If nothing, it generated enough controversy.
---
geetha reddy : HI SIR WHO IS YOUR ROLE MODEL
Nagesh Kukunoor : Don't have anyone in particular, while a lot of different people inspire me.
---
star : is the idea of iqbal germinated from black and lagaan combined?
Nagesh Kukunoor : No. I've always resorted to making original movies.
---
vindo : do you make films because you have lots of things to say or is it that because you have to make a film a year you find things to say in your films ? answer this and i will be a happy man thanks
Nagesh Kukunoor : I make films to entertain. Period.
---
akansha : do u think if iqbal is somewhat like rockford
Nagesh Kukunoor : THey do have some similarities, the biggest one being their naivete.
---
santosh_swamy : r u kannadiga? nagesh?
Nagesh Kukunoor : Nope! A telugu, and a Hyderabadi at that.
---
star : Will you cast bigger stars like aamir and shahrukh in your future films?
Nagesh Kukunoor : If the opportunity presents itself, I would love to work with them.
---
Prem : Is there a plan for Hyderabad blues part 3?
Nagesh Kukunoor : NO WAY!!! But then, I said that about part 2 as well!
---
jk : hi nagesh, do you think bollywood film actors are too self conscious?
Nagesh Kukunoor : THey're all conscious of their image and constantly work at living up to it. Sometimes this hinders their work as actors.
---
Ramu : Did you undergo any training for film making before coming to movies?
Nagesh Kukunoor : No formal training, just a couple of workshops on filmmaking in the US.
---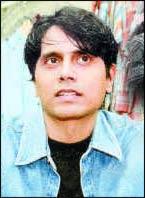 tishi : bye nagesh...it was not nice not talking 2 u!i signed in with 3 diff names..still no luck!anywez thanx for making the wonderful movie Iqbal.love you for that.
Nagesh Kukunoor : Sorry if I didn't answer your questions, but thank you for watching Iqbal.
---
yogesh : Hi Nagesh, what do you think about making a realistic movie on the life of Indian students and professionals in the US? Some sort of a prequel of Hyderabad Blues. I had even mentioned this to Mr. Subhash Ghai when I met him in Urbana, IL. What do you think about it?
Nagesh Kukunoor : I did think about it, but I think I need more new material before I go back to a movie about cross-cultural issues.
---
Ranjan : nagesh-am currently in calcutta-have u ever thought of doing some movie on the bengali psyche-the addas etc???
Nagesh Kukunoor : Not exactly. Because there are a lot of great Bengali filmmakers who understand that milieu a whole lot better.
---
rashmi : HEY HAVE U READ THE DA VINCI CODE?
Nagesh Kukunoor : yes
---
srinu : nagesh, why do you think there are huge movie actors (heroes) fans associations especially in south? don't you think we take movies lot more seriously than say in the U.S? why????
Nagesh Kukunoor : That's not true. Every US actor has thousands of fan clubs. The fans in India are a lot more demonstrative, but the madness is the same.
---
globe : Hi Nagesh the surname Kukunoor is a place or something else
Nagesh Kukunoor : I'm told it's a village in Karnataka, or Andhra. Never been there.
---
Sunitha : When r u getting married?
Nagesh Kukunoor : No plans as yet. Do you have anyone in mind??
---
akansha :  it is a nice feeling that u gave answers to my Q for that i m very thank ful to u and i want u to make for movies like iqbal and rockford cause it gives a lot of inspiration to teenagers like us
Nagesh Kukunoor : I'm glad I made someone happy.
---
dan : , I didnot like ur last scene where u showed our indian flag lying down on the ground its an insult please try to remove that from ur movie rest the movie is damn good.Will u check and do it???...
Nagesh Kukunoor : Yes, it's been fixed. But seriously, have you ever been to a cricket match and seen the hundreds of flags lying on the ground? This was just an honest mistake where one of the extras dropped a flag that he was waving.
---
tarundhot : HEY NAGESHHHHHHHHHHHHHHHH...... PLEASE ANSWER THE ONLY ONE QUESTION I M ASKING U.....DO U HAVE PLANS TO COME TO CANADA
Nagesh Kukunoor : Yes. I was planning to make a movie in Toronto a year back; it might still happen.
---
Jay : Is Iqbal inspired by Irfan Pathan?
Nagesh Kukunoor : No.
---
sachsmit : There was a rumour about your marriage with your co-star / producer of HB
Nagesh Kukunoor : That's exactly what it was - A RUMOUR.
---
sandeep_2911 : WHAT IS YOUR GREATEST FEAR??
Nagesh Kukunoor : Losing the passion to do what I love the most. After all, what's the point in living if you don't have passion for what you do?Okay guys and gals, I have to go now. It was great chatting with all of you.