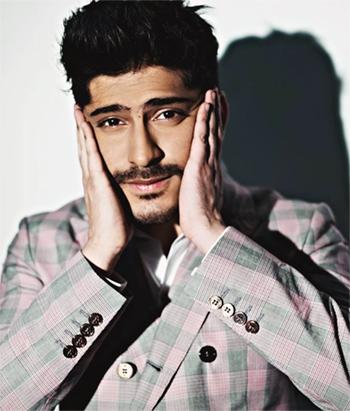 'My father knows that he was not good in Parinda. He himself told me that he messed it up because he was so successful at that time with Ram Lakhan and Tezaab. He was so iconic as Munna that he tried to recreate it all the time. It is not necessarily the best thing to do.'
Harshvardhan Kapoor says why he's blessed to be an actor in today's days.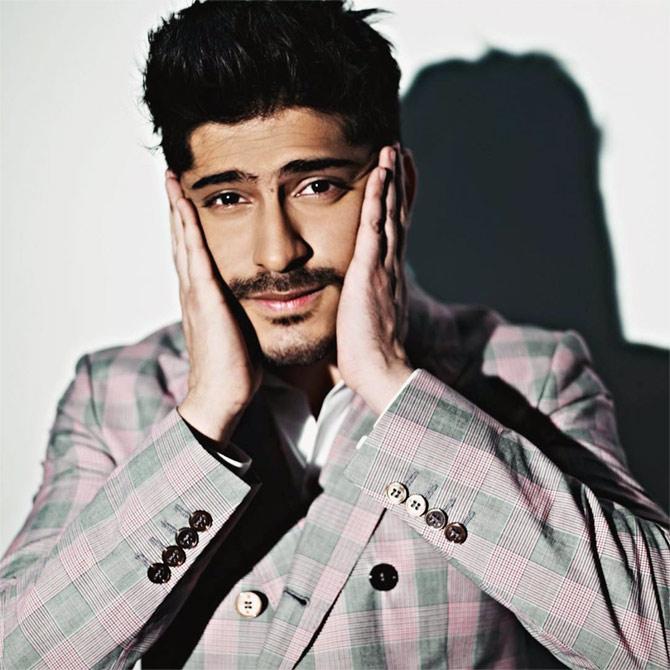 Photograph: Harshvardhan Kapoor
Growing up as the son of actor Anil Kapoor and nephew of filmmaker Boney Kapoor, Harshvardhan Kapoor was torn between becoming a writer-director and acting.
He chose acting, and his debut film Mirzya will release on October 7. Directed by Rakeysh Omprakash Mehra, it co-stars newcomer Saiyami Kher.
Harshvardhan tells Patcy N/ Rediff.com what made him choose to be in front of the camera, his Mirzya journey and why he is creatively different from his father.
Tell us about your childhood.
I had a very normal childhood because I think my parents made a decision very early in life to keep all of us, especially me, guarded from filmi parties and sets. I loved it and missed it.
The only regret I have is that there were not enough places for a child to play in Bombay. So, now I make up for that because whenever I get a chance, I play football or some sport. Otherwise, we were just at home, watching television.
So, you never visited your father on film sets?
Very rarely (and only) for a few minutes. We would go for family holidays when he was on outdoor locations, but we would do our own thing, not on the sets.
I was familiar with actors and producers visiting my home, but I wasn't familiar with the work culture. I knew the people and I have early memories of a lot of them -- like Rani Mukerji, David Dhawan... Varun and Rohit (now an actor and filmmaker, respectively, they are the sons of filmmaker David Dhawan) were very good friends of mine.
Why did you think of assisting Anurag Kashyap on Bombay Velvet?
I really liked Kashyap's films, so I reached out to him and became good friends.
When did you think of becoming an actor?
For the longest time I was contemplating on becoming a writer-director. But somewhere between the age of 18 and 21, I decided to do the acting thing.
Why did you change your mind?
I always wanted to act, but I just didn't know when. I was thinking whether to go the other way and start off as a director and come this way (be an actor) or do it the other way round.
Did you go to an acting school?
I have a bachelors of art in screen writing from Chaplan University in California. I didn't pursue writing because in those years of education, acting came naturally to me. I felt like I had the presence and the look, and I could act.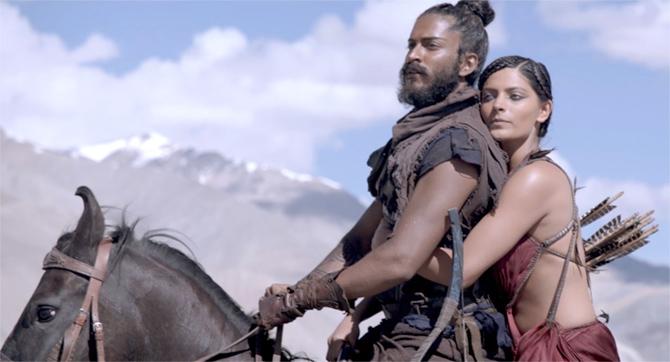 IMAGE: Harshvardhan Kapoor and Saiyami Kher in Mirzya
How did Rakeysh Omprakash Mehra approach you?

He met me on the sets of Delhi 6 (which starred Harshvardhan's sister Sonam). He liked me from then and we kept in touch. Eventually, in 2011, he spoke to me about Mirzya. I told him that I am too young and I didn't feel ready.
I went back to finish college and then came back and reached out to him in 2013 after doing a lot of training as an actor.
What did you learn while working with Mehra?
His ability to stay calm, take his time and make people comfortable. The greatest thing was his ability to disappear a lot of times; you don't feel like he is there.
This movie took three years to make. What kind of preparation did you have to do?
We did 18 months of horse riding, archery and mounted archery, which is shooting an arrow while riding a horse at a gallop. Playing polo and taking care of horses, putting on a saddle or a horse shoe.
What was the toughest to do?
Galloping on a horse at 40 km an hour (25 miles an hour) and firing an arrow was the toughest.
Riding a bike on soft sand was also tough.
Losing weight and then putting on muscles.
Breaking down emotionally.
Shooting in extremely difficult weather conditions.
Not living in hotels, but home stays and tents, was difficult, too.
How difficult was it to do two roles in one film?
Both the looks are different. Mirzya is heavier, while Adil is lighter, lean and athletic. We shot for Adil first. So, I was 66 kilos (145 lbs) for Adil and 74 (163 lbs) for Mirzya. I put on some 8 kilos (almost 18 lbs) in four months.
You are more of a method actor, so how much time would you…?
For Mirzya, I took 18 months and that is because I had the luxury of time.
For Bhavesh Joshi, I kept telling Vikram(aditya Motwane, the filmmaker) that I need more time, but he didn't listen. We have finished about half of the film in about 30 days.

Why didn't you think of working in a film that was produced by your sister Rhea or uncle Boney Kapoor? Didn't they approach you?

Nobody offered me a film.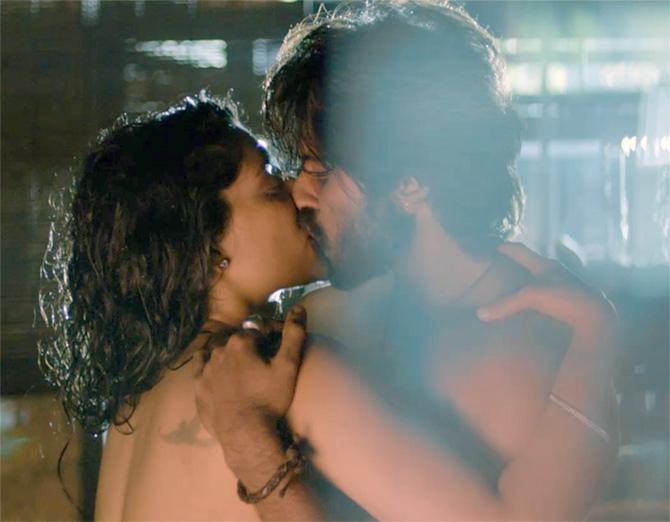 IMAGE: A still from Mirzya
Was Mirzya the only film that was offered to you?

No, I was offered quite a few films, but decided to do Mirzya.

At what age did you start getting scripts and reading them? How many did you get?

I started getting scripts when I was around 18 to 19. I haven't counted the number of scripts that were offered but there were quite a few.

Why did you pick this film?

I think it was because the way Rakeysh Omprakash Mehra would tell the story.

What did he tell you that helped you make your decision?

Somebody asked Rakeysh the other day if he was making this film earlier, who would he make it with. He said Amitabh Bachchan. And he said I cast Harsh for the same reason -- the eyes.
You needed somebody really quietly intense and also somebody who had the versatility to play Adil, who is a boy on his way to becoming a man and also play Mirzya, who is already a man.
You needed the same actor to play both those roles and so you needed that same emotional and physical versatility. I think that I had those attributes.
In an interview you said that a part of you would die after the release of Mirzya. Why do you feel that way?
When you do something from the age of 22 to 25, that's a big time in your life; you are at an impressionable age and it is a first-time experience.
It's a double role and I am emotionally broken down. I have transformed physically. I have learnt all these new skills.
Your co-star Saiyami Kher said that you were not very comfortable when your dad came to the sets once.

He is a distraction. When you are making a film, the attention should be on the work that is happening.
I read an interview where you said that you are creatively very different from your father. How are you different?
Just because of the kinds of films that I am doing. My style of acting is a little different from what you relate Anil Kapoor with. You have to see the film to know how different.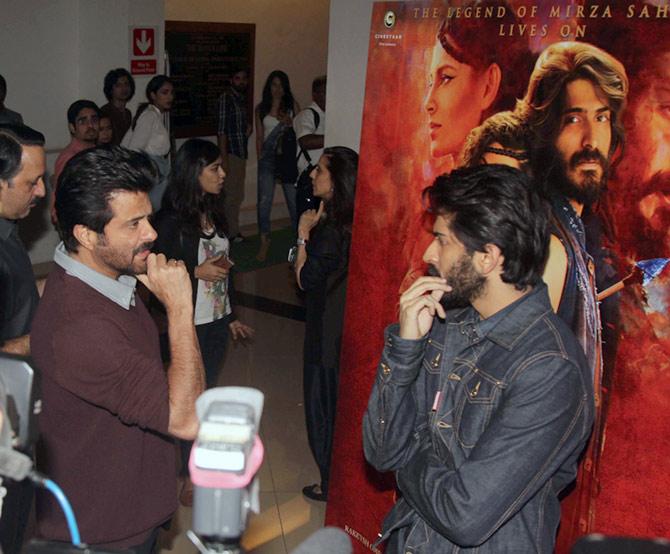 IMAGE: Anil Kapoor chats with his son Harshvardhan at the special screening of Mirzya. Photograph: Pardeep Bandekar
Do you mean he has done over-the-top films and you are leaning towards more realistic portrayals?

He is an amazing actor and he can be realistic, depending on the kind of films he does. But in the 1980s and the 1990s, when he became a huge star, he was synonymous with the energetic larger-than-life kind of performance. That was the brand of cinema then. I don't believe in that nor do I gravitate towards that. I like to recreate reality.
I like to use my eyes a lot. I like to make people feel through the way I look at them.

Your father is a very successful actor and we have seen that at times children of such actors aren't very successful. Are you worried about that?

No.

You have very large shoes to fit into -- your father Anil Kapoor, sister Sonam, cousin Arjun and the very successful producer Boney Kapoor -- in your family. Does that worry you?

Not really. I am very surprised why all these people like Rakeysh Mehra, Gulzar, Vikramaditya Motwane, Anurag Kashyap and Sriram Raghavan are working with me.
They can work with the biggest stars and they don't need me. There are lots of other star sons. May be I must be doing something right.
I also think that I kind of fit in the worlds that they are creating and they like something about me which is different from my father.

Comparisons with your father are inevitable. How are you going to deal with those?

I am not really worried about it because I have seen the film and I know how it has come across. I have also seen the rushes of Bhavesh Joshi.

Which is your favourite movie of your father?

My favourite film which he is a part of and my favourite film in terms of his performance are two different films.
Parinda as a film... I love that film, but I don't think he was his best in Parinda. I thought Nana (Pateker) and Jackie (Shroff) were fantastic. That probably was the best performance for Jackie.

Dad was very good in Pukar, Nayak, Virasat and Dil Dhadakne Do. That's when he kind of came into his own.

In the 1980s, he was so successful that he tried to replicate that energy and over-the-top performance in lot of his films. He even tried to bring it into a film like Parinda where it didn't fit to be, honestly. He later realised that he has to just be himself and do his own thing from Virasat onwards.
Do you tell your father about this?

He knows that he was not good in Parinda. He himself told me that he messed it up because he was so successful at that time with Ram Lakhan and Tezaab. He was so iconic as Munna (his character in Tezaab) that he tried to recreate it all the time. It is not necessarily the best thing to do.
This is why I am blessed to be an actor in today's days because I can do what I feel is right for the character. I can have dirt on my face for the whole film if I want to. I can have a big beard and a long hair. I can lose weight and become skinny and also put on weight. People are ready to see you in new ways.

Which is your worst film of your father?

I have not seen a lot of the really bad ones. Yuvraaj was pretty bad and I have told him. He knows it. Besides he been around for a long time to know where the film has gone wrong. No Problem is a terrible film.

Does he take criticism well?

Yes. I don't think you can be that successful without taking criticism well.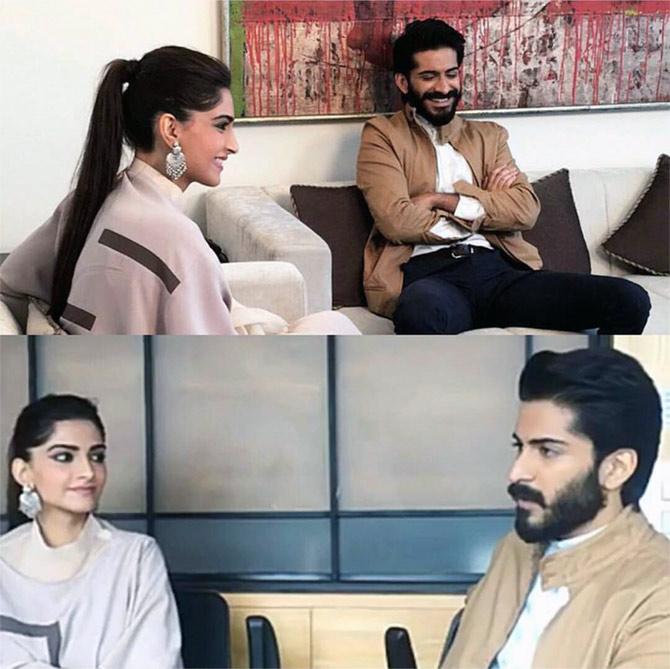 IMAGE: Sonam with her brother Harshvardhan Kapoor. Photograph: Harshvardhan Kapoor/Instagram
Which film of your sister Sonam's is your favourite?

Neerja. She was fantastic in it. Even Raanjhanaa was amazing. She was not there in Bhaag Milkha Bhaag, but what a fantastic film it was! Sonam's best performance and best film was Neerja.
Who among the actors inspire you the most?

I don't have any role models. I am not a person to idolise people.
How have people reacted to Mirzya?
We are premiering it at the London Film Festival and they are saying that it is one of the most beautiful musicals that they have seen. It is a work of art. Besides that, I don't know what to say.

It is a director who is at the top of his game. It has a great collaboration of music, visuals, cinematography, original young actors interpreting things in their own way… and it is written by Gulzar and told very differently.
I don't know how well it is going to be received, but I love it. It is a fantastic achievement.
Tell us about your next film, Bhavesh Joshi?
Bhavesh Joshi is a film that Vikram and I have been talking about since 2012. I was 22 at that time and I had signed Mirzya.
He wanted to make the film earlier with Imran Khan. Then they went to Sidharth Malhotra and it didn't happen with him either. I told Vikram that this film is destined for me but he wasn't convinced.
He wanted to see rushes from Mirzya and Mehra showed him. Immediately after he saw the rushes, he called my manager and told him that he wanted to do Bhavesh Joshi with me. He told him that he was going to re-write the script and cast me in it.
Is it a super-hero film?
No. It's a vigilante film, about a guy in Mumbai.
Do you have a double role in it?
Mirzya is a double role. In Bhavesh Joshi, the guy goes through a transformation.
I actually lost a lot of weight for the first part of Bhavesh Joshi because I am playing a college-going kid. Later, he completely changes. I don't want to talk about it much.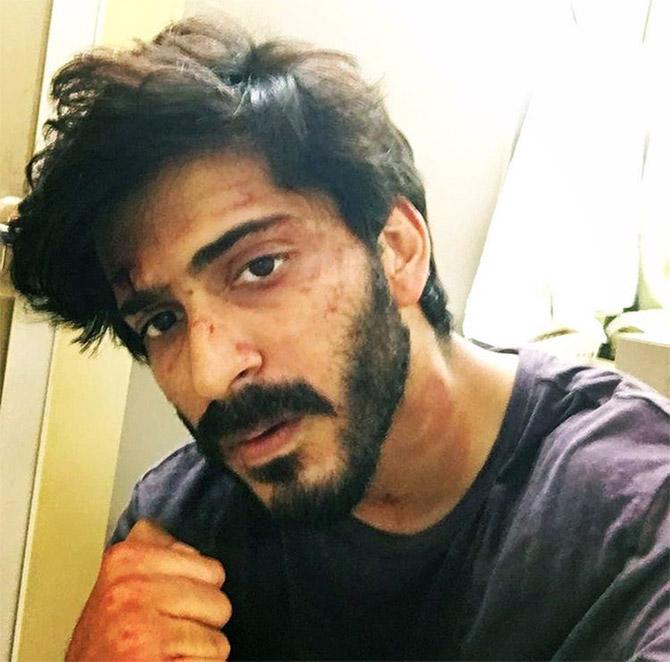 IMAGE: Harshvardhan Kapoor on the sets of Bhavesh Joshi. Photograph: Harshvardhan Kapoor/Instagram
You moved out of your house for Bhavesh Joshi...
I finished shooting Mirzya in September 2015 and I had signed Bhavesh Joshi. Vikram was working on the script and I was on a holiday. Around April he had a draft, which was in English, because Motwane writes in that language...
I've been reading drafts of this film since 2012. I think I am one of the very few people except Vikram's immediate family and close crew who has been updated on the creative process of the film. It's a labour of love for us.
Then Anurag was going to Cannes and other film festivals to show Raman Raghav. He came back and did the Hindi dialogue draft. I got it on July 1.
We were supposed to start shooting on July 14, but I wanted some more time for preparation so we delayed it till August 1.
When I asked Vikram for the extra time, he said if I was asking him for that extra time then I had to go all the way with it. In this film I have roommate, so he suggested that we live together. I thought it was a great idea, so Priyanshu (Painyuli) and I went on Airbnb and found an apartment and lived there together for a month.
We came very close and it really helped. They needed that physical love and bond between us. It is very hard to come so close to somebody in a short time, especially when you come from different houses to just attend workshop and go back. Here you wake up and eat together, you get ready and go for workshops together and come back and have dinner. We did that for a week and we were like college buddies.
I don't know if you want to call it method acting or whatever, but it helps. For me, one has to do whatever works.
The scenes that you are going to see between us in the film are like how Jesse Eisenberg and Andrew Garfield are in Social Network; they are so close to each other that they did not want to upset each other. So, when you fight it hurts more.
After I was done with the shoot, I lived alone till September because after that all my scenes are in complete isolation.
Now I have moved back home.
Tell us about Sriram Raghavan's film. Are you playing a character with visual disability in that?

That is not true. I have still not finalised the film. We are talking and we are yet to decide.
It is a thriller. I want to do the film.

Why are you choosing only serious films?

Nobody is offering me light films.

Any film that you saw and wished you had done?

I was too young then but I wish Vikram had done Lootera with me today. I think I would have done really well in that part. I would have also liked to play Imran Khan in Delhi Belly.