'Our culture, our history, our achievements are great and we should start celebrating them.'
'I am glad our movies are doing that and Mission Mangal is doing that.'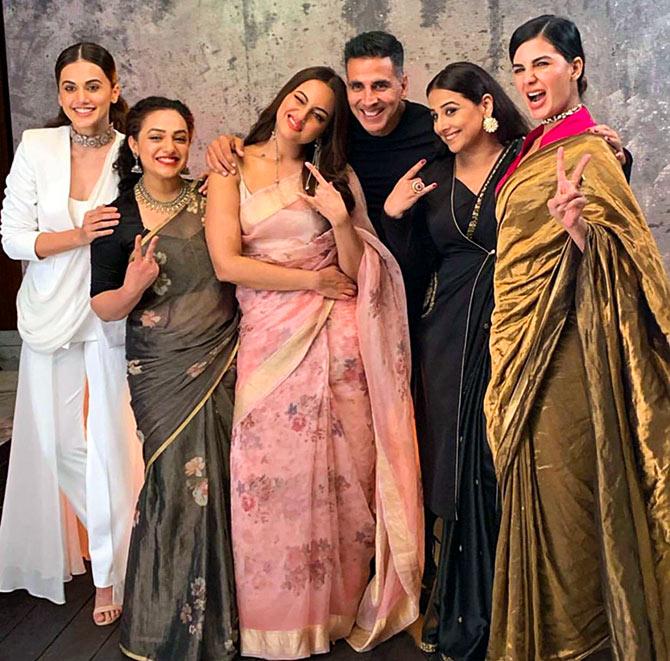 Mission Mangal's trailer was launched on Thursday, July 18.
The film -- which stars Vidya Balan, Taapsee Pannu, Sonakshi Sinha, Nithya Menon, Kirti Kulhari, Akshay Kumar and Sharman Joshi -- celebrates Indian Research Space Organisation scientists who contributed to Mangalyaan, India's Mars Orbiter Mission.
Asked if he had known about Mangalyaan before he signed up for the film, Akshay said, "I got to know about it through my director. I learnt a lot through this film. Certain things were an eye-opener for me."
"Mangalyaan cost us (India) just Rs 450 crore and NASA spent over Rs 6,000 crore," the Canadian Indian star said.
"The budget of my film 2.0 was Rs 500 crore," Akshay added.
Nithya Menon, who is making her Bollywood debut with Mission Mangal, is glad to have chosen this project as her first Hindi film.
"I wanted to debut in a good film and I have always followed that in the South. We all worked as a team on the film. We used to eat together. Akshay would insist we eat together and he would get food for us. I felt welcomed and accepted here. I did not feel like this is my first film in Hindi."
Akshay, who is increasingly focusing on films with a patriotic or social backdrop, said the last time a film that enlightened him was Airlift.
"I was unaware about 170,000 people being rescued from Kuwait. Our industry should make more such stories that remain untold."
"I request you to show this film to your kid. It is about science and we are proud to make India's first space film," Akshay said. "It is a story of these ladies, it is a real story."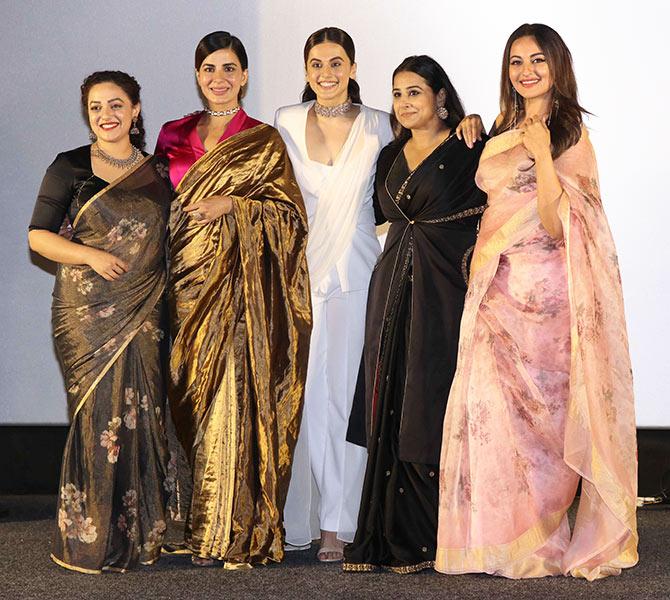 Vidya Balan, who plays a scientist involved in the Mangalyaan mission, fell in love with the story the moment Director Jagan Shakti and Producer R Balki narrated the script.
Vidya revealed it is the first film in her career when she said 'yes' immediately.
"This story needed to be told. We Indians do not wear our pride on our sleeves for our country. I am glad that more films are being made that make us aware what a great nation we are," Vidya said.
"When I roam around the world, I see people are so proud of their nation or heritage. If there is anyone who needs to be proud, it is us. Our culture, our history and our achievements are great and we should start celebrating them. I am glad our movies are doing that and Mission Mangal is doing that," Vidya added.
The first Mission Mangal poster drew flak online for giving Akshay Kumar a bigger display than the women actors, but the superstar insists the film belongs to its female cast.
"I can say this with utmost honesty that we are all extremely secure actors because we were appreciating others," Vidya said. "We had so much fun while working on it that Jagan Shakti had a tough time giving us directions."
Sonakshi said the film celebrates the spirit of team work, something that was true behind the scenes as well.
"We have tried our best to show the achievements of these women in a two-and-a-half hour film," Taapsee said.
Mission Mangal will release on August 15, the same day as John Abraham's Batla House.
"Hindi cinema makes about 170, 190 films a year and we have 52 Fridays, so a clash is bound to happen," Akshay said, adding that he is not worried about the clash with John's film.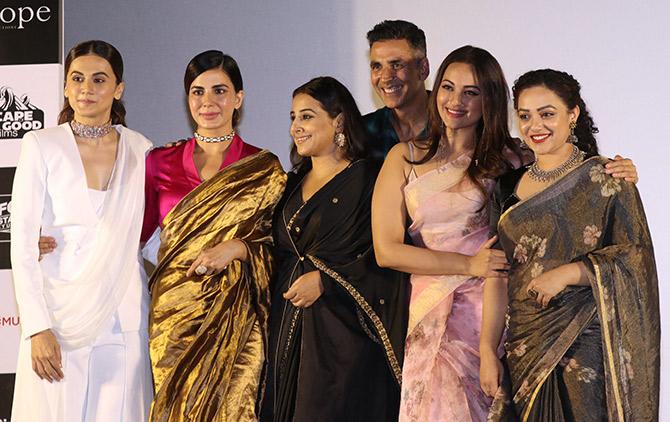 ISRO was established on August 15, 1969 and will complete 50 years this Independence Day, which is also the day Mission Mangal appears on screens in India and the rest of the planet.
Video: Afsar Dayatar/Rediff.com. Photographs: Pradeep Bandekar