Mickey J Meyer, a product of Trinity College of Music, is slowly rising in the Telugu film industry as a composer. His latest effort is the music and background for Happy Days, a Sekhar Kammula film. Excerpts from the interview:
Your compositions for Happy Days have a youthful and a 'symphonic' feel. How did you achieve this?
When I met Sekharji, he told me the title and narrated the story, explaining the characters and the roles and that the film was all about four years of college life. So, the music had to be youthful and peppy. Later he gave me a bound script of the film. Generally my music is symphonic. The title song had to be grand so I used strings and chorus to bring in the 'soul'.
How much effort did you put in the songs?
I had a lot of time and it took me about five months to compose the tunes. I think a lot before composing. I composed the title song first. After that I took a break for a month and a half. Then I composed the rest of the songs. Fortunately Sekharji liked whatever I composed.
How did you meet Sekhar Kammula?
I met him briefly when I saw Dollar Dreams (while I was in school). I liked the film and then decided to compose music for films. Sekharji was friendly and I showed him my Trinity College certificate. Later I composed for three Telugu films namely Pothe Poni, 10th class and Notebook. I gave him a demo of my music before Godavari but by that time the composing work had already started. Then I got a call from him for Happy Days. It was a good feeling and a dream come true as I wanted to work with him.
Was it strenuous doing the background score besides the songs?
No it was not strenuous. It was challenging. After the audio, I saw the scenes and used to make notes for each scene and then write the music. It is different as I used a lot of Western music -- piano and guitar. I must say the sound engineer did a good job. It was more of a team effort.
You have been trained at the Trinity College of Music for nine years. How has this helped you as a composer?
In today's world if one wants to be a music director, one should have knowledge of Western classical music. One has to learn notation. Learning Western classical makes one intelligent too as it is not easy to read and write Western classical. One should have tremendous patience while learning as it can be boring too.
Could you talk a bit about the course at Trinity College?
As a child, I would fiddle with the keys of the piano. As I grew up, I would play old songs of Talat Mehmood, Rafi on my Dad's request. I could listen to songs and play. Seeing this, one of my dad's friends suggested that I enrolled myself in Trinity College. I was in Class V then. Though it is in Hyderabad, the college is authorised by the London one. The examiner comes from London to conduct the exam here and the report card and certificates are given from London. There are a total of eight grades and it takes about nine-ten or even more years to finish it. It's a slow process.
Actually I was enrolled directly into the first year (without the preparatory one which is the first step) and then skipped the 2nd and went to the third on account of my good performance. As the grade increased, the music gets tougher. One learns to play the great composers like Beethoven, Mozart, Bach and so on. In fact at the exam, one has to play a piece by any great composer. In the beginning, the course was fun but afterwards it was boring but one had to really stick to doing it. Quite a few gave up and left.
You have also learnt ghazals and a bit of Carnatic too...
I learnt Hindustani music -- I sang ghazals and bhajans and learnt to play violin in the Carnatic style too for a year. I used to sing ghazals on All India Radio once in a while. After some time it became difficult to learn all the different streams of music due to lack of time as I had to go to school as well. So I focused on Western classical music.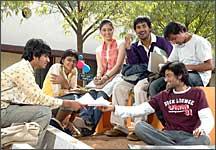 Does a good training in classical music help in orchestrating compositions?
I feel for composing a good tune, one should be able to sing. If one does not, it is difficult to compose. So in that sense, classical training is helpful.
What music did you grow up listening to? Any inspirations?
I would listen to a lot of world music -- Beatles, Phil Collins, Michael Jackson, Bryan Adams and so on. I also listened to background score of Hollywood films.
I am inspired by A R Rahman. I could hardly wait for his new albums to come out. It's my dream to compose and record a song with Rahman and make him sing it!
Today's music is technology oriented. Are we losing out to melody in the process?
I can't really say that. There are good songs even today which are melodious. Today's generation has changed -- there are dance numbers, melody numbers and so on. The songs from the movie Dhoom had no melody but people flocked to listen to them. It all depends on the audience. The Golden era of the 50s, 60, 70s will never come back.
Composing music for films is a tough competitive field. How do you cope?
I don't believe in competition. Film music is making music for people and not just what you want to do. You have to strike a balance. I want to work with a good script and a good director on one movie at a time, perhaps two and not more than that because I want the outcome to be good. I work slowly and music compositions take time and effort.
How do you look at life?
I want to enjoy life. Music is my life and I want to go on making music as I am happy making music.