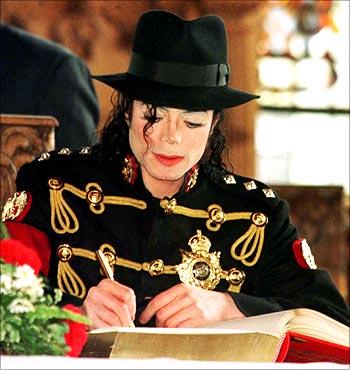 An official book documenting Michael Jackson's life may soon be out, and it will include some of his own artworks starting right from his childhood days.
Michael Jackson Opus will have an image of the legend in his classic pose with his hand held up figuring in the foreground.
He had drawn and signed on the image while he was still a student at Walton Elementary School, in California.
Also, a 1971 picture showing troops taking a hill, backed up by blazing aircraft, which was drawn by the legend to protest against the Vietnam War, when he was just 13 years old, will also be found in the book.
 
Plan to publish the 400-page tome was on even before the King of Pop died of an alleged heart attack in on June 25.
Another sketch of a boy''s face drawn by Jackson during his stay at the Lord Byron hotel in Rome while on his 1988 tour has also been found.
He reportedly told friends back then: "Look at the eyes, look at the eyes," and signed it "Boyhood M.J. 88 Italy," reports Timesonline.com.
Also included is his own photograph taken in Minneapolis in May 1988, which he had framed and hung in his games room in his Neverland ranch.
It was apparently one of his favourite performance photographs.
A note dedicated to a Parisian artist whom he had commissioned may be printed too.
It goes: "I know the creator will go, but his work survives, that is why, to escape death I attempt to bind my soul to my work. Dedication, Will, Belief creates all things, Believe. MJ."
The Michael Jackson Opus will be handbound in leather in a silk clamshell case.
Karl Fowler, chief executive of Opus Media Group, which is producing the book said: "Our researchers are hard at work as we speak looking at so much rich and varied material from Michael Jackson''s life and career, with photographs, art, letters and drawings such as this one.
"We know there are lyrics and notes on songs that he wrote that have never been seen before."
Image: Michael Jackson signs the "Golden Book" of the German city state Bremen during his visit to Bremen's city hall. (Photograph: Peter Mueller/Reuters).