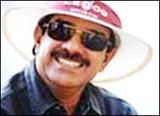 Director Mehul Kumar is gunning for the record books.  
He is trying to shoot a historical epic on the life of legendary Maratha king Chhatrapati Shivaji in just 18 hours, over a two-day period.
"We are aiming for the world record," says the director known for patriotic films such as Tirangaa, Krantiveer, Mrityudaata and Kohram.

"There was a small movie called Swayamvar that was shot in a record 24

hours. But that was a comedy movie, and shot on one set. Ours is a historical film, and the first of its kind. The script, written by four writers, is also historically authentic," Kumar adds.
He says it's not a bits-and-pieces job. "It is a full-length film, on a topic we've been researching for the last two years. It deals from Shivaji's childhood to his raj abhishek [coronation ceremony].
"The movie is produced by Suyash Chitra. TK Desai is the art director and Ismail Darbar is doing the music. It's a big budget film. We are planning a big star cast," he says.
Ask him about names and he says, "We're talking to Nana Patekar, but it is not finalised. We'll officially announce the film next week.
"We will show Shivaji's life in four parts, and we will have four actors. Nana will play Shivaji as an adult. It will be a two and a half hour film."
Kumar has got the logistics of shooting a feature film in such a short span of time worked out. "Seventeen units will work for two months in advance. We'll construct the sets, rehearse for eight days with the entire cast and crew, and then shoot for 18 hours, divided between two days," he says.
And he is confident about the movie, which will be shot entirely in Kolhapur, Maharashtra. "Everything is ready in advance. The sets will be up two months before shooting. Then, all 17 units will be given their scripts broken down into shots. We also have 35 cameras, and the whole team will be prepared.
"We've even prepared a small film to show the media, about how the film will be shot," is his parting shot.