Megha Gupta never planned on becoming an actress.
She came to Mumbai from Muscat in 2004 to complete her graduation in Mumbai's Wilson College. While in college, she was offered quite a few roles in television. Her first break arrived with Star Plus' Kkavyanajali, followed by Zee TV's Mamta, Star Plus' Kumkum, Star One's Sssh... Koi Hai and Sony Entertainment Television's CID.
Currently, Megha plays Aanchal, the protagonist in NDTV Imagine's Main Teri Parchhain Hoon. The 22-year-old actress plays a stepmother; the theme of the new serial being that stepmothers can also love her children.
Rajul Hegde finds out more.
Tell us about yourself.
I came to Mumbai to study. I never thought I would become an actress one day, but destiny had something else in store for me. I remember I gave my first audition when I was in my second year of college.
I was doing my graduation in BMM (Bachelor of Mass Media). The course required me to do a project on Ekta Kapoor's Balaji Telefilms. I was waiting at the Balaji office to meet the CEO. As I was leaving, one of the production members asked me to audition for their serial, Kkavyanjali. I refused at first, as I had no interest in acting. Then, the CEO himself persuaded me to give acting a shot. I then got a call from Ekta Kapoor's office and was offered a lead role in that serial. I refused at first because it would affect my studies. My mother told me to take up the offer. I took it up but did not do the lead role.
I worked for six months. After that, I was busy with my studies. After completing my graduation, I worked for an event management company for two months. I got offers once again for television and this time, I realised that acting is what I was destined for. I quit my job to become an actress.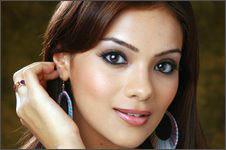 How did you bag the role in Main Teri Parchhain Hoon?


I was doing CID when I got this offer. I started doing both the shows, but it became too hectic for me. So I decided to concentrate on Main Teri Parchhain Hoon. But technically I am still a part of CID. Whenever I get time, I do an episode for them.
What attracted you to this role?
I connected with the character of Aanchal instantly. I knew I would be working for a big production house, Rajashri.
Tell us more about your character.
Aanchal is different from characters I have played so far. I play a young ambitious girl, who wants to be a fashion designer. For this, she wants to go to the US for further studies.
Things get out of hand when Aanchal, in a bid to go for her visa interview on time, exchanges her bus ticket with Jayaji, the mother of three children. The bus in which Jayaji is travelling meets with an accident. Aanchal blames herself for the untimely death of Jaya, and sacrifices her career to become a stepmother to the children.
Do you identify with your character?
To some extent. Aanchal is of my age and also bubbly like me. There is nothing artificial about her. She takes responsibility of the children because of her guilt. However, unlike Aanchal, I cannot sacrifice my life for others.
Did you have any inhibitions playing the mother of three kids?
I am not playing mother to actors of my age, unlike in other serials. I play a stepmother. This is absolutely fine with me as long as my acting skills are depicted properly on screen.
Any interesting incidents on the sets?
One day, we had to shoot a bus sequence where I had to hold the youngest child, Sachin, in my lap. He was so comfortable that he slept on my lap. We had to wait for five-six hours for him to wake up.
Do you watch other shows on television other than your serials?
Yes, I watch Dil Mill Gaye on Star One and also enjoy watching Sarabhai vs Sarabhai. I like the characters of Dr Armaan (Karan Singh Grover) and Dr Riddhima (Shilpa). I would love to do such kind of roles.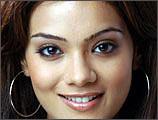 How many hours do you work? How do you cope with the long hours?
I shoot 20 days a month, 14 hours a day. Everyone on the sets are real brats including the kids. We have so much fun that we don't know how time flies.
What do you when you are not shooting?
I watch movies, go to gym... If I'm missing my CID team, I go and meet them on the sets.
How does it feel to be a part of Rajashri production house?
It's been an amazing experience. I have worked with all the good production houses but this is the best. Kavithaji (producer) is a perfectionist and she explains even the smallest details. One feels energised to see many people working together to achieve their goals.
How do people react when they see you?
People come and give me advice. They say I should not leave my career for those children and some say I should take care of them.
Any Bollywood plans?
Definitely. I was offered small roles in a Madhur Bhandarkar film and a Vikram Bhatt film. But I didn't take them up because I was busy with my serials.