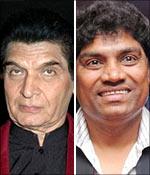 Bollywood sure can do with more funny men like Johnny Lever and Asrani.
We're seeing less and less of the hilarious duo, who have done some great comedy over the years. They re-unite in Priyadarshan's upcoming laugh riot De Dana Dhan, co-starring Akshay Kumar, Suniel Shetty, Paresh Rawal, Katrina Kaif, Neha Dhupia and Sameera Reddy.
And they play hilarious roles as usual. Asrani plays a don in Singapore while Lever is a sharpshooter working for him.
"By sharpshooter, I don't mean a shooter who kills," Lever explains. "Rather, I make them unconscious!" 
While Asrani has worked with Priyadarshan before, this is Lever's first film with the director. "In terms of comedy, I think Priyan is the best," Lever says, adding, "He acts and shows us how he wants the scene." 
Asrani, however, loves working with Priyadarshan because he 'won't let you act.'
"He wants you to be natural," Asrani continues. "He believes in no faltu acting and no faltu shots. I think that helps you grow as an artist." The duo have been working together since Gardish in 1993.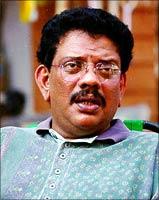 Lever agrees. "He is someone who wants to finish off the scene in one take and motivates you to do so," he says. "I feel sad that I didn't get to work with him earlier because of date clashes."
While the actors obviously love working with Priyan, they love each other's style of comedy too. "The best of Johnny Lever's films are Baazigar, Kareeb and Love Ke Liye Kuch Bhi Karega. I just love his work in Baazigar, where he plays a servant and tries to hammer a nail on a wall and is unsuccessful," Asrani says.
Lever lists his Asrani favourites as Sholay, Abhimaan, Koshish, Udhar Ka Sindoor, Bawarchi, Kushboo, Mere Apne, Namak Haram and Roti.
Spending an entire career doing comedy does not tire these actors. "If we start doing serious roles, what will other actors do?" Lever laughs.  
"People don't expect us to do anything else other than comedy," Asrani adds. "When I did a serious role in Koshish, people said that I didn't look good." 
Lever places the blame on directors, who don't want to experiment with comedians. Only a few like Priyadarshan takes risks with comedians, he says. "One of the reasons why I love Sholay was because it was made by a good director (Ramesh Sippy). It wouldn't have been possible individually."
Asrani recalls his days of shooting Sholay. "Writers Salim (Khan) and Javed (Akhtar) are very good. There was a scene where I had to trip and fall. They were present during the shooting of that scene to make sure it went as per the script. When I didn't trip, it was re-shot. The magic in Sholay was purely because of Salim-Javed. I didn't do anything," he says.
So who do they think is the best in the comic genre?
"I am glad that actors like Akshay Kumar and Salman Khan are doing justice to comedy. But in our days, nobody could beat Sunil Dutt and Amitabh Bachchan," Asrani says.
Johnny Lever claims Govinda is the best comedian. "I have done films with him and it was a great experience working with him. The same goes for Paresh Rawal."