Sound design in the movies is a blind spot for many of us -- often times, we don't realise how well sounds enhances a film. Not surprisingly, sound technicians often feel left out, as they do not get any recognition.
All that changed after Resul Pookutty bagged an Oscar nomination in the Best Sound Mixing category for his work on Slumdog Millionaire.
Resul's ascent to the Academy Awards was not easy. He tells rediff.com's Patcy N about his journey from his village, Vilakkupaara in Kerala, to the Kodak theatre in Los Angeles, venue for the Oscars ceremony.
How does it feel to be nominated at the Oscars as well as the BAFTAs?
I can't believe it! I can't believe the nomination is real. It's incredible.
In India, technicians often do not get so much recognition. Do you think this nomination will change all that?
I hope so. It is very sad that we technicians are looked down upon. But I would like to see the good side instead.
What feedback did you get?
Incredible would be a mild word. I can't put into words the kind of response I got for this film. Rani Mukerji called and screamed with joy. 'Incredible, way to go!' she said. All this is very touching for me.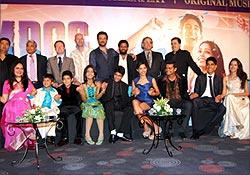 Are you going to Los Angeles for the Oscar ceremony?
Definitely!
Tell us about yourself.
I come from a small village called Vilakkupaara in Quilon district, Kerala. I have always wanted to become a filmmaker, but I could not get admission to the FTII (Film and Television Institute of India) to learn direction, as it's a very competitive field.
I wanted to get into a film institute, because there, you can learn everything about filmmaking. I was a physics graduate so I chose sound as my subject to get admission. Once I started learning about sound, I was sure that this is what I wanted to do, as this is a means of communicating with your audience.
What is sound designing exactly?
The camera gives you an idea about the visual aspects of the film; we do the same with audio. A film's soundtrack is an amalgamation of different kinds of sound like dialogues, the ambience, sound effects and music. As sound designers, we put all this together in such a way that it gives the audience a perfect experience.
If we want to scare the audience or leave them spellbound in their seats, we use sound accordingly.
How do you produce the sound?
We use many things to produce sound. If a door is being slammed in the film, it's not necessary that we use the same instruments to make sound. We are constantly looking for new things to produce sounds.
Sound recording in India is different from abroad. Here, we first shoot the scenes and then record the sound in the studio. But there, they always have sync sound. The technology used there is very far evolved too.
Recently, we have started recording on location with Lagaan and Black. That gives you a far superior and natural sound. Hindi movies have started getting a global market, where they are pit against the best of Hollywood and European movies. Now filmmakers have to use better quality sound in their movies.
Why didn't you work in the Malayalam film industry?
There wasn't much happening in the Malayalam film industry. Besides, the Malayalam film industry works out of Chennai, and I was in Tiruvanthapuram. I thought it would be better to work out of Mumbai, as I wanted to specialise in live sound, and nothing was happening in this field in the southern film industry.
When I came to Mumbai, the television industry was going through a good phase. They had started shooting in sync sound to cut down time on dubbing. So I started with television. Then I got offers to work in low-budget films made by talented filmmakers.
Rajat Kapoor was making a film called Private Detective and Vikram Joglekar was to be the sound recordist for that. He could not do it, and since I was assisting him, I came on board. I was 23 years old then.
That was a big learning experience, as Rajat knew much more than I did about sound.
Then other films happened like Split Wide Open, Snip, Everybody Says I'm Fine... I started enjoying working with directors, who were making movies on new genres. Boom was my first commercial film but it flopped. After that, I did Raghu Romeo, Matrubhoomi, Kyon...! Ho Gaya Na, Musafir and Amu.
Black was a benchmark in sound, and the credit goes to Sanjay Leela Bhansali.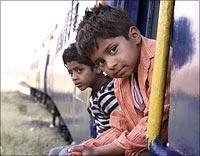 How did Slumdog Millionaire happen?
Amu was very well received abroad. The line producers of Slumdog --Tabrez Noorani and Paresh Sahani -- saw my work and contacted me. That's how I was on.
What made you say yes?
It's called destiny.
When I was a student at FTII, I had a poster of Danny Boyle's film Trainsporting in my room. So when I learnt that Danny Boyle was making Slumdog, I did not have to think. I had to jump into it.
What was the experience like?
An incredible journey, a learning process. Or rather, a lot of unlearning.
Danny is such a big director, and he worked in the most untraditional way. Traditionally, a film is shot with one camera. But Danny shot it with at least five. Sometimes, he would have the video camera on, along with film and digital cameras. He was mixing the mediums because he wanted to capture the life of Mumbai. He wanted it to be perfect, no matter how many cameras were needed.
I had to unlearn everything to meet the demands of the film.
Emotionally, it was very frustrating to work in the given conditions. It's a hugely challenging film, one of the most difficult films I have ever done.
There were three sound designers on this project -- Richard Pryke, Ian Tapp and you. How did the three of you work?
I worked on the on-location recording. Richard and Ian did the final cut -- the recorded portions, plus music. They mixed the film together in the studio. The common link between them and me was another sound designer, Glen Freemantle. He saw to it that everything was perfect. Glen has done a great job on Danny Boyle's Sunshine.
What are your forthcoming films?
I have three Hindi films in hand -- with Rajat Kapoor, Saurabh Shukla and Sharat Kataria (the dialogue writer of Bheja Fry). Plus, one Hollywood film based in India.