'I'm really enjoying this whole comeback thing.'
Back on the small screen after quite a while, actress Pallavi Kulkarni relates the many unlikely adventures she experienced during her time away from the spotlight.

Three television shows (Kya Hadsaa Kya Haqeeqat, Kehta Hai Dil and Vaidehi) and a seven-year sabbatical on, actress Pallavi Kulkarni is back on the small screen.

Cast opposite Ronit Roy in Balaji Telefilms' newest show Itna Karo Na Mujhe Pyar, set to air on Sony Entertainment Television from November 18, Kulkarni plays Ragini, a single mother who comes face to face with her estranged husband after 15 years.

Kulkarni, who had bid show business adieu after her TV show Vaidehi had wrapped up in 2007, is visibly kicked about working in an Ekta Kapoor production (a first) and believes the show's premise sets it apart from its contemporaries.
In this interview with Nishi Tiwari, the new mum -- her son Kayaan will be two in a few months -- discusses her new project, her break from acting and why there couldn't have been a better time for a comeback.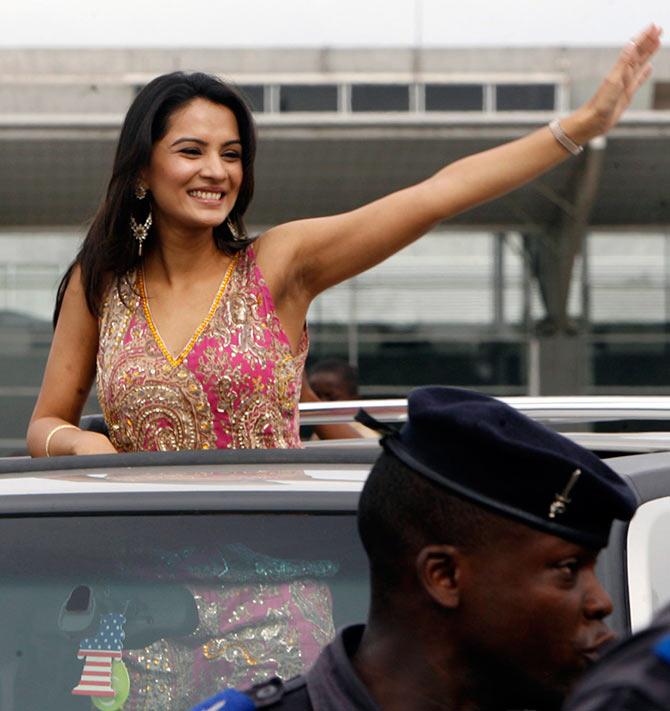 Image: Pallavi Kulkarni waves as she arrives at Felix Houphouet Boigny international airport in Abidjan, 2010. Kulkarni, whose show Vaidehi was hugely popular in Africa, was visiting the Ivory Coast for a week. Photograph: Luc Gnago/Reuters
You spent some time in New York after you got married. What was it like, considering NYC is only the most exciting city in the world?
It's a great city. I used to go there once or twice a year. I would spend a week there and it was so hectic, it's such a fast city and lively, you forget what's happening in the rest of the world.
It's been a vacation every time we have been in New York.
My husband Mihir Nerulkar and I explored places, ate out a lot. Every time I go to New York, I put on a lot of weight.
On my break, I travelled to Spain, Italy, Turkey... I loved Italy so much, I went here twice!
I've been all over the US, most of Asia, Phuket, the Maldives... too many places to list. I have also been to Egypt and South Africa.
My husband was working as an IT professional in New York when we got married. After a while, we returned to India as my husband joined his brother's real estate firm.
You may have heard of Samira Habitats -- it's a company that makes luxury villas in Alibaug.
The company's name Samira has been derived from my husband and his two brothers' names -- Samir, Mihir and Rahul.
How does New York compare to Mumbai?
It's just like Mumbai, actually it's another version of the city. It's Mumbai, with better production values!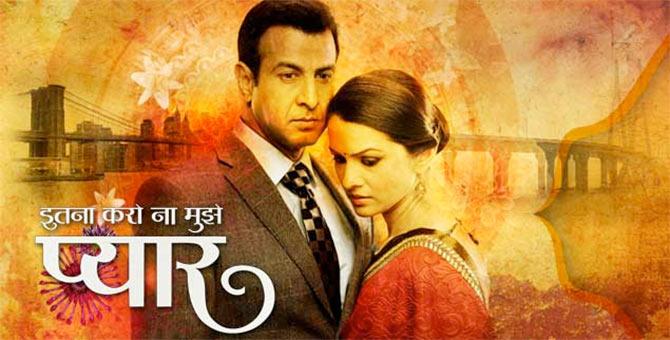 Image: Pallavi Kulkarni and Ronit Roy in Itna Karo Na Mujhe Pyar
How did your sabbatical happen?
It happened because I got married and got busy travelling.
I wanted to spend some time with my family, enjoy married life.
It's just that it got extended much more than I had intended it to. It feels great to be back, especially now because my husband and in-laws hadn't seen this side of me. It feels nice to see pride in their eyes.
Did you have your fill of travelling, is that why you came back to acting?
Yeah, sort of. It wasn't a conscious decision to come back to acting as such. It was because the show was so good that I decided to make a comeback.
If it was honestly anything else, I probably wouldn't have considered it. There were a lot of offers but I didn't consider them. I just couldn't say no to this.
Your character Ragini in Itna Karo Na Mujhe Pyar is older than you are in real life. How do you approach that aspect of your character?
The character I'm playing is not of an old lady.
She is just someone who gets married rather early in life and has kids early. Hence the maturity she showcases on the show.
I don't see the character in terms of its age but more in terms of intensity and maturity because that plays a more important role in the plot than her age.
Image: A fan wearing a t-shirt with a picture of Pallavi Kulkarni's Vaidehi, waits for the actress to pass by in 2010. Photograph: Luc Gnago/Reuters
Your last show, before you decided to take a break -- Vaidehi -- was very popular in Ivory Coast and Senegal. Why was that?
Vaidehi was bought by an African Channel called 2STV.
It was dubbed in French and aired across the whole of western Africa, including Morocco, Ivory Coast, Moritana -- the entire western African strip.
I was called by the owner of the TV channel; his name was El hadji. I was invited there as a guest of state by the president of Senegal.
When I went there, we (my husband and I) didn't know that the show had become a rage there.
I guess the people there could relate to something about the character that I played in Vaidehi. When we reached the airport, there was national security when we got off the plane.
There were 10 lakh people on the road at the airport and we couldn't move our vehicle for three hours.
I wouldn't even call it Shah Rukh Khan-level frenzy but more like Michael Jackson's!
It was quite an experience. Unfortunately, in India, it did not become a big thing because I am not one of those people who would advertise such a thing.
The Indian media missed the whole thing but I have videos of 10 lakh people surrounding us and the car not being able to move. It was quite a thing!
What did that feel like?
It was unreal; I couldn't believe it was all happening for me.
It was like it was happening to someone else because I haven't seen it happen to anybody in the world except Michael Jackson. It was a great experience and I'm really lucky it happened to my show.
It was one of my life's biggest achievements.
How weird or unusual does it feel to leave the spotlight for marital bliss and step back into it after a few years? How do you deal with that kind of transition?
I have always been a media/publicity-shy person. For me, being out of all this was very easy and I could adapt to that life very easily.
Do you also prefer in a way then, to lead the spotlight-less life?
Yeah, I feel like I'm more comfortable in that life.
Not that I don't like the public attention -- who doesn't like that! -- but sometimes you just want to be in your own space, do your own thing.
Having said that, I'm really enjoying this whole comeback thing.
Do you like dressing up in saris and makeup like actresses do on daily soaps? What would one find you in on a day off from work?
I wear jeans and dresses when I'm not working.
This (her character get up -- heavily embroidered sari, long sleeved blouse and makeup) is something I do for my show. This is obviously not the most comfortable attire.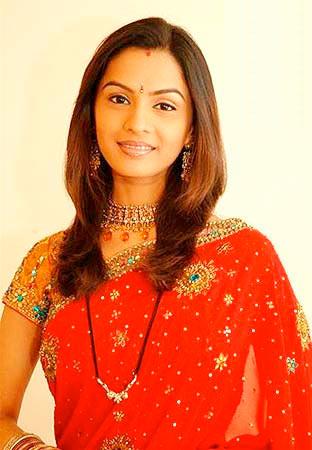 Image: Pallavi Kulkarni in Vaidehi
How did acting happen?
It happened a long time ago, after I completed my education.
I wanted to see myself on TV. I started with TV commercials. Then, serial offers started to come my way. It was all very gradual. It wasn't a planned decision.
Wasn't it a little difficult to process that your husband and in-laws did not know anything about this life of yours?
I preferred it that way since they know me for who I am and not for everything that's around me. It was a good change -- they didn't know who I was and what I did. It didn't bother me.
Do you have any apprehensions about your comeback?
I am a little anxious of the work timings. Not because I am afraid of hard work but I have a family now and want to devote my time to them too.
I'm just a little torn in how to divide the time between the two. I'm sure my family and the production house will cooperate and it won't be an issue.
What did you do between Kehta Hai Dil and Vaidehi?
I used to take breaks between two shows. There was only a gap of a year between those two shows.
Working hours in daily soaps are really long and tough so for a year, I did only ad commercials. I got hitched after Vaidehi got over.
How much do you identify with Ragini?
A lot.
Shes very strong-headed, confident, independent and disciplined. To some extent, my thoughts align with hers.
That said though, I don't hold grudges like she does. I move on in life and don't believe in carrying baggage around.
You play a mother of five kids in the show. Did it take a lot of convincing for you to take it up?
Ektaji narrates a script in such a way that you're so taken in by it, there's hardly any time to think.
Besides, this show is a lot more realistic and modern in its treatment than most shows that are aired on TV today. Unlike other shows, I have the liberty to use a smattering of English in my dialogues.
The show is very pace-y, fast. I was sold on the way they present this show.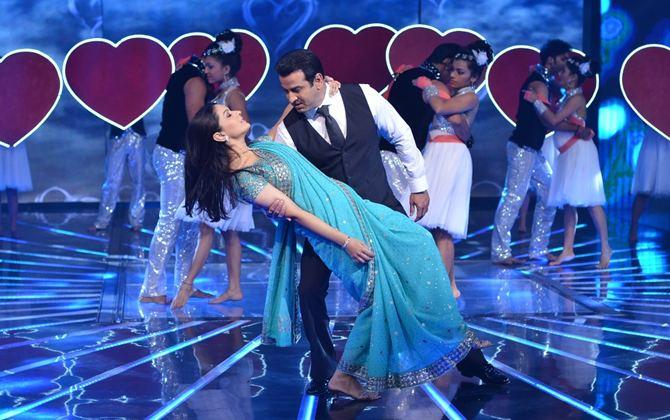 Your son is still very young and daily soaps are very demanding working hours-wise. How do you plan to balance both?
That's a very sensitive question.
I have thought about it a lot. I even consulted a child psychologist before taking on this show.
I wanted to know how old does a child has to be for a new mum to be able to return to work.
He's two now and has started going to a playschool. I was told by many people that if I wanted to get back to work, now would be the ideal time because as he grows older, he'd need me for studies, assignments, projects.
Right now, I have my parents, my in-laws and nannies, who provide a lot of support. So the situation in our house is such that he doesn't miss me as much as I miss him.
It is difficult but I'm managing. I'd already informed the production house that I would need weekends off. So we've negotiated that I'll have Sundays and second Saturdays off (laughs).
Do you have friends in the industry?
Not too many actually. There is so much to do that we hardly find the time to make friends in this industry. Also, I've been away for so long, have lost touch with people.
Now that you're making an acting comeback, will we see you in more shows?
Right now, no. I like to concentrate on one thing at a time.