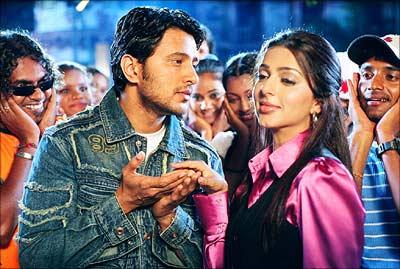 The title Maya Bazaar harks back to the old film Maya Bazaar. The cult classic shot five decades ago with veterans like SV Ranga Rao, NT Rama Rao, Akkineni Nageswara Rao and Savitri, is etched in the minds of viewers. Myth, magic and money -- an interesting concept for the new film -- does, in a way, remind us of the old one.
The new Maya Bazaar is not a remake though, and doesn't appear to have anything in common with the classic.
Directed by National Award and Gollapudi Award-winner Indraganti Mohan Krishna, it is set for release later this month. Starring Raja and Bhumika, the director has managed to rope in none other than S P Balasubramiam to play a role. The film, shot mostly in Hyderabad with just a few songs in Kerala, is currently in the post-production phase.
It is supposed to be a social and contemporary film -- a total entertainer packed with action, romance and sentiment. It will also be a musical, to some extent, with K M Radhakrishna (of Anand and Godavari fame) scoring the music. For Mohan Krishna, this is a change from dark, sober films like Grahanam, his debut that fetched him awards and accolades.
Let's see how this story unfolds on the silver screen. Will it recreate magic like its classic namesake? We wait and watch.
Text: Radhika Rajamani