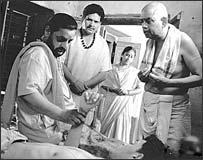 Indraganti Mohan Krishna shot into the limelight with his first film Grahanam, based on the Telugu short story Doshagunam by Chalam. The film won him the Indira Gandhi National Award for best debut director. He also won the Nandi Award instituted by the Andhra Pradesh state government.
Krishna has now been awarded the Gollapudi Srinivas Award, instituted by film writer and actor Gollapudi Maruthi Rao and his family eight years ago in the name of his son, Srinivas. The award is given each year on August 12, the day Srinivas died, to a new director of a feature film in any Indian language.


| | |
| --- | --- |
| | More on rediff.com! |
| | |
The director speaks to rediff.com about his film, the award and his goals as a filmmaker.

How do you feel about the award? Do you consider it a big responsibility?

I feel the question of responsibility remains intact whether you win an award or not. A filmmaker is responsible to his craft and to the audience. Awards are a form of encouragement to a newcomer.

The Gollapudi Srinivas Award is given to offbeat, experimental cinema. Many aspiring filmmakers from different parts of the country have been recipients. Even though it is a private award instituted by a Telugu family, I am the first Telugu person to get it. So, in that sense, it is a major boost. Maruthi Rao is clear about the kind of cinema they want to encourage. Most recipients have been people who worked hard for their debut films, on shoestring budgets. It is a prestigious award – a rare honour.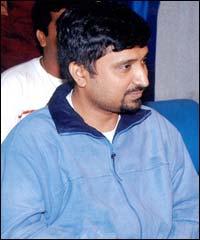 Your parents are writers. Is that where your love for literature comes from?
To an extent, yes. The nurturing of that interest was done at home. I subsequently did my graduation and post-graduation in literature. I used to read a lot more than I do now. After getting into films, my reading has decreased. I have to catch up.
How did you get interested in cinema?
I grew up watching films as, in my younger days, there was a 'film culture' in place. Going to a movie theatre was like going on a picnic. It was a smooth transition from literature to films. My grandmother used to narrate stories visually with the mention of light and shade. Once I became interested, my family wanted me to get a formal education in film. I applied to FTII, Pune but didn't get through. I then applied to York University in Toronto, and managed.
As creative samples, I had sent some footage to York of Mahandhra (for which I was writer and associate director) – a socio-cultural, economic and political study of Andhra from 1783-1947 in a docu-drama format. This was celebrating 50 years of India's independence. I did my Masters of Fine Arts in Film and Television from York University (1998-2000) and registered for a PhD in Communication and Culture. I discontinued it after a year though, and came back to Hyderabad in 2001.
Has education in a film school helped you?
There is a myth that training is not necessary for filmmaking. Filmmaking is as much a craft as it is an art. Formal training definitely helps. Rules are taught so one can break them later. One develops a sensibility. Watching films, reading about them, interacting with others and constantly analysing them is helpful.
Why did you decide to adapt Chalam's Doshagunam for your first film?
I liked the story, and as it was one of the Chalam's lesser-known stories, it excited me even more. It looked as if it was written in a hurry and there were structural problems too. But the central idea was powerful.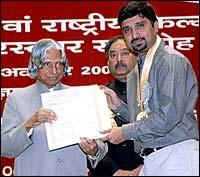 How challenging was the process of giving it a visual format?
It was definitely very challenging. My inventive skills were tested. There is a misconception that as the structure is there and the characters are drawn, it is easy to adapt a story. It is not. The modes of expression are different and it is important to have the spirit of the writer reflected. In this case, I felt Chalam's spirit is present in the way it was filmed. I was scared because it was a well-known writer's work. So I checked with my parents and read a lot of secondary material to see how different people understood him. Most critics liked the film better than the story. Chalam's daughter was thrilled to see the film made the way it was.
From an offbeat Grahanam, you are moving on to a commercial film like Maya Bazar. Are you comfortable switching genres?
I personally don't believe in art or commercial cinema. I'm interested in genres. I like drama -- films with conflicts and resolutions. I don't want to get typecast as one who only makes literary adaptations.
Could you tell us a little about Maya Bazar?
It is neither a remake of the old classic Maya Bazar, nor an attempt to overtake it. At best, there will be some tangential tributes to it. The old one is a larger-than-life film and a part of Telugu cultural heritage. We chose the title because it suits the story. I am writing the screenplay along with B Satyanarayana based on the original story by Jayakumar. Maya Bazar is a dramatic, music entertainer. The music is being scored by Radhakrishna (of Anand fame).
As a filmmaker, what is the kind of vision you have for the future?
I want to make cinema that can capture the ever changing dynamic complexity of our lives. One can make engaging and entertaining films without getting trapped in identities or making it regressive. A filmmaker should have love for art and respect for the audience. I am also interested in a certain kind of folk cinema. There are many stories rooted in folk tradition. One must look at those that cinematically offer possibilities.