'There were so many attempts made to stop the film, damage our reputation...'
'Irrespective of all that, we got it released.'
'In trade language, they said Parmanu is a 100 crore movie, but it did 65 crore.'
'That's when you realise the damage.'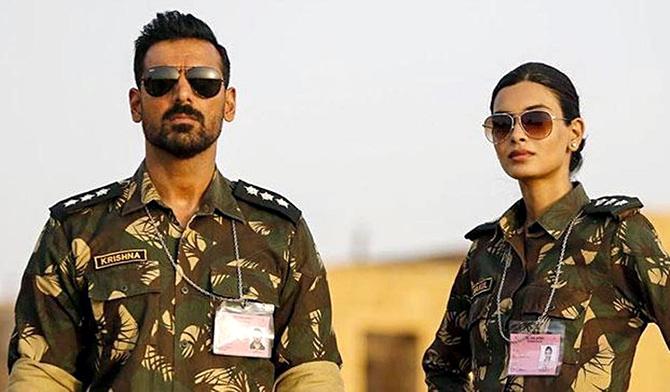 John Abraham's latest film Parmanu is doing well -- despite the reviews -- and he's feeling great!
The actor went through much stress when the film's release date got pushed ahead after he fell out with the film's co-producer Prernaa Arora..
"I have never experienced this kind of stress in my life," John tells Rediff.com contributor Urvi Parikh.
Did you expect Parmanu to do so well?
We didn't know what the response would be like, but we knew what we were making.
Did the delay in the release cause it damage, in terms of business?
The delay, definitely...
When you release a movie on a Friday, which has an IPL semi-final and a Sunday, which has an IPL final... releasing in the middle of Ramzan... releasing the week before Veere Di Wedding, two weeks before Raazi, a film in the same genre... half the damage was caused because of all that.
The second part of the damage was the fact that we did not have the time to market the movie.
Considering that, against all odds, Parmanu recording Rs 65 crore (Rs 650 million) is mindblowing.
In trade language, they said Parmanu is a 100 crore (Rs 1 billion) movie, but it did 65 crore.
That's when you realise the damage. But then you live with it.
The respect and the credibility I earned from this movie is amazing.
There were so many attempts made to stop the film, damage the movie, damage our reputation... Irrespective of all that, we got it released.
We are thankful to the honourable judge for the ruling and validating exactly what I have been saying.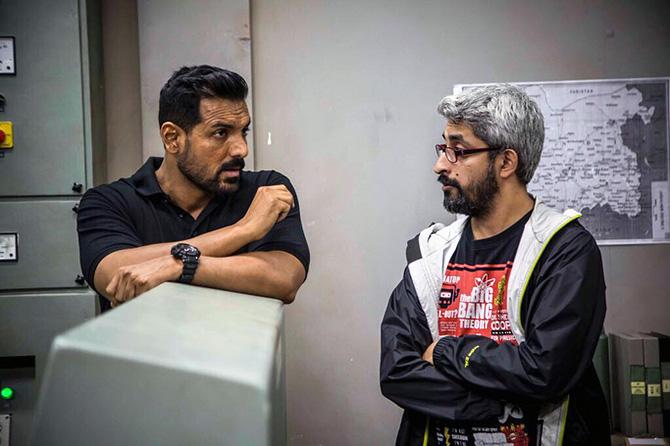 Was the legal process tough to deal with?
It was a tough period. But I want to thank my lawyers and my director (Abhishek Sharma) who stood by me.
It was a crazy period.
I have never experienced this kind of stress in my life.
It is interesting to deal with strange people like this. It teaches you, and you learn.
What has been your family's response to Parmanu?
Everybody has loved it. It has been unanimous across the board.
There are movies which do big business and then there are movies that earn big respect.
Parmanu has earned big respect from not only the audience, but from my family too. And that respect no amount of money can buy.
Did you want to change anything about the movie?
Not really because Abhishek Sharma is a very collaborative director.
Just like I did on the other films that I produced, I sat on edits for Parmanu too.
We have developed such a lovely working relationship.
After he finishes Zoya Factor, we shall be working together again in a different genre.
I want to explore a genre that I will keep under wraps till we start working on it. It will shock you.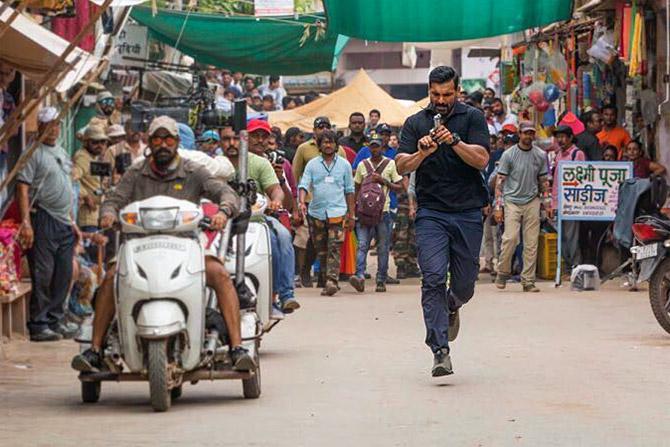 Was there a reason to not play the National Anthem in the climax scene?
I didn't want the movie to go into jingoism.
I wanted to make it a thriller and its byproduct to be patriotism.
I wanted silence when we salute the flag, so that we could only hear the flutter of the flag.
When we were shooting, there was no music.
All we could hear was the breeze and the flag fluttering.
You won't believe it, but we cried.
Does the response to Parmanu encourage you to more movies with strong content?
Absolutely.
It encourages and empowers me and gives me the courage to do the kind of cinema I want to do.
It's a positive pressure, the kind of pressure one should live with.
People know that I don't mind failing.
I don't have the fear of failure. Everyone knows I am going to go all out to attempt something different.
I am happy with the choices. My line-up -- from Satyamev Jayate, Batla House to RAW (Romeo Akbar Walter), my next production, my film with Rensil D'Silva -- it is a very solid one.
Batla House goes on the floors on September 20-25.
RAW doesn't have action, but it is a mind-bending movie.
It's one of the most courageous movies one can make.
The only action movie I am doing is my production, Attack.
That's a huge action series that I am planning. It is still on the table and we are writing; we have not finalised anything yet.
I will definitely act in Attack because it has my kind of action -- the Force and Rocky Handsome kind.
But we are also making movies which will not star me.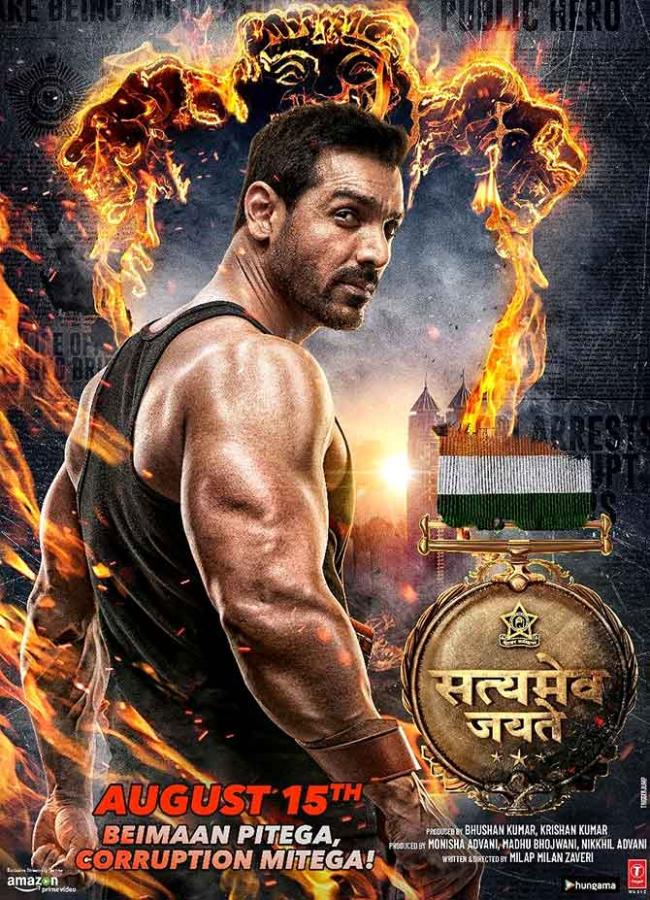 Satyamev Jayate is up for release on August 15. It clashes with Akshay Kumar's Gold and Dharmendra-Sunny-Bobby Deol's Yamla Pagla Deewana 3. Is there space for three movies?
From whatever little I have learnt through Parmanu and the distribution circle, there is enough space for two movies to come out together.
I don't know if there is space for three.
I think the screens will be divided.
I genuinely hope that everyone does well and all the films earn money.
The script of RAW was initially offered to Sushant Singh Rajput, but it did not work out. When it came to you, did you have any apprehensions? Did you suggest changes?
I think what came to me came with a lot of changes. I am happy that it came to me.
I am grateful to Robby (Grewal) for getting this movie to me.
I have no issue if it was offered to anybody else.
There are films that are offered to me, then they go to others and do well, find their fate. I am absolutely okay with it.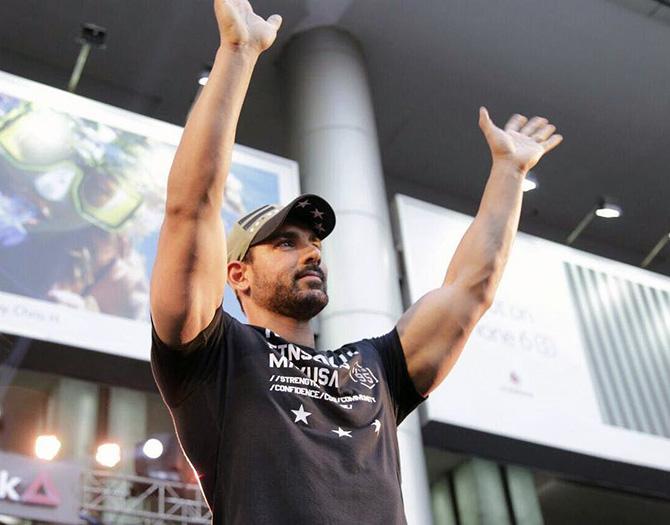 You were doing Hera Pheri 3, but that did not work out. Indra Kumar is working on the movie. Have you been approached for it?
I have no knowledge of Hera Pheri 3 and who is making it.
My assumption is that Feroz Nadiadwala would be producing it.
Have you been offered any comedies?
Not yet! If you could help me reach out to someone, please do... tell them I am looking forward to a comedy movie (laughs).
As a producer, we are looking at making something in the comedy space.
Tell us about your film with Rensil D'Silva.
It's a human drama that has been in research for two-and-a-half years.
We get into every little detail so that no one can point a finger, saying something was amiss.
Everything is very honest.
What do you enjoy most: Being an actor or producer?
As an actor, I feel safest in JA Entertainment because I know the script will be well curated.
We do so much research that no one can question the kind of content we create.
It may not resonate with many, but the content is amazing.
People are calling you the next perfectionist after Aamir Khan.
That's so sweet. This is the nicest thing I have heard because I really look up to Aamir Khan.
Obviously, I am too small to be compared to what he has done and achieved.
To be even complimented and spoken about in the same breath is really heartwarming.
I am a perfectionist and that isn't compromised at all when I am producing a movie.
The level of details that I get into when I am making the movie is shocking.
I get into everything -- from background music, to sound design to VFX, editing, distribution, marketing, positioning of the movie... everything.
Right from the concept of the movie, there is nothing that goes past my nose without my knowledge or consent.
Sometime before Parmanu, I had said that if the movie fails, I will take complete responsibility for it.
Luckily for me, it did well.