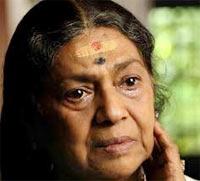 Ailing actress Sukumari died at a private hospital here following cardiac arrest, hospital sources said.

The 75 year-old veteran star of Malayalam and Tamil cinema was admitted to the hospital for burn injuries that she suffered a month ago.

Chief Minister Jayalalithaa, who had acted with Sukumari in some films, had visited her in the hospital a few days back.

Some of Sukumari's best films include Ezhu Nirangal, Arappatta Kettiya Gramathil and Chiriyo Chiri.
Recipient of the prestigious Padma Shri award in 2003, Sukumari appeared in over 1000 films. In 2010, she won the National Award for her performance in the Malayalam film Namma Gramam.

She is survived by son Suresh Bhimsingh.