Shooting for the film begins in Malta on June 5.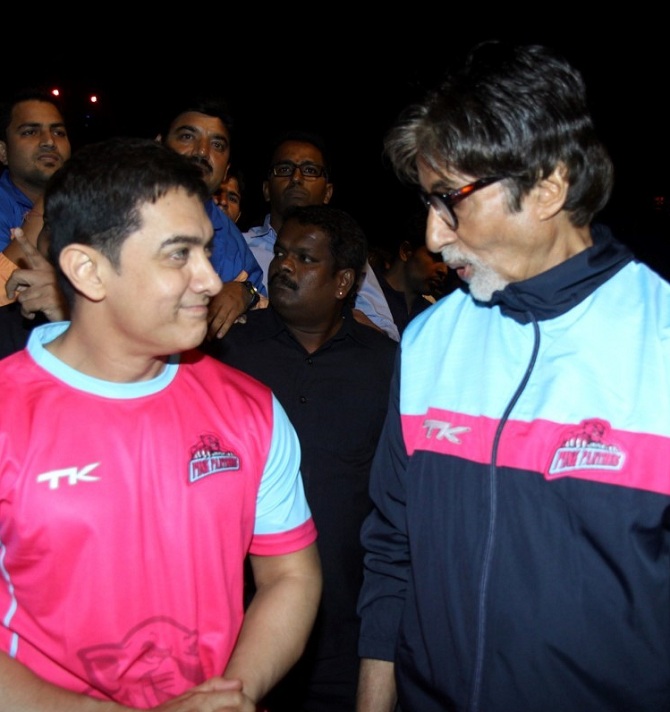 IMAGE: Thugs of Hindostan will be Aamir Khan, left, and Amitabh Bachchan's, right, first film together.
The camera is ready to roll for the film that brings together two of Bollywood's biggest names -- Aamir Khan and Amitabh Bachchan -- for the first time.
Shooting for Thugs of Hindostan will begin in Malta on June 5.
The Yash Raj Films project will be filmed on two specially constructed ships, currently docked by the relatively unexplored Maltese seaside.
'The set of the film is in a high security water zone, with restricted access. Both these ships have been built in the early 18th century style, when vessels would carry cannons and other weapons, director Vijay Krishna 'Victor' Acharya said in a statement.
'An international crew has been hard at work creating these elaborate ships in Malta. Most of the portions filmed on board these ships involve high octane action.'
Khan is re-teaming with his Dhoom 3 director Acharya and co-star Katrina Kaif for the film, which also stars his Dangal co-actor Fatima Sana Sheikh.
But it is working with Bachchan for the first time that he is most excited about.
'It is an exciting script and above all, it is the first opportunity that I got to work with Mr Bachchan. I have always been a huge fan,' he said in a telephone interview from Malta.
'It is really a great moment for me that I am finally getting to share the screen space with him.'
Khan, who has had an uninterrupted golden run at the box office since Rang De Basanti in 2006 -- his last film, Dangal, has crossed the Rs 1,500 crore (Rs 15 billion) mark at the box-office, also spoke about his success and the destiny of his films.
'It is now 27 years that I have been acting and very early in my career, I went through a phase that was a huge learning experience for me,' he said.
'The level of input that I have been putting has been the same right through but I made mistakes,' he added. 'So, what I am today is not just the result of my successes but also because of my failures.'
'They taught me the most. That's why I have been able to build my career the way I have.'