Looking at Aamir Khan's top money-making movies at the box office.
Aamir Khan made history, as the founder of the Rs 100 crore club and then the Rs 200 crore club.
Some of his best films have gone on to make a lot of money at the box office.
His latest film PK is setting new records at the box office too -- it is the highest grossing Hindi film ever, moving steadily towards the Rs 300 crore mark.
We take a look at Aamir's highest grossing movies.
Dhoom 3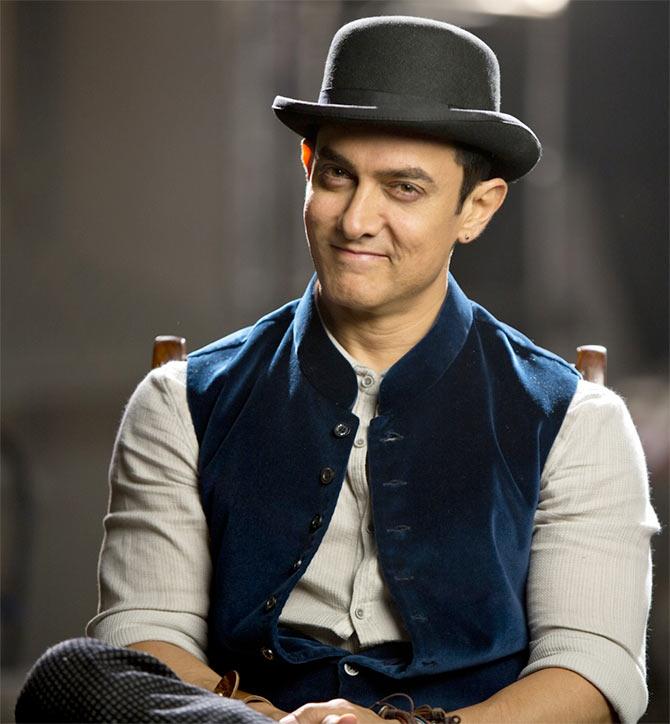 Image: Aamir Khan in Dhoom 3
Aamir stunned audiences in a double role, performed some cool stunts, and had the sympathy of the audience despite playing a negative character.
Dhoom 3 was a well established franchise, but Aamir put his own stamp on it.
Box office collections: Rs 284 crore
3 Idiots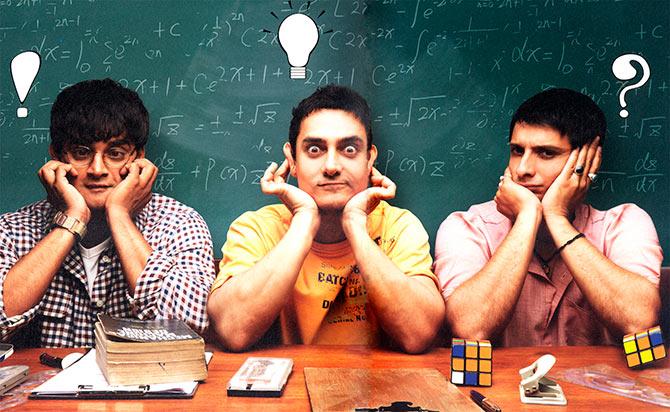 Image: R Madhavan, Aamir Khan and Sharman Joshi in 3 Idiots
One of Aamir's best films, 3 Idiots was directed by Rajkumar Hirani. Aamir, then 44, took on the risk of playing a young college student, and succeeded.
He shone in the multi-star film with R Madhavan and Sharman Joshi playing the other two idiots.
The film deserved every penny of the Rs 200 crore that it earned and continues to be a favourite even today.
Box office collections: Rs 202 crore
Ghajini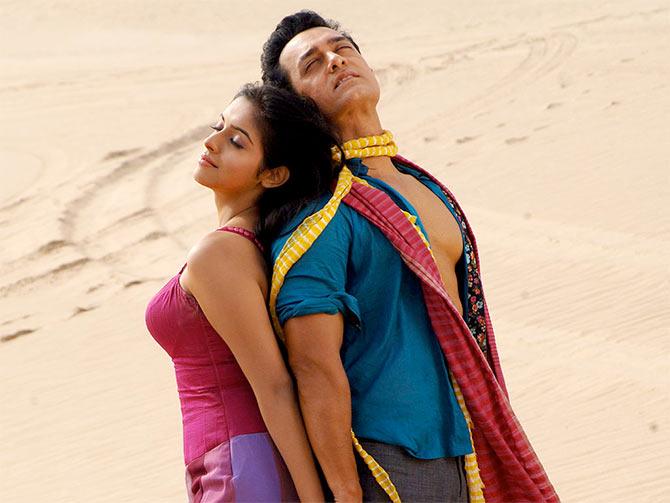 Image: Asin and Aamir Khan in Ghajini
No one had seen the kind of box office success that Ghajini brought. The film's marketing is brilliant as well.
Aamir knew that he had to do a lot more than just rely on the action packed content of the film. He went all out to publicise his well sculpted body and unique hair cut.
The result? India's first ever Rs 100 crore film that started a new trend.
Box office collections: Rs 114 crore
Talaash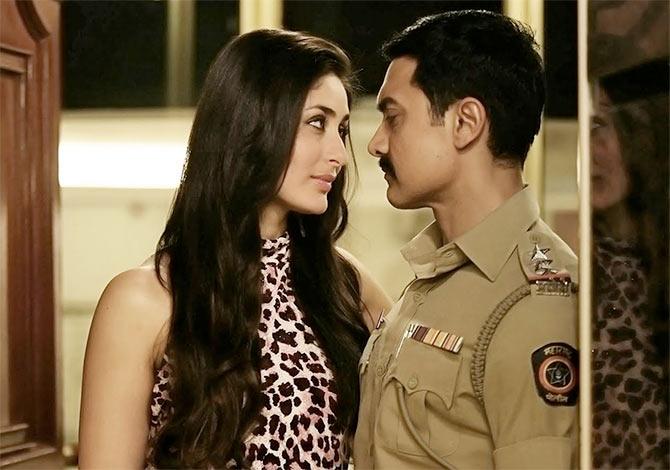 Image: Kareena Kapoor and Aamir Khan in Talaash
Talaash was expected to be another top grosser. Recently, Aamir admitted that for a niche film like this, he hadn't expected to earn any mind-boggling sum so what Talaash earned was very heartening.
Box office collections: Rs 93 crore
Taare Zameen Par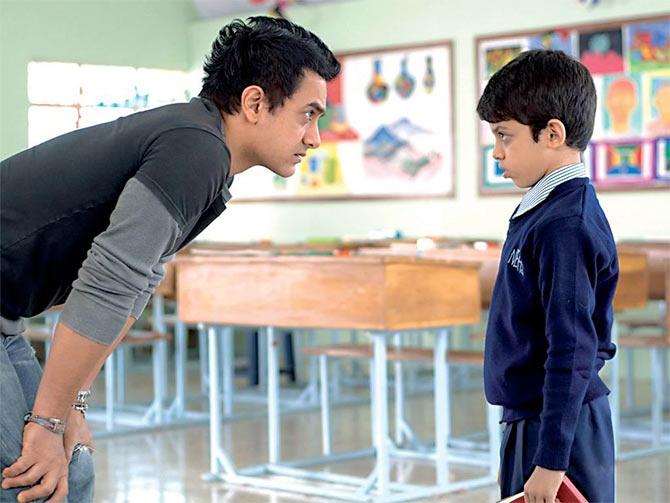 Image: Aamir Khan and Darsheel Safary in Taare Zameen Par
Taare Zameen Par was universally acclaimed. It grew from strength to strength after releasing alongside the comic Welcome, which took a bigger opening.
An emotional, sensitive film, it hung on amazingly well at the box office. By the time it ended its run, it had earned more than Rs 60 crore, which was a very respectable sum for the kind of film it was.
Box office collections: Rs 61 crore
Fanaa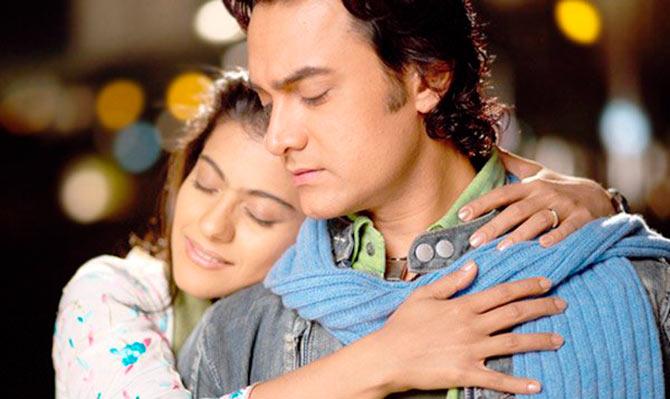 Image: Kajol and Aamir Khan in Fanaa
Fanaa took a huge opening and then hung on reasonably well but the reviews were mixed.
The star power of Aamir and Kajol, coupled with some good dramatic moments by filmmaker Kunal Kohli, made Fanaa a success.
Box office collections: Rs 54 crore
Rang De Basanti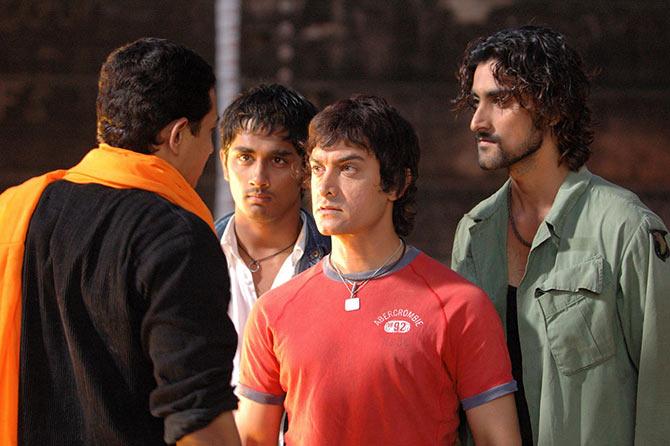 Image: Atul Kulkarni, Siddharth, Aamir Khan and Kunal Kohli in Rang De Basanti
Aamir said that Rang De Basanti had seemed like a suicide mission since four films on Bhagat Singh had failed in recent times.
Rakeysh Omprakash Mehra's execution, a good script, and Aamir acting made the film a huge success. This was the first of Amir's films to earn over Rs 50 crore.
Box office collections: Rs 52 crores
Lagaan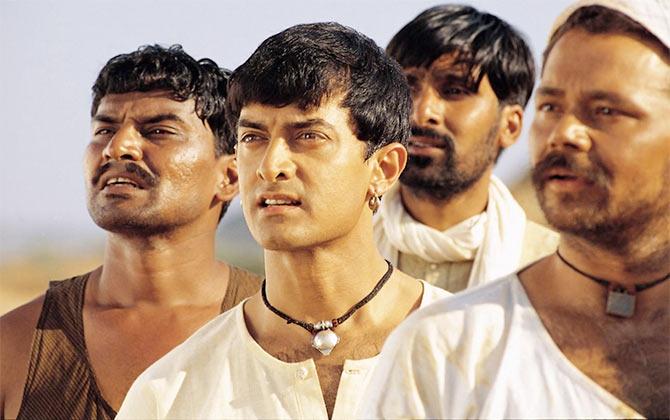 Image: Dayashankar Pandey, Aamir Khan and Raj Zutshi in Lagaan
Lagaan is the only film with cricket as a subject that has worked to date. Set in the pre-Independence era, Lagaan could well have been a spectacular failure but Aamir and filmmaker Ashutosh Gowariker were convinced it would go down well with audiences. And it did.
Box office collections: Rs 38 crore
The Rising: Ballad of Mangal Pandey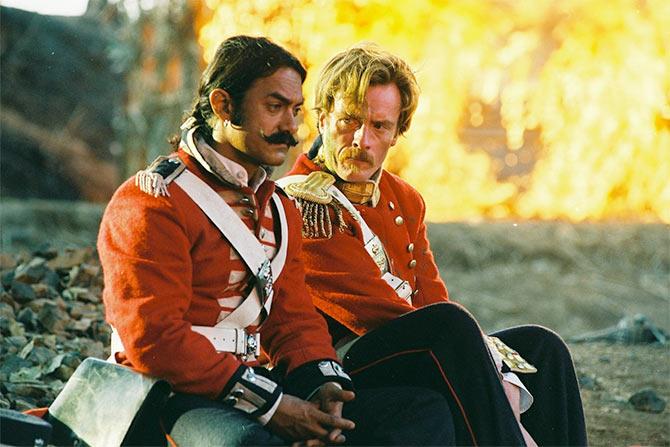 Image: Aamir Khan and Toby Stephens in The Rising: Ballad of Mangal Pandey
Aamir returned to the big screen after four years with The Rising: Ballad of Mangal Pandey, and stepped right into unchartered territory with this historical film of the uprising of 1857.
Directed by Ketan Mehta, it had a record opening and also benefited from various marketing deals.
However, it did not enjoy a long run.
Box office collections: Rs 28 crore
Dil Chahta Hai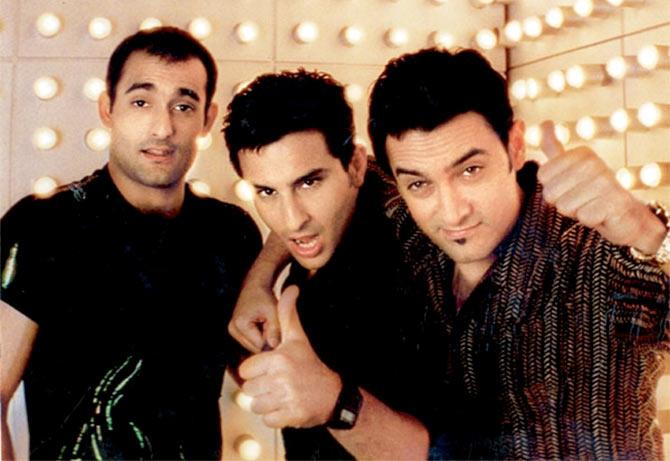 Image: Akshaye Khanna, Saif Ali Khan and Aamir Khan in Dil Chahta Hai
Farhan Akhtar's directorial debut Dil Chahta Hai has cult status today. But when it was released, this Aamir Khan starrer was successful mainly in urban centres and hadn't collected all that handsomely.
Aamir shared screen space with Saif Ali Khan and Akshaye Khanna in the film.
Box office collections: Rs 18 crore