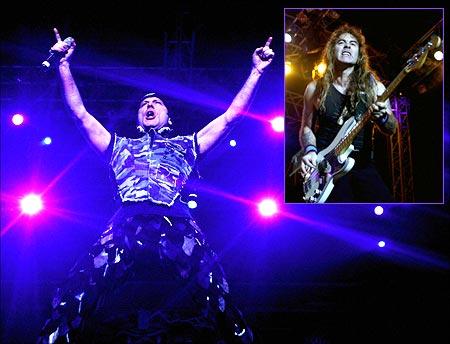 Veteran heavy metal band Iron Maiden left the MMRDA Grounds in Mumbai with a taste of hardcore live action on February 1.
The first stop on their 'Somewhere Back in Time' World Tour 2008 saw thousands of excited Indian fans waiting expectantly from 4 pm onward -- two in every three wearing Iron Maiden t-shirts. Besides the usual pack of youngsters, there were plenty of excited 10-year-olds and borderline senior citizens making the scene as well.
The funnier side of Iron Maiden
Several were actually overheard wishing that the tickets had been slightly pricier, so that they could have gotten up-close to their idols!
By 7 pm, everyone had already packed themselves into the two enclosures, so there was slim chance of making your way up front. Local rockers Parikrama opened the show and it was only at 8 pm that the lights dimmed and a recorded speech by Winston Churchill, the prelude to Iron Maiden's hit Aces High, drove the crowd wild.
This first performance was sufficient to charge the atmosphere -- what followed was sheer mayhem, with backdrops to the massive stage, all featuring the band's gory mascot Eddie, continually changing and all six band members performing at their electrifying best.
The audience was privileged to hear some of the band's greatest hits, some of which singer Bruce Dickinson himself declared they have not performed live in years -- songs like Wasted Years, The Trooper, Can I Play With Madness, Fear of the Dark, Moonchild, Rime of the Ancient Mariner, Two Minutes to Midnight and Powerslave had fans eating out of their hands.
Video: Maiden members choose their best of the beast
As the band belted out song after song, it was easy to forget that all the Iron Maiden members are well into their 50's. The energy onstage was palpable as Dickinson ran to and fro across the stage, his trademark screeches interspersing mind-numbing guitar solos by 'the country club', as he himself jokingly calls the band's trio of guitarists Dave Murray, Adrian Smith and Janick Gers. Bassist and founding member Steve Harris was also a livewire on stage and while drummer Nicko McBrain's dexterity had spectators in awe, his smiling performance endeared him to them.
The pinnacle of enthusiasm was reached, however, when the band took off on the song Iron Maiden from their first self-titled album and the seventh member of the group, mascot Eddie made his way on to the stage. The 12-foot robot dwarfed the band members as his lit-up eye and menacing snarl surveyed the audience, one arm wielding a dummy rifle pointed at hundreds of bobbing heads in the crowd.
Special: When Eddie came to India
After two solid hours of playing, Iron Maiden finally bade Mumbai a fond farewell, with a promise to be back soon. All in all, everyone who came to see the band perform got more than their money's worth. "Scream for me, Mumbai!' yelled Dickinson one last time, as he made ready to leave the stage. And they did.
Text: Sanaya Dalal | Photographs: Getty Images