The funnier side of Iron Maiden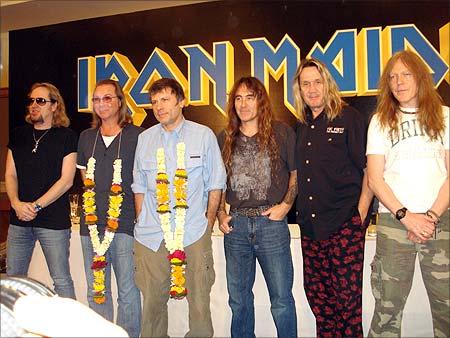 For over two decades, Indian fans of the heavy metal band, Iron Maiden, have waited to see them perform live in India. Today, for many Mumbaikars, the dream is about to become a reality.
Mumbai's J W Marriott Hotel hosted the band's press conference last evening and the ambience was fraught with anticipation. Most members of the media welcomed the band, wearing Iron Maiden t-shirts, the infamous mascot 'Eddie' snarling, as he either wields a weapon of mass destruction or holds his beating heart in the palm of a blood-splayed hand.
The Iron Maiden band -- comprising of Steve Harris (guitarist and founding member of the band), Bruce Dickinson (lead singer), Nicko McBrain (drummer), Dave Murray (guitarist) and Adrian Smith (guitarist) -- were garlanded desi-style as they took their seats. However, guitarist Janick Gers arrived much later.
The band members are well into their 50s, but one look at them, and you know they will nail live performance after live performance well into the future. Bright eyes and friendly faces looked across the spell-bound conference room and then just like that, the question and answer session settled into a comfortable exchange.
Janick Gers gave some funny and direct answers, without mincing words, especially the time when he told a journo -- who implied that the sound of Iron Maiden hasn't evolved -- that he didn't know a thing about music!
The media interaction session gave way to an autograph-signing spree, as the band mingled with the media more informally.
Later, the band enjoyed the Indian cuisine served at the venue -- Steve Harris dug into sev puri and Janick Gers had dal.
Today, on February 1, their world tour, Somewhere Back In Time, kicks off right here in Mumbai. And while Mumbai watches, the funny, approachable band members will metamorphose into the hard core heavy metal Iron Maiden band we know.
Text: Sanaya Dalal | Photograph: Raja Sen