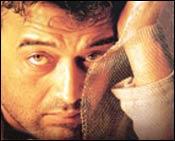 Maqsood Mehmood Ali isn't worried about first impressions. He knows he doesn't need to. After all, he's not some remix artiste forced to rely solely on glamour to get people to listen.
So, with the confidence that comes from selling millions of CDs, he saunters in.
His blue, weather-beaten jacket and casual footwear do little to divert attention from the unshaven face and sprinkling of grey in his beard. "I'm Lucky," he smiles, extending his hand, and slipping into a conversation easily, smoothly, as if it were another of his many lilting melodies.
Excerpts from Lucky Ali's chat with Lindsay Pereira:
Sunoh sold over 10 million copies. Did you expect that kind of success from a first album?
All my albums were successful. I wasn't interested in whether or not they would be, though. I just wanted people to listen.
You have led an interesting life – breeding racehorses, selling carpets, working at an oil rig. You must have some interesting tales to tell. Has your past made you a better salesman, for instance?
[Laughs] There are no incidents that stick out. I have had a good stint with them all. And no, it hasn't made me a better salesman or anything. I have never had to sell my music to a label. Nobody dictates terms [with me]. I just do what I want to, musically, and they accept it.
Eight years of music-making make you a veteran of the Indian music industry. How has the genre of Indipop changed? Do you think it has lived up to the hype it first generated?
It has. [Music channels like] MTV and Channel [V] are still around. Thankfully, so are we, the artistes. As for the genre changing, I think it's the level of maturity that has changed. There are some radical changes in style, in the approach to making music. That kind of growth, at least for me, has been a constant.
Sunoh, Sifar and Aks are albums of ideas that convey a message. Do you create an album with a theme running through, or string a couple of tracks together to reach the requisite number for an album?
It's never just a couple of tracks strung together. There's always a connecting theme, even though I don't necessarily stick to it right through. First, the music arrives. I then sit with the lyricist and musicians, and tell them about the direction I am looking for – the ambience in my head. We just take it from there. I work with professionals, so the task is always an easy one.
Your father Mehmood had a number of songs on screen that went on to be huge hits. Do you have any favourites?
I used to sing songs from films like Bhoot Bangla and Kunwara Baap. I loved them a lot. I still play them for my children, telling them it is their dada on screen.
You have a bit of the gypsy in you. Where are you currently based?
For a while now, I have been living on a farm in Bangalore with my father. He kept telling me how lonely it was for him there and, after a point, I realised I had never really spent time at home. School was in Mussourie. I would come home for the holidays. Then came my travels abroad, and years of living in New Zealand. The need to take a trip somewhere exists more when one is younger. As you mature, you feel the need to come home.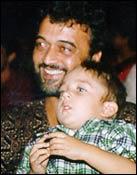 Tell us a little about your family. Has fatherhood changed the way you write?
I have two daughters, Tasmia and Sarah [who is just a year old], and a son, Tahafuz. As for it changing my writing, I think fatherhood changes you as a person. There was no moment of sitting back and saying, 'I have a daughter, so let me write a song.' I think it was a more complete change, for me as an individual.
Did your coming to Bollywood happen by accident, or were those tracks for Kaho Naa... Pyaar Hai planned?
It was no accident. It was a conscious decision. [Director] Rakesh Roshan approached me, and my father asked me to consider it. I have always enjoyed a peripheral relationship with the film industry after all, so I was comfortable doing it. The only weird thing was seeing someone else mouth my lines [laughs].
What about acting?
It is just another aspect of my ability to work in a creative environment, another facet of myself as an artiste.
Let's talk about the new album, Kabhi Aisa Lagta Hai. What are the themes that have gone into its development?
It is about love and relationships. I would describe it as something that isn't profound, and yet is. It has a romantic appeal to it. There's also some angst, but it has been dealt with in a positive way.
Do you consciously define the sound of your albums, or do they sound the way they do simply because you work with the same people?
Irrespective of whom I work with, there is always a conscious attempt to replicate the sound in my head. That explains the particular ambiance that surrounds all my albums.
You are still considered one of the few honest faces of Indipop, because of your refusal to take the remix route. Was that a conscious decision?
Let's not forget that a remix is also a means of expression. I have no problem with those who do it. I have never considered it simply because I have never had to. If I were to re-do some of my tracks, I would do them acoustically, perhaps.
Your aunt Meena Kumari was a much celebrated poet. As a lyricist, do you have writers you turn to for inspiration?
I have always found a kind of Zen in my aunt's work. As for other writers, I like all kinds, but am usually drawn to storytellers. I like people who can tell a good story well.
What about musicians? Are you more drawn to genres like folk rock?
I have never had a collection of music. There are no particular musicians I listen to. The last thing I bought, for instance, was some Brazilian music. When I visit a new place, I try and soak up the feel of it through its local music. I always like the local sound of a place.
You have always done videos with director Mahesh Mathai in the past. Why the sudden shift to Rahul Sood?
I don't know Rahul Sood. I have never met him, but I wish him all the best. As for Mahesh Mathai, I think we work well as a team. When a company releases another video, I like to think of it as a marketing strategy alone. Mahesh's work has always been layered. It is a question of art versus commerce in a way, because some of the earlier videos are well done but lost on a particular audience.
Other directors come in to create something more in tune with a market's needs and I respect that, but I would always prefer the careful work that Mahesh puts into the videos.
I like to think that the video directors who work with me are always given the freedom to express themselves through their work, with my music.
If you were to pick an ideal band from musicians around the world, whom would you pick?
No one. I already have the best musicians playing with me. Obviously, if someone like Joe Satriani were to come along, we would welcome him and love to play with him, but I think my boys are the best at what they do.
You once said that you didn't own a television or tape recorder. Has that changed?
To be honest, I went out and bought a television a day after I said it. I realised that considering the kind of world we now live in, ignoring the power of communication would be stupid.
I also wanted to make sure my children had access to that level of communication. We like watching regular family stuff. I watch the news, while my children prefer the Discovery channel or Animal Planet.
You performed in Pakistan in 2001. This year has been a good one for Indo-Pak ties. Are you looking at any collaborations or tours of any kind?
When we last went to Pakistan, we didn't do it for the money. We went at a time when relations were still hostile, because we wanted to show them that we were prepared to extend a hand of friendship.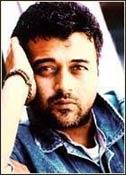 We also visited Nepal last November. The people there were extremely warm and friendly. [But] I have no plans for any collaborations or tours at the moment.
Do you have plans to tour India or the US in the coming months?
I have a lot of plans for a tour. It's not going to be the usual, run-of-the-mill stuff though. We want an extravaganza because people who come to the shows, especially in the US, pay a lot to do so. So we want to offer them 'more bang for their buck'.
There have been some serious enquiries from promoters, and we may take in around 4-5 major cities there, apart from some smaller venues.
What next?
God has been kind. We get our three meals a day, and I have managed to do a lot. There is no long-term plan in mind. I simply take it as it comes.