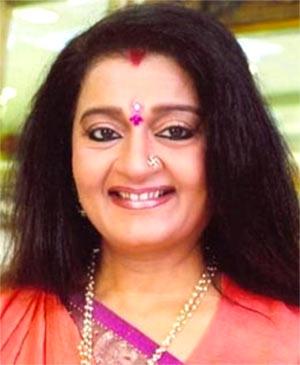 'The friendship we shared over the years is for a lifetime. There was nothing we didn't know about each other's lives,' Apara Mehta tells Rajul Hegde.

Sudha Shivpuri, who played one of television's most loved characters Baa in Ekta Kapoor's hit soap Kyunki Saas Bhi Kabhi Bahu Thi, passed away on May 20.
Apara Mehta played one of the key characters in the show -- she played Savita, Baa's daughter-in-law.
Apara pays rich tribute here:
We had a long association from Day One of Kyunki Saas Bhi Kabhi Bahu Thi. The memory will never fade.
She was a wonderful person -- punctual, professional and correct as an actor.
Apart from being a good human being, she was witty too. She would laugh at herself and others and yet remain grounded.
I would call her the 'naughtiest girl'. We all loved her as much as she loved us.
She was extremely close to the core team, especially Smriti Irani (who played Tulsi in the serial and is now Union HRD minister), and Kamalika Guha (who played the other daughter-in-law Gayatri) and me.
The friendship we shared over the years is for a lifetime. There was nothing we didn't know about each other's lives.
She was a strong woman who took care of her family after her husband (actor Om Shivpuri) passed away. She started working again at the age of 60.
In the eight years together, we shared many things. Each day was memorable for us.
The best part is we never had a tiff. Her daughter Ritu Shivpuri (who is also an actress), told me, 'Mom used to talk so fondly about you all that one day I asked her how so many women in one room get along so well?'
We had younger actresses coming in later. Though we had separate makeup-rooms, we all stayed in one.
None of the actresses had a problem and that is a rare thing. May be the success we all shared made us better as human beings.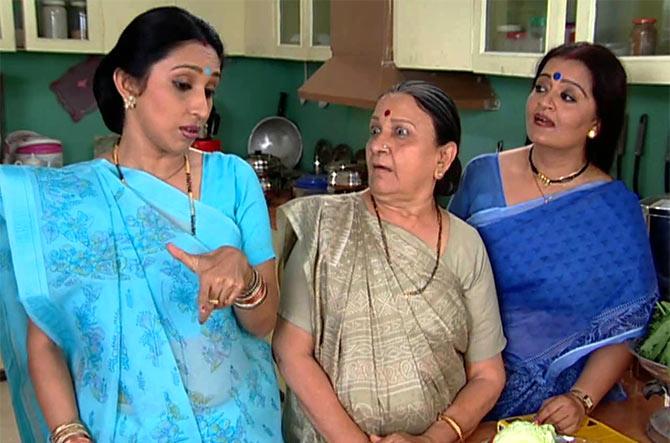 Image: Ketki Dave, Sudha Shivpuri and Apara Mehta in Kyunki Saas Bhi Kabhi Bahu Thi
I was in touch with her over the phone but hadn't met her for a while.
We last met three years ago when Kamalika had her second daughter.
Though we don't meet often, we are just a call away for each other. The love and affection we share for each other is genuine.
Losing Baa means a lot for the entire team and for me, it's the end of an era of television.
As I was giving interviews to channels after Sudhaji passed away, I got a call from Smriti Irani, who was in North Korea on work. We spoke for 15 minutes, mourned and celebrated Baa's life and remembered all the good times we had in Kyunki...
It's a personal loss for us because she was more than family for us.
Smriti is not available all the time as she is busy with her responsibilities as a minister. But she will pick up a phone and call me any time.
Once she called me and asked which side should she pierce her nose? I said left side.
The relationship all of us developed during Kyunki... is normal, simple and intense. Over the years we had become so close that we didn't even realise it.
Now, after losing Baa, we have realised that we are not in touch with each other on a daily basis. So we (all the actors of Kyunki) have formed a group on WhatsApp.
We all mean a lot to each other and it's a kind of tribute to Baa.