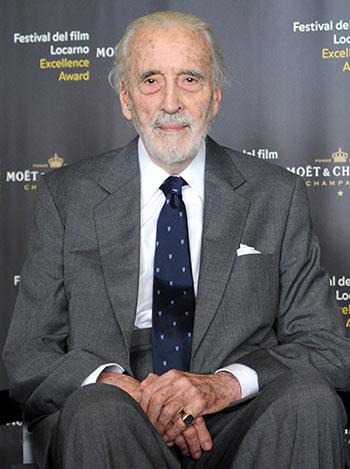 Veteran British actor Christopher Lee, who rose to fame with his performances in Star Wars and Dracula, has passed away.
He was 93.
The iconic actor passed away while he was undergoing treatment for respiratory problems and cardiac failure at Chelsea and Westminster hospital in London on Sunday, June 31, the Telegraph reported.

In his tribute to the late legend, film critic Peter Bradshaw revisits his turn as Dracula, 'When Lee's Count Dracula first walked down to the stairs to greet his visitors in the first Hammer movie version it was a revelation.

'He was tall (six foot five), handsome and well-built, with an easy athleticism and a frank, direct manner. His deep, melodious voice completed the effect: commanding.'

Lee, who rose to fame as the title character in the 1958 Hammer Horror Dracula, reprised the role in other Hammer vampire films throughout the 1960s.
He went on to play Saruman in the Lord of the Rings movies and its spin offs and also featured as Count Dooku in two Star Wars films.

He was also knighted in 2009 and is survived by wife Birgit and their daughter Christina.

Photograph: Pier Marco Tacca/Getty Images