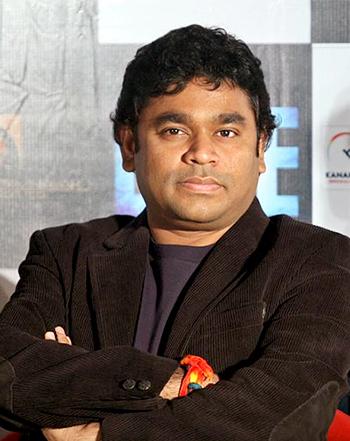 Music, they say, transcends all barriers, but when composer A R Rahman performed Tamil songs at his UK show, Hindi-speaking concertgoers reportedly staged a walkout.
The show, titled Netru Indru Nalai (Yesterday, Today, Tomorrow in Tamil), took place at the SSE Arena in London's Wembley Stadium on July 8.
Renowned as the 'Mozart of Madras', Rahman was joined on stage by singers Benny Dayal, Javed Ali, Neeti Mohan, Haricharan, Jonita Gandhi and Ranjit Barot.
The members of the audience took to social media to express their disappointment when Rahman and his troupe performed mostly Tamil numbers.
Some complained on Twitter that they felt duped by the organisers -- Hamsini Entertainment, UK, and HueBox Entertainment, India -- as they were promised that the performances would be in Hindi and Urdu.
'#ARRahman concert: Never seen so much #disappointment & #masswalkouts. Approx one per cent of songs in Hindi. #ssearena filled on #falseadvertising,' wrote one of the Twitter user.
Another person wrote about how the show failed to impress the fans and how he felt let down by Rahman.
'#ARRahman very disappointed with the concert tonight in Wembley. Waited for a very long time to be disappointed. Not expected from a legend.'
Another fan was shocked to have attended what he called 'the first Tamil concert of his life' and asked for a refund.
'That was my first ever Tamil concert guys. Albeit completely unintentional #ARRahman #SSEArena #Fail #Refund?'
The furore over Rahman's concert also ended up fanning the persisting language debate between north and south India.
Rahman, who will next perform at the 18th edition of IIFA to celebrate 25 years of his musical journey, was defended by his fans and celebrities.
South Indian singer Chinmayi Sripada supported the award-winning composer on Twitter by tagging the outrage of the fans as another show of intolerance and double standards.
'When Rahman sir wins 2 Oscars and creates history, he is 'An Indian', but 7-8 Tamil gaane kya gaa liye aap naraaz hote ho (all this furore over playing 7-8 Tamil songs?). What yaar?'
'The show was called Netru Indru Naalai, had 65 per cent, 6 Hindi songs (Set List is out there). Music knows no boundaries/ language.'
'Chase the American dream, your kids can (speak) Spanish; Live in the UK that once colonised India - but cry foul when you hear Tamil songs,' wrote Sripada, who has sung Tere bina from Guru, composed by Rahman.
Mocking the Hindi-speaking crowd, stand-up comic Aravind SA did a wordplay on the line from Rahman's Academy Award- accepting speech, where he thanked The Almighty for his win.
He wrote, "'If AR Rahman won his Oscar today, I'm pretty sure some people would have wanted him to say - 'Sab Pugalll Bhagwan ke liye'.'
This was followed by another series of tweets where his fans protested the efforts to impose Hindi on south India.
'AR Rahman performs Tamil songs, didn't perform any in Hindi. Not able to tolerate an hour of music in another language #stopHindiImposition.'
'ARRahman SINGS a lot of Tamil songs and suddenly all HINDI folks erupt, lol guys that's the same feel when your want your HINDI all over South.'