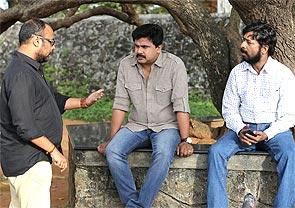 Director Lal Jose is teaming up with actor Dileep for the seventh time in Ezhu Sundara Rathrikal (Seven beautiful nights). Both were assistants under director Kamal before they made their mark in their respective careers.
"We have been friends all along and I hope that this character will present Dileep in a style that is quite unlike any of his recent movies," says Lal Jose, one of the finest filmmakers in Malayalam cinema.
Explaining the story line of the film, Jose says: "Aby (Dileep) had a failed love affair and decided to remain a bachelor after that. His parents have been looking out for a suitable match and now he has given the nod to one.
"Seven days before the wedding, he hosts a bachelor party and the events that follow from then on is what the film is about."
Ezhu Sundara Rathrikal, produced under the banner of Central Pictures, has been scripted by James Albert of Classmates fame.
Rima Kallingal, Murali Gopi and Parvathy Nambiar act in the film that will be in cinemas today (December 20).