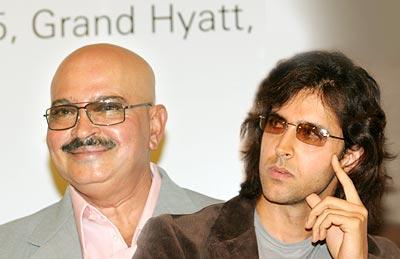 Hrithik Roshan's latest film, Krrish, is going for a 60-day nonstop shoot in Singapore from September to November.

Producer-director Rakesh Roshan signed an agreement with the Singapore Tourism Board in Mumbai and announced the deal.

"I always wanted to shoot a film in Singapore but somehow I never got the script," Rakesh told reporters after he signed the deal in Mumbai.

"I am happy that with Krrish I can achieve my goal as the film's second half will be entirely shot in Singapore. After signing this agreement, I can close down the highways and expressway in Singapore, and freely shoot, with their permission. We can have all the stunts, and jumping from building to building too," he added.

Though Hrithik accompanied his father he kept quiet and did not interact with reporters. 

"Now Singapore will be like a second home to me," is all he said.
Hrithik will have three different hairstyles in the film, Rakesh informed.

So will Jadoo the alien be a part of Krrish, considering that it is a sequel to the 2003 hit Koi Mil Gaya?

"I better not comment on that as that will amount to revealing too much of the script," said Rakesh.

"Rakesh Roshan has a tremendous track record as a filmmaker. We feel he will do his best to promote our country as one of the favourite destinations for Indian tourists, via his film," said Lim Neo Chain, deputy chairman and chief executive, Singapore Tourism Board.

The film is expected to release by June 2006.

Asked whether he had instructed Hrithik not to do many films as his career had flopped badly earlier, Rakesh quipped, "He tells me that he just wants to do one film in three years, just like I make one film in three years."

Krrish will showcase locations in Singapore including the world renowned Singapore Zoo, state of the art concert venue The Esplanade, a heritage pier built in 1933, the cultural repository of Chinatown, the bustling lifestyle districts along Singapore River and one of Singapore's rustic islands, Pulau Ubin.

Though the exact nature of the deal and financial assistance was not revealed, Lim was confident Indian tourists will come in hordes once Singapore gets promoted in the film.

"It will be a win-win situation for both of us," concluded Lim.
Text: Syed Firdaus Ashraf | Photograph: Jewella C Miranda