'During the Fastest Finger First round, my body was shivering.'
'I was both happy and nervous looking at him.'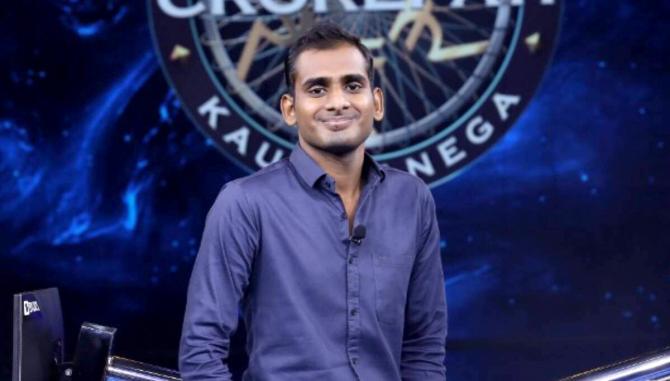 The 13th season of Kaun Banega Crorepati got its second crorepati with Sahil Aditya Ahirwar,, 19, who hails from Lavkushnagar in Madhya Pradesh's Chhatarpur district.
Sahil's story is special because the teenager is the son of a security guard with limited resources.
"When Mr Bachchan announced in his typical style that 'Aap ek crore jeet gaye', I couldn't comprehend it for a few seconds," he tells Rediff.com Senior Contributor Rajul Hegde.
How did your relatives and friends react to you winning Rs 1 crore?
It was a surprise for them.
The name wasn't revealed when the channel put out the promos, so everybody would come home and ask my parents if it was me.
We didn't confirm until the telecast, as we were bound by a contract.
Now that it's out, everybody is happy and proud of me.
Was this your first attempt to be part of KBC?
It has been my dream since childhood to take part in KBC.
I had tried once a few years ago, but I got lucky only this year.
One of my seniors from school had taken part in the show. He encouraged and guided me to take part in KBC.
Did the preparation for UPSC examinations help you on KBC?
Definitely! History is my favourite subject.
I am interested in current affairs too.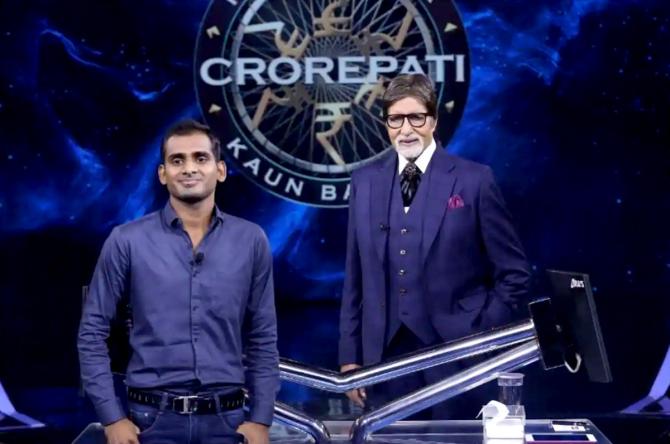 How was the experience meeting Amitabh Bachchan?
The shooting began at 9 am and Mr Amitabh Bachchan was on the sets 10 minutes before the fixed time.
When I first saw him on stage, I couldn't believe my eyes.
I got goosebumps.
It was surreal.
During the Fastest Finger First round, my body was shivering.
I was both happy and nervous looking at him.
I was going through such mixed emotions, I cannot explain it.
How did it feel sitting on the hot seat?
Before I sat on the hot seat, I wanted to touch Mr Bachchan's feet, but I couldn't due to the COVID-19 protocol.
I touched his feet from far away.
He treated all the contestants like his friends. He made me so comfortable that I felt like I was talking to a family member.
He doesn't care what background you come from.
He gives you so much respect and listens patiently.
He communicates so well.
I am a big fan of his, but after meeting him, I have become a bigger fan.
Spending an hour with Mr Bachchan in itself was like becoming a crorepati.
I have only been talking about him with my family after the KBC shoot (laughs).
My favourite films of his are Laawaris and Sharabi.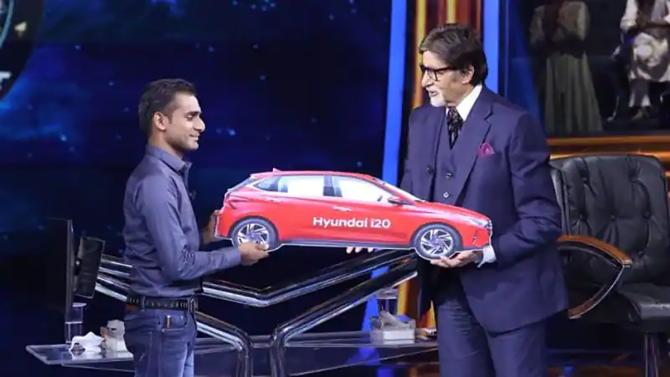 What was going on in your head during the Rs 1 crore question?
I was completely focused on playing a good game throughout the show.
I wasn't thinking about the money.
I wanted to have the satisfaction of playing the game well.
Of course, I was nervous and scared when I answered the Rs 1 crore question.
Sometimes even when you are sure it is the right answer, that one percent doubt will be there, especially when you are attempting a Rs 1 crore question.
When Mr Bachchan announced in his typical style that Aap ek crore jeet gaye', I couldn't comprehend it for a few seconds.
When the audience and my cousin stood up, I was like, 'Wow, I won one crore in such a short time'!
It was a big surprise and a surreal moment for me.
All my family members knew I had knowledge, but they didn't think I would win big money.
It's an amazing feeling to win Rs 1 crore.
You asked Mr Bachchan a few questions about your favourite actress Taapsee Pannu and she answered one of them (her favourite food) on Twitter.
I have adored Taapsee ever since I've seen her work.
She is a very talented actress and my biggest crush of all time.
I find her to be very honest and that's what I love most about her.
She is the most humble actress I've come across.
I love all her movies equally.
It was very kind of Taapsee ma'am to send me good wishes via Twitter.
And who wouldn't like to join her for chole bhature?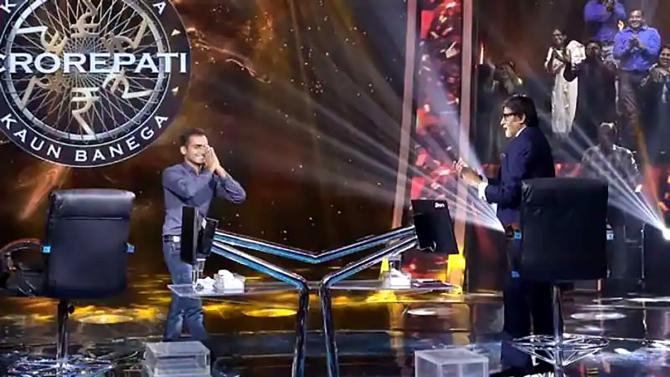 You have been through a lot of hardships and you said your father is an inspiration for you.
My journey hasn't been the easiest because I have seen my father struggle on a daily basis.
He works as a security guard (in Noida).
I was an average student.
I secured admission in the Navodaya school from Standard 6 to 12. My education was free of cost.
But after Standard 12, we had financial problems.
My father was the sole earning member of the family, but he made education our priority.
My cousin helped me with the books required for studies.
My parents have let me pursue whatever I wanted and they have always asked me to give my best in whatever I do. That is a policy that I follow.
What advice did Mr Bachchan give you after you won?
He told me to use the money wisely.
So what are you going to do with the prize money?
I want to give my parents a new house.
I want to buy a cricket set for my younger brother.
I will use the rest of the money to achieve my dream of becoming an IAS officer.
I will go to Delhi for my higher education.