From the rented home where he paid Rs 500 a month in the 1990s to the flat he will buy from the one crore won on KBC, Ajeet Kumar's personal journey is a story worth cheering for.
Archana Masih/Rediff.com met the jail superintendent-KBC winner in Hajipur, Bihar.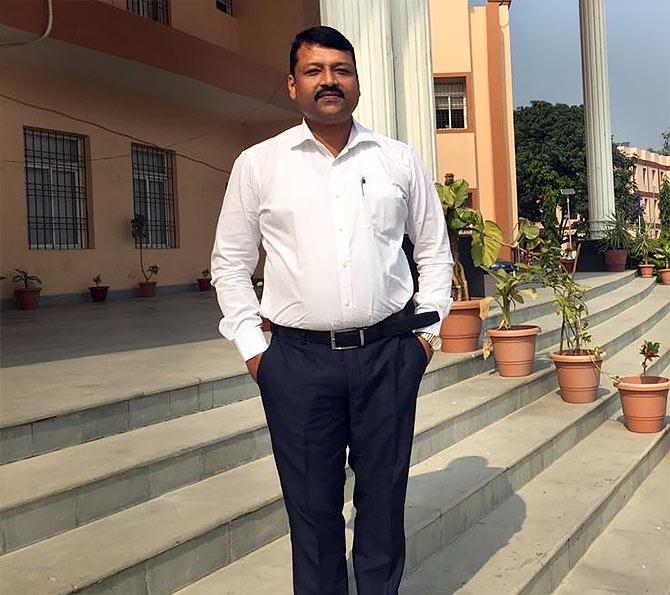 The latest crorepati is modest about his Kaun Banega Crorepati win and meets me in the precincts of the Bihar Institute of Correctional Administration, an impressive institute situated beside the Hajipur jail in Bihar.
The fresh graduate from the first batch of 13 jail superintendents, which includes two women, Ajeet Kumar, 41, has just concluded 10 months of training.
After his passing out parade last week, he now dons a uniform with a star and the Ashoka lions, the emblem of India. In a couple of days, he will know which jail he will be posted to as the senior most officer, in charge of the administration, supervision and security of a prison in Bihar.
Just the previous day, he had met the inmates of the Hajipur jail, where word had reached that he had won a crore in the hot seat opposite Amitabh Bachchan.
In fact, news that a trainee jail superintendent had won a crore had made news in jails as far as Tihar, Telangana and Andamans -- all the prisons that he had visited as part of the study tour in the last segment of his training.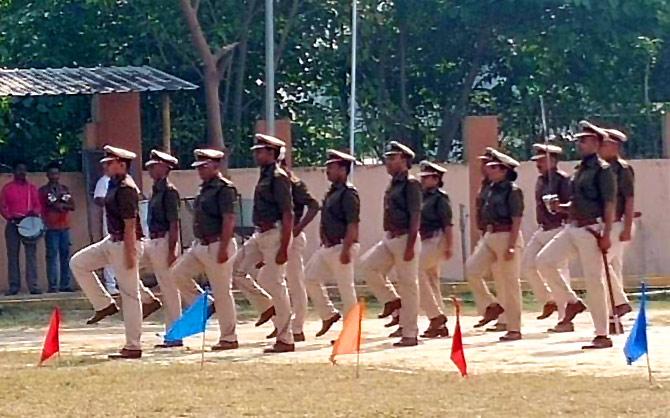 The phone call from KBC informing him that he had been selected as a contestant had come soon after the visit to Tihar, a prison which had left him impressed for its library and industrial unit where prisoners made 300 chairs and tables every day, apart from many other things.
He told the KBC crew that he would not be able to come till after his tour. It gave him about 20 days before appearing for the fastest finger first round of the popular game show.
"He kept his studies as his top priority and would prepare when the rest of us went sightseeing at the end of the day," says Sujit Kumar Roy, a batchmate and friend who has known him for nearly 20 years when they were preparing for the civil services exams at a coaching class in Patna.
Ajeet Kumar would browse the Internet and catch up with current affairs while his batchmates visited beaches, monuments or shopped.
'Papa don't roam around like a tourist. Study for KBC,' counselled his 12-year-old daughter Suhani over the phone.
Since his win, she has been asking her father to buy a car because it is uncomfortable for their family of four to go for outings on his motorcycle.
His son Arshit distributed chocolates to his class to celebrate the victory.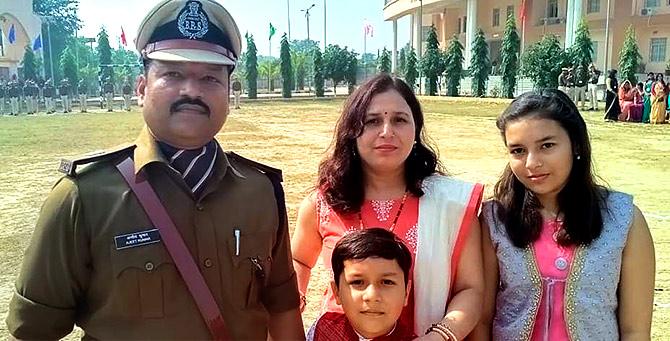 Since the show began in 2000, Ajeet Kumar had taken a shot at being a contestant. Each season he answered the preliminary questions and waited for the call -- in previous years when he gave his landline number, he would await for the stipulated call back in three days, ensuring that someone was home by the phone to not miss the KBC call.
But for 20 years, the call did not come.
Over the years, he saw the game show evolve and knew all the changes in format, he knew its rules and regulations. From afar, in spite of not having made it, he was already a veteran of sorts.
In these years, he also did not give up on his own dream of passing the civil services exam. When the initial attempt did not succeed, he cleared the railways entrance and got a job as a station master in the Naxal-affected area of Garwa in Jharkhand.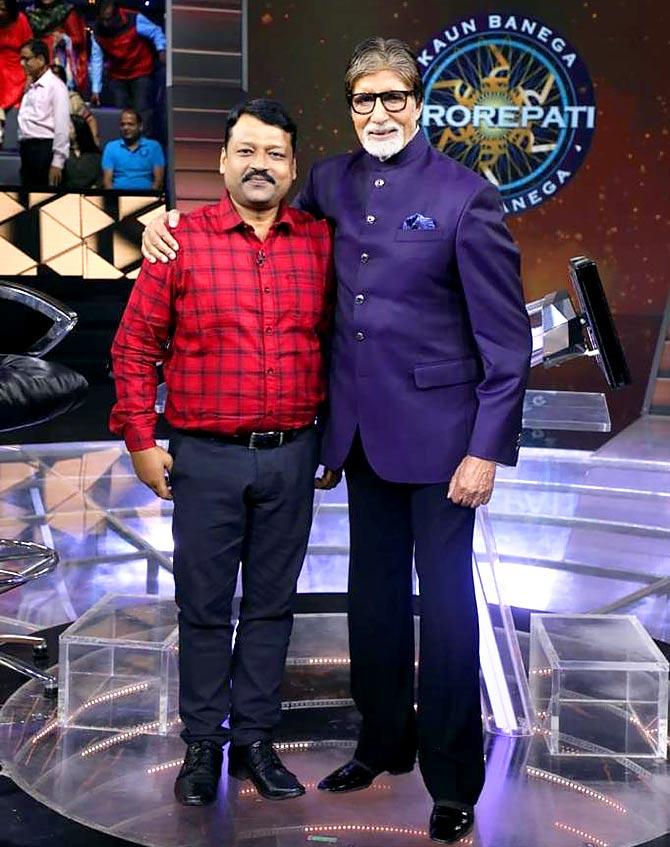 For 15 years, he served as a station master at a junction where 120 passenger and goods trains passed every day. There were times Naxals would blow up the tracks suspending train operations for nearly 10 hours till repairs were carried out. This would bring around 50 to 250 irate, even violent passengers in his office demanding an explanation.
He also faced about 10 odd dacoities on trains during his tenure.
"The Railways helped me to be patient in difficult circumstances and not to get overwhelmed with problems," says the courteous and mild-mannered officer over a cup of tea in an office of the correctional institute.
But he continued preparing for the civil services, taking out 2-3 hours every day after duty at the station. In 15 years, he appeared 10 times for the UPSC exam without success.
Finally in 2018, he cracked the Bihar Public Service Examination. "That long marathon of giving exams resulted in me competing the BPSC and becoming a gazetted officer," he says.
"In the interview he said there are some dreams that don't let you sleep -- and competing in the BPSC was that dream," says Kiran Nidhi, one of the women jail superintendents from his batch.
Ajeet Kumar's journey is worth celebrating. It is a story that makes you revel in his success and cheer his accomplishment because it has been a tough passage to the sweet spot where he is today.
During a sombre moment in our conversation, he speaks about the untimely death of his father whom he lost in Class 7. The four siblings and mother received Rs 1 lakh as compensation for his death which they put in a fixed deposit and survived on Rs 2,000 a month for nearly five years.
"We paid Rs 500 as rent and used the remaining amount on education and food," he says.
"My brother and I went to different houses to give tuitions after completing Class 10 and supported the family for five years. It helped me monetarily and the tuition routine kept me connected to studies," he recalls.
"The day you are comfortable, progress stops. Stay dissatisfied, stay hungry so that you can battle with circumstances," he says with modesty.
The two mantras for success, he says, are patience and drive.
His KBC winning episode was aired in the auditorium of the institute with 350 officers, staff, warders and family. Ajeet Kumar had a small celebratory meal after the show.
Inspector General Mithilesh Mishra and Director Neeraj Kumar Jha presented him a special award for his win at the passing out parade.
He has been invited by his alma mater in Gaya, and the ancestral village is also awaiting his arrival.
Ajeet Kumar wants to set aside a part of the amount for the education of disadvantaged children and helping women convicts whose families refuse to accept them after they have served their prison sentence.
"There is a lot of stigma and I want to use some of the amount to help them be self sufficient," he says
He also wants to focus on improving the lives of prisoners by creating a better environment.
"Telangana jails look like resorts with flowers and trees. Prisoners spend a minimum of 20 years in the jail and most often suffer from depression. I want to create a healthy space for them. Our jails have changed a lot and I want to improve them further," he says.
The other thing he will do with the prize money is buy a flat in Patna.
From the rented home where he paid Rs 500 a month in the 1990s to a home he has earned because he believed that knowledge is the only key that opens doors -- Ajeet Kumar's KBC win and his personal journey is a story worth cheering for.