Kartik Aaryan is Bollywood's newest Shehzada, and his entry at the trailer launch of his latest film is proof of that.
The young actor arrived with band-baajaa and was greeted with wolf whistles and a steady throng of people, desperately trying to capture him on their phones.
They followed him, and Shehzada leading lady Kriti Sanon right up to the ticket window of the theatre, the location of the launch, and will probably repeat the act when the film releases on February 10.
Meanwhile, Kartik and Kriti, along with Director Rohit Dhawan took questions from the media about the film.
So who was the first person in Kartik's life to call him a Shehzada? He tells us here, and Afsar Dayatar/Rediff.com captures the moment.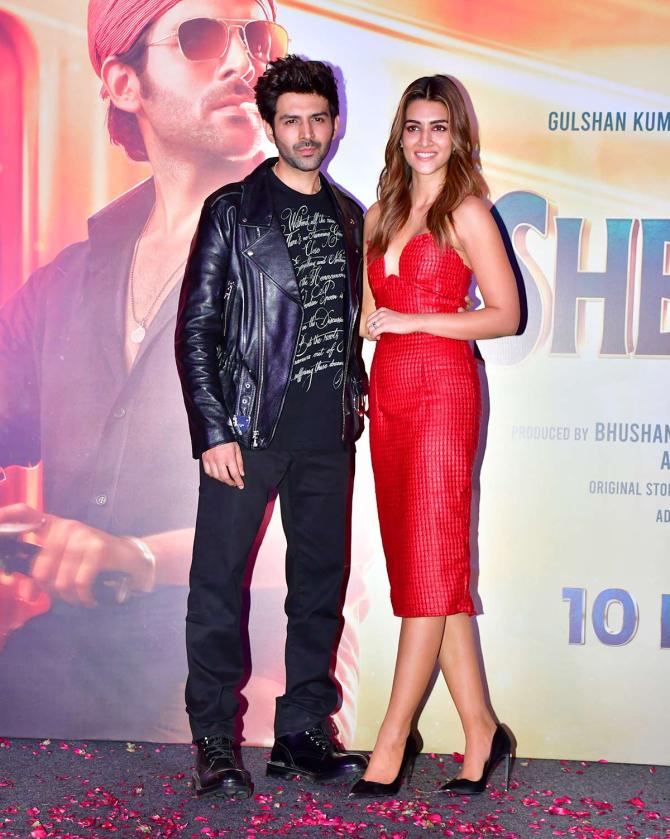 The Shehzada arrives!
"In the '90s movies, there would be a lot of emotion, action, romance, but we kind of stopped doing that. I used to love that. When I heard this film -- Rohit narrates very well -- and this is a modern version of that for me," Kriti says.
Are audiences excited to see Kartik and Kriti come together again, after Luka Chuppi? They answer in this video.
"I hope Shehzada surpasses Bhool Bhulaiyaa 2 at the box office," Kartik says.
Meanwhile, Kriti notes she returns in a glamorous avatar after a while, gushing, "Rohit presents his heroes and heroines very well!"
From a rank newcomer with no connections in the film industry to Bollywood's newest Shehzada, how does Kartik view his journey?
"The thought is to keep entertaining," he replies modestly.
Just why did Rohit title the film Shehzada? He explains here.
"I love interacting with fans because I've been a fan too. Now, I have crossed over and experience this, so I love interacting with them," Kartik says.
How would Kriti describe Kartik? She tells us here.
How does Kartik always get his chemistry with his leading ladies bang on? Does he take inspiration from Shah Rukh Khan?
No, Kartik answers, and explains why.