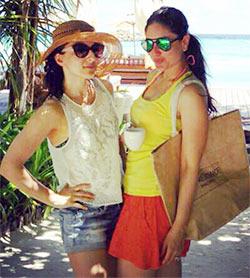 'There are family friends who lived through 1984.'
Some even left the country and never came back.'
Soha Ali Khan gets serious.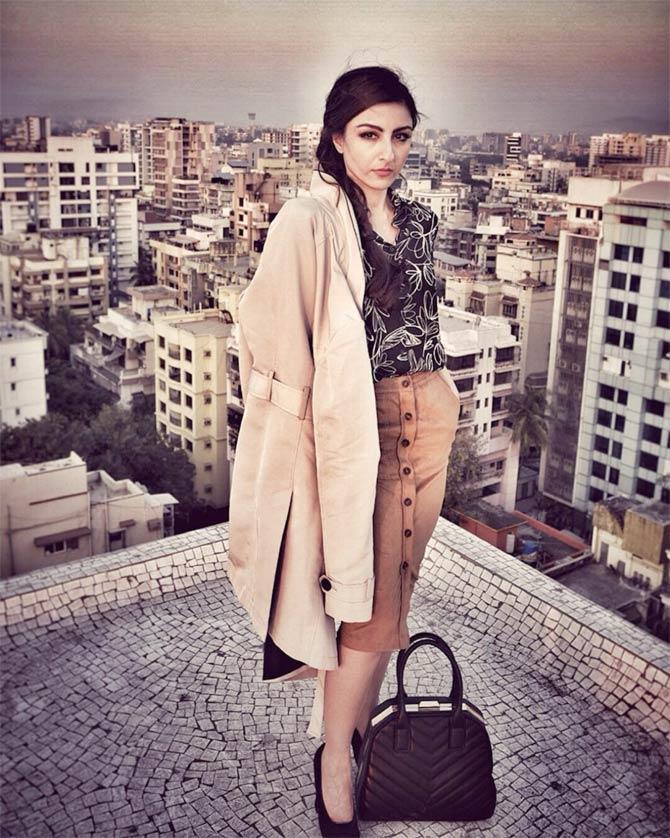 Photograph: Soha Ali Khan/Instagram
Soha Ali Khan will be seen in a heart-wrenching role in her new film, 31st October but she's really in a happy space in life now.
The actress, who celebrated her 37th birthday on October 4, is excited about becoming an aunt all over again.
Her big brother Saif is expecting a baby with Kareena Kapoor Khan, and the entire Pataudi family is eagerly awaiting its youngest member.
Soha chats with Rediff.com's Patcy N about the baby, her film and much more.
With Kareena's delivery date coming closer, how is the atmosphere at home?
We are very excited, of course. But it's not like we are all waiting for the baby every day. We know the baby is going to come in December and there is still time for that.
There is speculation that the baby may share a birthday with your mother Sharmila Tagore (December 8) or Kareena's grandfather Raj Kapoor (December 14).
I don't know if things can be planned like that, but the baby will come when it has to, sometime in December.
We are all very excited because I think they are a solid couple. It is so evident that they are happy and content with this phase of their life. I am very happy for them.
When are you planning a family?
My standard response is this: It is called family planning, not family and media planning. I will plan my family with my family.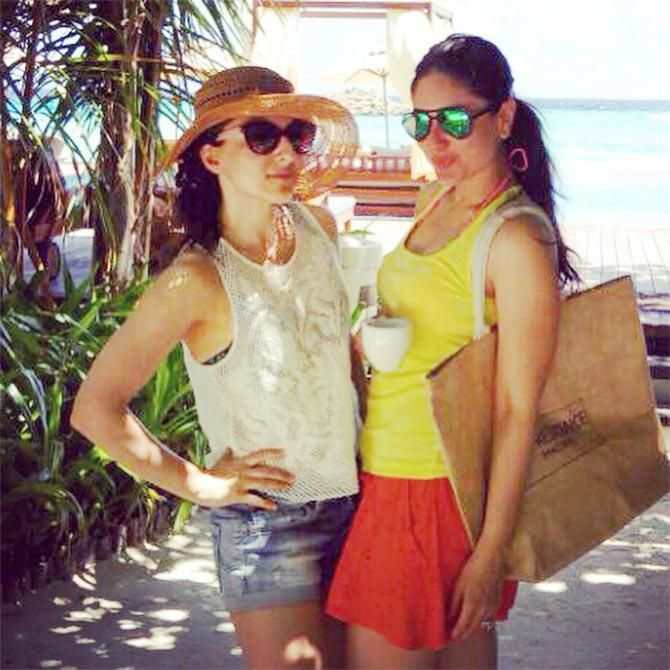 IMAGE: Sisters-in-law Soha Ali Khan and Kareena Kapoor on a vacation in the Maldives. Photograph: Soha Ali Khan/Twitter
In an interview, you said your role in 31st October has been the most challenging one so far, that it tested your capacity as an actor.
Yes. There was emotional trauma related to this role. Also, it's a one day story, so there was no real relief from it. It was not like we were shooting a song sequence one day and then a comedy scene the next day.
I had to wear the same costume every day and live that scene again and again. It was quite emotionally draining.
Do you have any memories of Indira Gandhi's assassination on October 31, 1984?
I was too small back then, just five years old. I don't have any memories because we lived in Mumbai at that time. We moved to Delhi in 1984, after the riots.
I did know what happened because there is someone who works in our household in Pataudi, who lived with us in Mumbai and then moved to Delhi with us.
He had a near death experience while travelling to Delhi? and after that, he cut his hair. He is a sardar, but was very traumatised by the experience.
There are family friends who have lived through 1984 and they have stories. Some even left the country and never came back. So I have heard stories from people.
I also studied about Operation Bluestar and its aftermath as a history student.
I grew up in Delhi, so I had many friends who told me about the incident. I always thought it's an important story to tell.
The fact that this story has never been shown in a mainstream Hindi movie made me want to be a part of it.
I signed the film because the story and my role is very powerful. I also felt the director (Shivaji Lotan Patil) was capable because a story like this needs a good director.
It gave me confidence that he was a National award winner. He showed a sense of control over the script, the characters and all other things.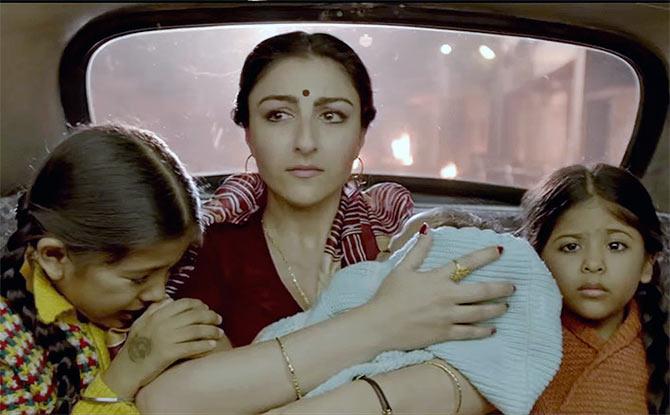 IMAGE: A scene from 31st October.
In the film, you play a mother of three who is stuck in the riots. What was going through your mind when you were shooting those scenes?
You know, I am unfamiliar with emotions like the maternal instinct to protect your children first or choosing between your husband and children or for that matter, the survival instinct that one needs during a catastrophe-like situation.
I have never faced such situations in my life. I come from a very protected past.
So to play such a role, you have to imagine how would you feel or react if something like this happens.
It's all about putting yourself in someone else's place, about empathy and the challenge of acting.
Of course, you get a lot of assistance when you see recreations in front of you like someone burning in front of you, background music, costume, drama, your co-actors, the scene constructions... all of that comes together to make a movie and then the final impact is very powerful.


VIDEO: Watch the 31st October trailer here.
Have you ever been stuck in a riot?
No, I have only been stuck in the floods. So I had a lot of personal experiences when I was shooting for Tum Mile that I could depend on.
I am fortunate that I have never been stuck in riots. I have had a very protected life and upbringing.
I remember my brother was in Mumbai during the 1992-1993 riots and we were all worried about him. But he was fine. At that time, I was in school in Delhi.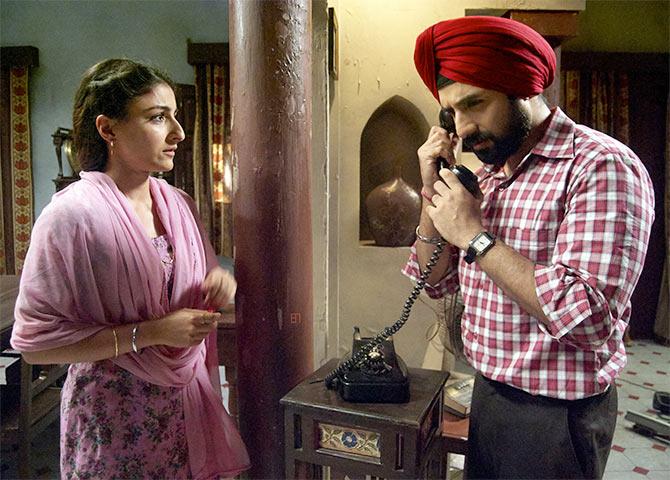 IMAGE: Soha Ali Khan and Vir Das in 31st October.
How was it working with Vir Das?
It was very easy working with him. I have known him from Go Goa Gone (the film starring Soha's husband Kunal Khemmu and brother Saif) days. In fact, even before that.
I was on the sets when they were shooting. I have been a fan of his stand-up comedy routines.
It's always nice to work with people who are professional, who learn their lines, come to the sets on time and who show commitment as opposed to people who don't take anything seriously. I appreciate that about him.
He has really worked hard. He worked on the accent, the look and that effort has paid off.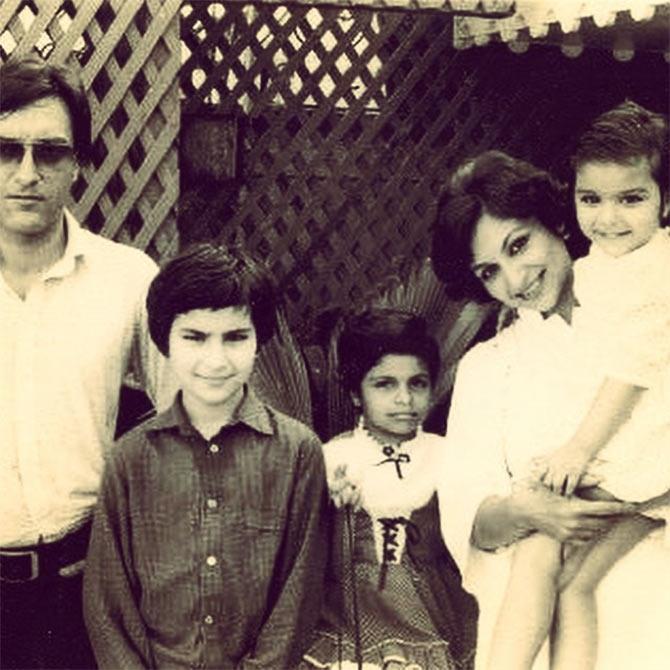 IMAGE: Cricket legend Mansur Ali Khan 'Tiger' Pataudi with his wife celebrated actress Sharmila Tagore, and children Saif, Saba and Soha. Photograph: Soha Ali Khan/Instagram
What were your growing up years like?
I have grown up mostly in Bombay and Delhi. I had a very happy childhood with lots of friends. I was always involved in theatre and sports and took part in extra-curricular activities.
I was a good student and had a great time in college as well.
I spent four years in England.
By the time I was born, my parents were not working. My father had retired and my mother wasn't working so much in films.
We had a very normal upbringing. My mother was on the PTA board and was doing bake sales and things like that. I think I had a pretty normal childhood.