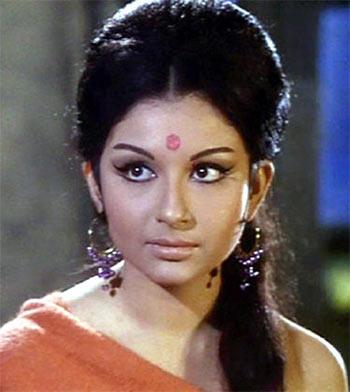 'I kept telling myself I'd quit after every film. I saw myself in my first Hindi film Kashmir Ki Kali and I didn't like myself. I said, one more film and I'm done. But it continued.'
Sharmila Tagore gets candid on her 70th birthday.
Sharmila Tagore made her debut 55 years ago, in 1959, as a child-bride in Satyajit Ray's Apur Sansar.
She married 'Tiger' Pataudi, the late cricketing legend and Nawab of the erstwhile princely state, and acted in innumerable films with some of the greatest directors and stars in Indian cinema.
Sharmila Tagore, who turns 70 on December 8, looks back with much pleasure and no regrets at a life well lived, in this interview with Subhash K Jha.
You're bringing in your birthday at Ranthambore?
Yes, with the entire family.
Tiger and I always enjoyed the outdoors. We've been to a lot of sanctuaries together. I wanted to visit this one.
What are your thoughts as you complete 70?
It's really about taking one day at a time.
I try to enjoy every moment of the time I have. I never looked back on my life earlier. Even now, I'm not a great one for retrospection.
But now when I see my life, I am very appreciative of all the goodwill and the opportunities.
Even before my birthday, the calls and messages started coming. It feels good to be....loved.
What do enjoy doing the most these days?
I find I am growing fonder of gardening, listening to music and reading.
Earlier, one enjoyed material things. Today, I'd rather gaze at a beautiful painting or a carpet than go shopping.
Do you enjoy your own company more than you did earlier?
Oh, absolutely. Human relationships can get awfully demanding and unpredictable.
One day you feel one way, the next day you feel something else. That affects relationships. It's better to spend time with yourself doing the things that you enjoy.
When I walk into Pataudi (her husband's ancestral hometown), I can't describe my pleasure and contentment.
Otherwise, travelling is such an effort and not really worth it any more.
Are you spending more time in Pataudi then?
Not as much as I'd like to. Now our home in Pataudi is no longer partially a hotel. It's come to us. So it's quiet and we have more privacy.
But I am sure it will change. That's another thing I've learnt in life: everything is transient.
Pataudi is not what it was when I got married. There was very little electricity then.
Soon Pataudi may become like a suburb of Delhi, like Gurgaon.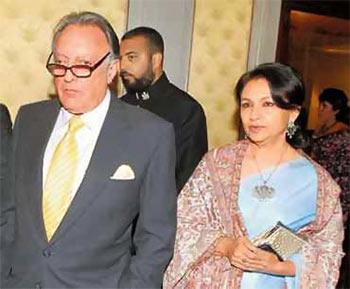 Image: Mansoor Ali Khan Pataudi with Sharmila Tagore
Do you enjoy living in Delhi?
One can't even sit out in the garden any more. When I sit out now, I can smell the fumes. My eyes burn. The pollution is really bad.
The Delhi winters used to be so lovely. As we travel out of Delhi, the air gets purer.
It's been more than three years since your husband Mansoor Ali Khan Pataudi passed away. Have you come to terms with the loss?
I read this amazing book The Year of Magical Thinking by Joan Didion. It talks of how she dealt with her husband's death. What she says is so true. After that year is over, he is no longer part of anything that happens in the film.
Tiger wasn't there for Saif and Kareena's wedding. I do wish that he hadn't gone away. That's my one regret. Other than that, there is no regret.
His legacy lives on in Pataudi?
That is why I like going there. Tiger is buried there.
It used to feel odd and intrusive when strangers pottered around. You know, once I was sitting at his grave -- this was just six months after his death -- when a man and two kids came to me for an autograph.
I said, not now. They went away. Later they returned and I chatted happily with them. Then the kids gave me a note written by their mother who wasn't there.
It said I should show more humility towards the people who were responsible for making me what I was.
That's so insensitive!

I was so hurt. I couldn't comprehend the level of insensitivity shown by them. Knowing that I was sitting in front of my husband's grave...to not show any sensitivity for my private moment of grief...
People judge us looking from the outside. They don't really know what is going on in my life. There are hundreds of perspectives out there. I cannot live up to all the expectations.
It's very difficult to constantly be conscious of my public image. They do it out of a genuine love for us. But sometimes they expect too much from us. One has to find the right balance. We like going abroad because there are less people who recognise us there.
But there are Indians everywhere and who doesn't know you, Saif or Kareena?
That's also true. So you have to find the right balance between the public and private persona.
In the long run, I've managed a good balance. In any case, this is the profession of my choice so I am not complaining. The perks are far larger than the pinpricks.
Has Kareena adjusted well into your family?
She is such a beautiful girl with a pure heart. We all adore her. Yes, she has blended beautifully into the family.
You know when Pataudi was critically ill, she was there with the family, so quietly and naturally.
We haven't seen you in a film recently.
You have to appreciate the fact that acting is not the be-all end-all of my life.
There is so much more to life. In any case, unlike Jaya (Bachchan) or Shabana (Azmi), who went to acting school, I was an accidental actress.
I remember seeing Jaya at age 13 with her father, the distinguished journalist Tarun Kumar Bhaduri. Even at that age she was decked up, a rose in her hair and so on. She was very enamoured of the camera. She was destined to be an actress.
I had no such aspirations. I actually wanted to go to Shanti Niketan. I wanted to be a dancer...
Dancer is one thing you are not!
(Laughs) Yes, I agree.
My life changed when I was introduced to Satyajit Ray. It was acting for me thereafter. But I kept telling myself I'd quit after every film. I saw myself in my first Hindi film Kashmir Ki Kali and I didn't like myself. I said, one more film and I'm done. But it continued.
But I left so many films: Khilona, Tere Mere Sapne, Roti Kapda Aur Makaan, Aad-mi Aur Insaan....When I was offered the last by Yash Chopra, I told him I was quitting.
Why?
I wanted to accompany Tiger on his world tours. There was always that conflict between home and career.
Ultimately it all balanced out. But there was a lot of sacrifice involved. There were no mobile phones and one was constantly anxious about the children while working.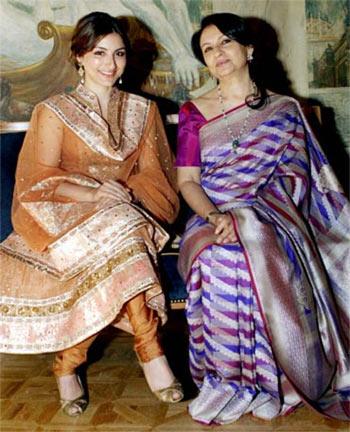 Image: Sharmila Tagore with daughter Soha
How did you make your children understand that you had to leave them every day to go to work?
I made my daughters appreciate my work. Every day we'd rate my work. They'd ask if I got 10 out of 10 for my shots.
They took my work as seriously as they took their studies.
That's a unique way of getting the children to participate in your work.
In those days, working women had to constantly apologise. Society didn't approve of women who went out to work leaving their children.
Neither of my girls resented my work. I had to go out of India for a long time to shoot Mira Nair's Mississippi Masala. We had to keep in touch through letters.
Tiger was there and my mother-in-law also took very good care of the children. But I missed them when I was away.
You've led a charmed life.
Looking back, I am grateful everything went smoothly in my life. Anything could have gone wrong. But it didn't.
My children grew up to be self-sufficient. All three are successful in their work.
When Saif came into films, he had no family backing. He was thrown out of Rahul Rawail's film. I rang up Rahul but it didn't happen.
Eventually Yash Chopra launched him in Parampara. He survived and became successful on his own.
Soha, too, pays her own rent. Saba is also working. All my three children live within their means. Soha is not trying to live like Saif. They take holidays, they enjoy life.
You are the only actress who became more successful after your marriage. How did that happen?
The right choice of films and directors. Ultimately, it's the films that work.
It is believed that a certain section of the audience doesn't like to see an actress after she's married. But I feel if you give them a good story and a good film, they cannot ignore you.
I did very powerful films such as Aradhana, Amar Prem, Mausam, Grihapravesh and Dooriyaan...I guess things just worked out for me.
I don't think I was a victim of stardom. I never aspired to be only a star. I wasn't averse to taking risks in my career. If I read a subject and liked it, I'd do it for a token fee. Basu Bhattacharya or Tapan Sinha hardly paid us but I loved working with him. One hardly worked with Satyajit Ray for money.
Which are your favourite roles and films?
I like Asit Sen's Safar and Bhimsain's Dooriyaan because I played a proper professional. This was so different from the conventional roles for heroines during those days.
I like Anupama, Safar, Amar Prem, Talaash and Aradhana.
Apur Sansar was a milestone and so was Devi. I got to work with Satyajit Ray in both.
I started a film each with Bimal Roy and Ramesh Saigal, but they were shelved. Even that brief stint with them stayed. Shakti Samanta, Hrishikesh Mukherjee, Gulzar, O P Ralhan...they were all important directors. Ralhan had a true passion for filmmaking and he was fearless.
Who were your favourite co-stars?
All of them. Sanjeev (Kumar), Shashi (Kapoor), Kaka (Rajesh Khanna), Dharmendra, Sunil Dutt, Dilipsaab (Kumar), Rajendra Kumar, Dev Anand... all so wonderful.
Is it true that in one sequence you had to cry and you ended up laughing on screen?
(Laughs) That was such a ridiculous scene in Dulal Guha's Milan Ki Raat.
I had to fall at the bedside and weep. I shouldn't have spoken about it. Sanjeev Kumar taught me to be convincing in whatever I did. He'd say, 'Don't argue. Just say your lines. I have to go home.'
I haven't seen Milan Ki Raat on television or anywhere. So many of our films have not been kept properly.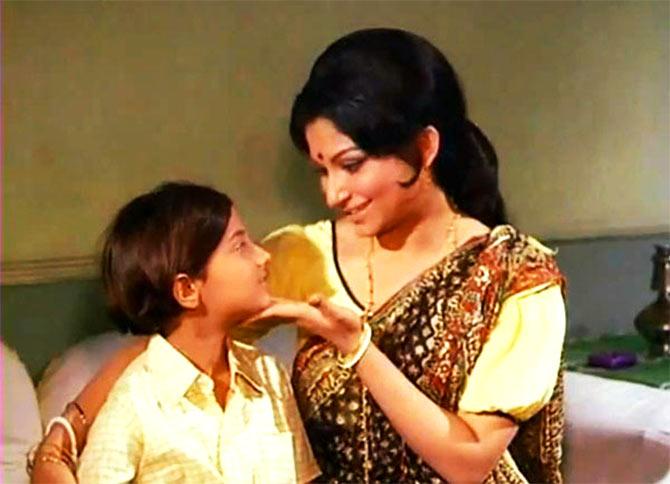 Image: Sharmila Tagore's famous bouffant hairstyle in Amar Prem
Looking back at your films, what would you like to change?
My hair. I remember all my directors discouraging me from doing the elaborate bouffant. But I wouldn't listen. I never did.
You were the first actress to wear a bikini.
That was so frowned upon during my time. Now it has become a cult thing. It's still considered a big deal. The Indian mindset has not changed at all.
Are you tempted to return to films?
Not really. I am quite happy with my gardening, music, reading and UNICEF work. We have a trust at Pataudi that works to restructure the face of an acid survivor.
I get lots of help from people who have proper connections. Once we started helping this girl lots of people have come forward.
Should celebrities be more socially conscious?
I feel that when you are in a position to help people, you must. Tiger started the trust. Now I am looking after it. Kareena is also interested in it.