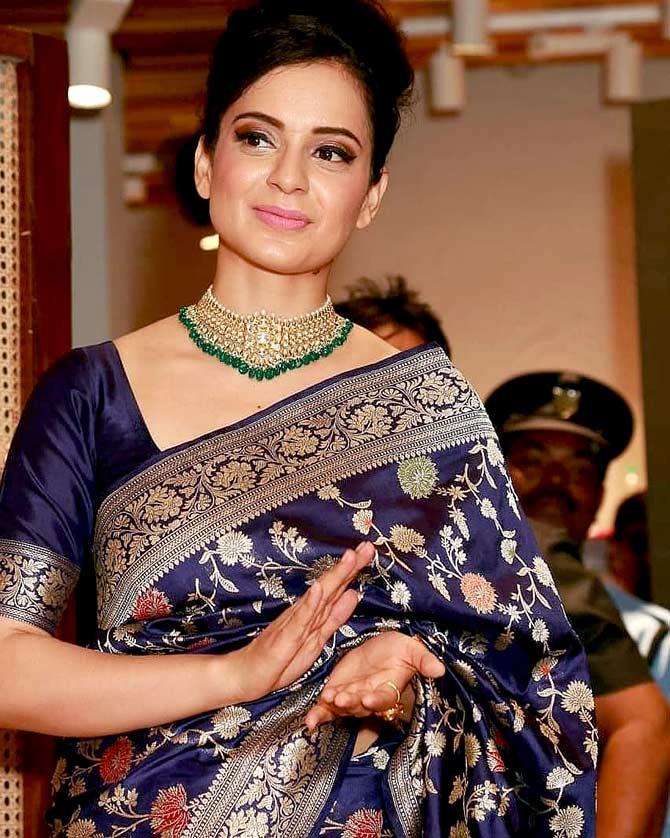 Kangana Ranaut knows just how to stay in the news.
A day before the poster launch of her new film, Mental Hai Kya, the actress's sister Rangoli Chandel verbally socked it to Alia Bhatt's mum, Soni Razdan.
In a now deleted tweet, Soni had said her husband Mahesh Bhatt had given Kangana a break in Bollywood, and yet, Kangana was attacking his wife and daughter.
Rangoli flew to her sister's defence and said it was Anurag Basu who launched Kangana in Gangster.
'Mahesh Bhattji works as a creative director in his brothers production house,' Rangoli posted.
'Please note that he doesn't own that production house, after Woh Lamhe when Kangana refused to do a film written by him called Dhokha where he wanted her to play a suicide bomber he got so upset that he not only shouted at her in his office but later when she went for Woh Lamhe preview to a theatre he threw chappal on her, he didn't allow her to see her own film, she cried whole night .... and she was just 19 years old.'
Rangoli didn't stop there.
'Of course Kangana is jealous of Alia's super model looks and fashion sense, remarkable multiple national awards winning acting skills along with superhuman action style, Her exceptional IQ and speeches along with refreshing writings, directorial skills... whereas poor Kangana surviving because of one sugar daddy who she works for totally free of cost', Rangoli added, in comments dripping with innuendo and sarcasm.
In case, you missed reading between the lines -- Kangana has won three National Awards; Alia has none.
The 'exceptional IQ' jibe is likely a snide reference to Alia's early appearance on Koffee With Karan where her poor GK was on display.
The 'sugar daddy' is a barb at Karan Johar, Alia's movie mentor, who Kangana had accused of nepotism on her solitary appearance on Koffee With Karan.
The 'superhuman action style', the 'directorial skills' are all a rah-rah for Kangana for what the actress believes she achieved in Manikarnika: The Queen Of Jhansi, which she starred in and co-directed.
The Ranaut onslaught on the Bhatts began when Kangana got upset that Alia had not 'supported' her during the release of Manikarnika.
'What Bollywood is doing, the planning and plotting, one thing is for sure, earlier I used to call them out for sexism, nepotism or pay disparity, but now I'll be after them,' Kangana had said then.
'Inki vaat laga dugi! (I am going after them!),' she thundered. 'I'll expose each and every one. They have asked for trouble by ganging up against me.'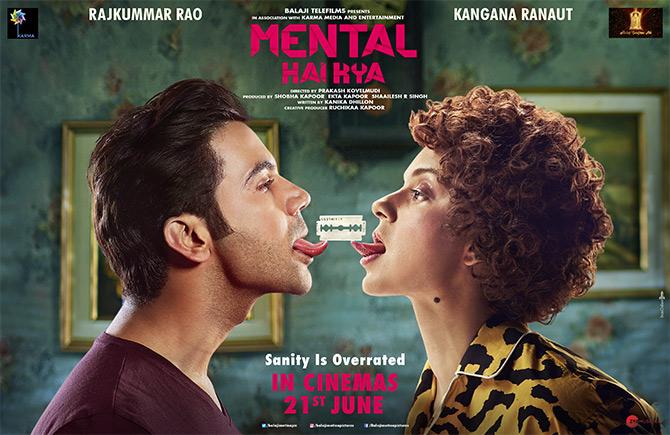 Meanwhile, Mental Hai Kya -- starring Kangana and Rajkummar Rao, produced by Ekta Kapoor, written by Manmarziyaan writer Kanika Dhillon, and directed by Kanika's husband Prakash Kovelmudi -- has suddenly surfaced on the releases radar.
There was talk that Mental Hai Kya would release next year; now, it will appear on screens on June 21.