'Go against society and people for that.'
'You don't have to be politically correct always.'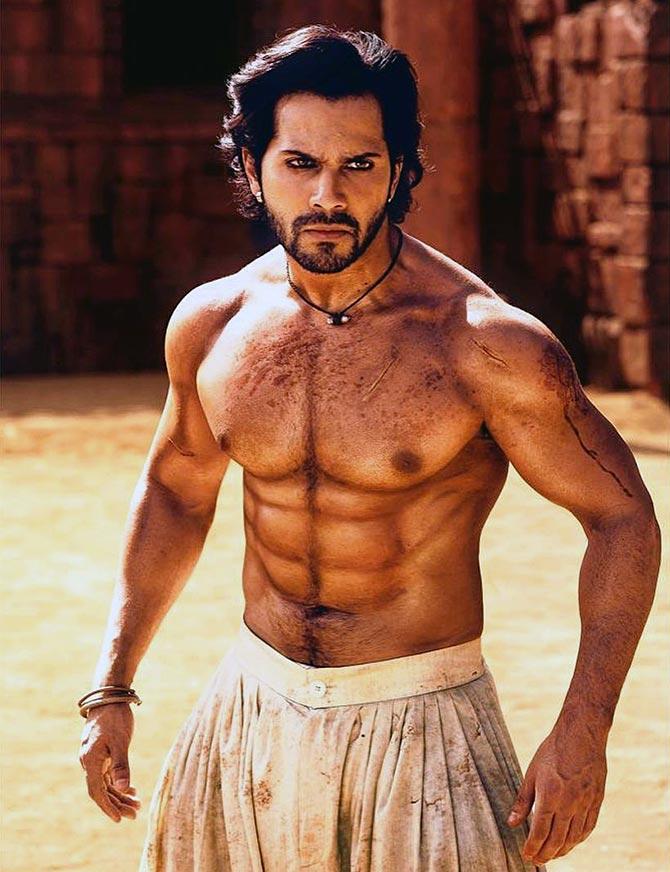 Varun Dhawan has never had a flop till date, and is one of Bollywood's biggest stars.
Yet, he remains very grounded.
"Awards comes once in a year, but October will live forever. I still get a message a day for that film, so that is my royalty," Varun tells Patcy N/Rediff.com.
Shah Rukh was supposed to do your role in Kalank. What was it like fitting in his shoes?
Many of the roles in the film were written for big people.
This film was supposed to be made a long time ago. Then, we got a new director on board, who re-imagined the film.
How tough was it to play Zafar?
Extremely tough!
I think Abhishek (Director Abhishek Varman) has an edgier take to it.
It's not all about physique, but it has a lot of emotions. My character carries a lot of baggage.
If I had to smile or laugh in a scene, Abhishek would say you can't show your teeth.
I would ask him how can I laugh without showing my teeth, and he would show me.
I told him I would look arrogant, and he would say, 'You are an arrogant c******a. That is how I want people to think of you initially.'
Every time I would meet him, he would give me bad words even though he is very quiet in real life, not aggressive at all.
But he has got a lot of suppressed aggression, and that's how Zafar had to be.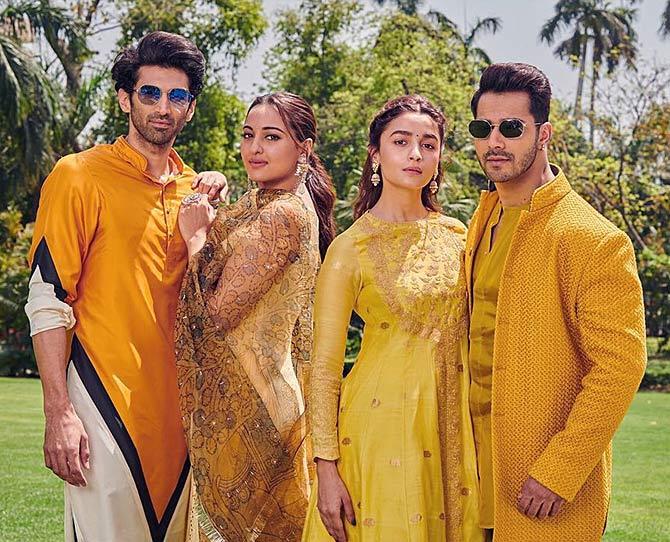 Growing up, you must have gone on the sets of Sanjay Dutt and Madhuri Dixit's sets...
I have a few childhood memories with Madhuri ma'am.
But on this set, it was all work, very professional.
They never let me feel I was young in front of them. They gave me an open hand in whatever I wanted to do.
Madhuri ma'am always said, go for it.
You haven't had a flop in your career yet, and now, you are in a costume drama. Any pressure?
Yes, a lot.
Not only because of the budget, but also because of the expectations. There is such a huge star cast.
People want to know how we have made the film.
They question the need for such a big cast.
I think Abhishek has to prove that; we will also prove that on April 17.
We are releasing the film two days before Friday, so we know what we are getting in to.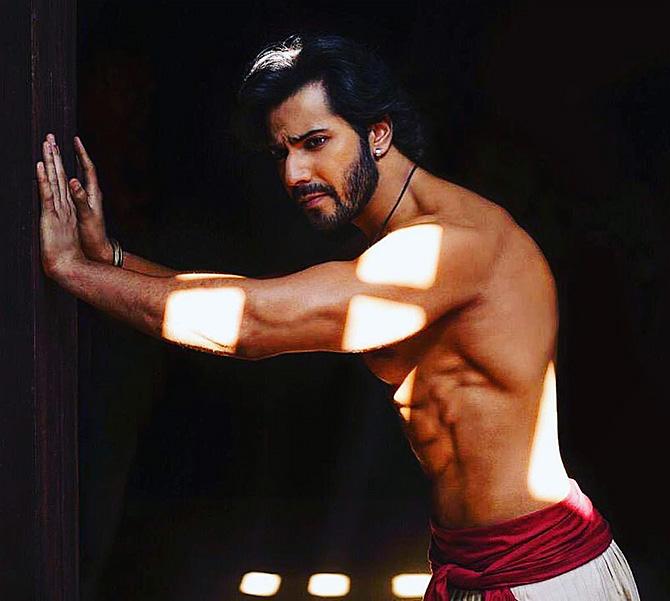 The week after that sees Avengers: Endgame up for release.
It is what it is. People can hope to get five weeks open, but that is not possible in today's day and age.
Nowadays, if a film is liked, it will work. There are enough screens.
We have nine days before Avengers, By then, people will make up their minds whether they like the film or not.
Plus, I think a film should run only if it is liked. I subscribe to that view.
Alia mentioned in her interview that your character Zafar is her favourite. Which is your favourite character?
For me, it is definitely Roop because Zafar ko Roop se pyaar hai aur Zafar ka lakshya Roop hai.
I will say a line from the film: 'Roop ki mohabat mera haq hai, aur yeh haq main leke rahoonga.'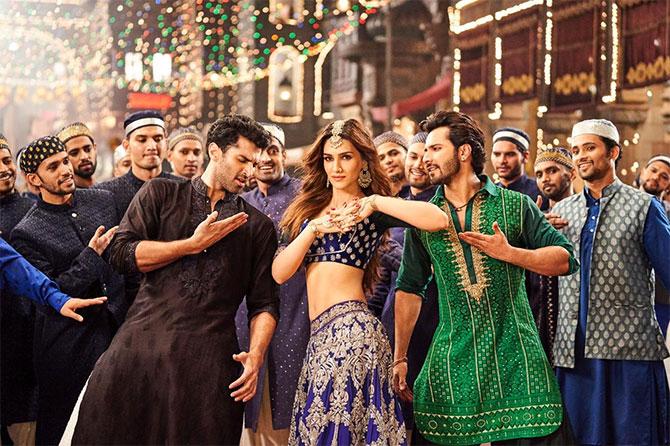 Was it an emotionally tiring film?
It was, but I never got tired; I was just too driven.
I knew the challenge, so I wanted to do my best.
I didn't want to regret later that I did not try.
Yes, some scenes were emotionally draining, but I was very charged about those scenes.
Are there any similarities between Zafar and you?
Just one similarity: If you feel something is correct in life, stand for it. Go against society and people for that.
I really believe in that. You don't have to be politically correct always.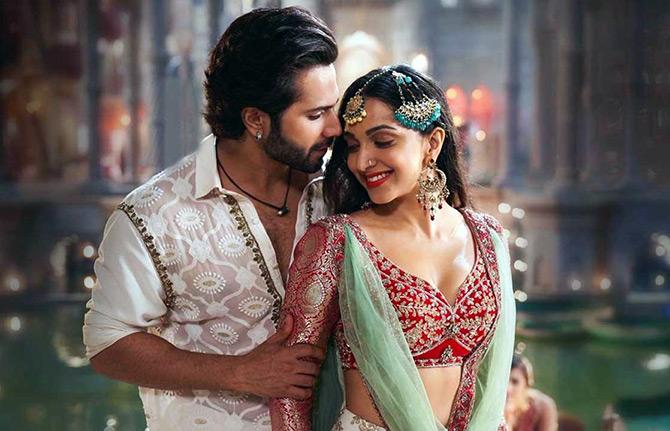 What is more challenging -- a multi-starrer or a solo lead film?
Multi-starrers are more challenging. There are so many people and so many different styles.
Also, you don't know how much screen space you will get because when you shoot, you have a few scenes here and a few scenes there.
Plus, you are not driving the narration.
At the same time, it becomes easier when you have good actors who are trustworthy, like the cast of Kalank.
You did not get any award for your performance in October.
I think you should write about that.
I still get a message a day for that film, so that is my royalty and I'm still collecting it.
The criteria for awards have a lot of other things.
I am very happy to go and perform at awards ceremonies and get paid for it.
Having said that, I did not sign October for awards.
I did that film because something clicked when dada (Shoojit Sircar, director) narrated the film to me.
Whoever has seen the film can relate to it. That's big.
Awards comes once in a year, but the film will live forever.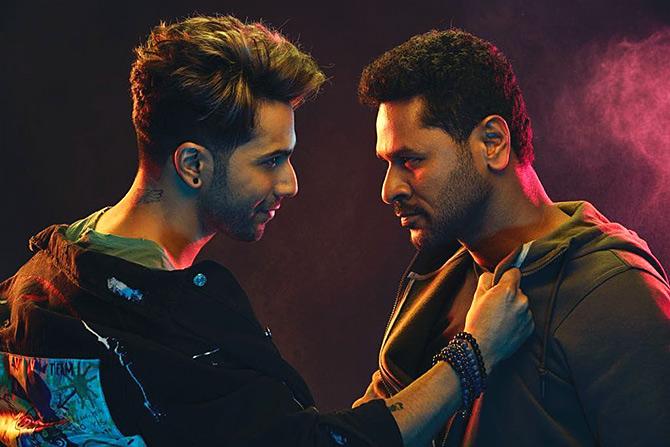 Tell us about Street Dancer.
That is a physically challenging and tiring role, I won't be able to do the film as I grow older.
I have got many injuries shooting for the film -- I hurt my hamstrings, my shoulder, I got a partial tear in my thumb.
After the first two days, I asked them how you can expect us to dance for seven hours?
You have to dance like Prabhudeva. Whatever you try, it seems wrong in front of his dance steps.
There is every form of dance in this film -- African, Strutting, Electronic, Popping, Urban, New school... There are so many dance forms, I just heard about them now. I had no idea they existed!
How important is it to be in touch with fans on social media?
Social media was born in my generation; I was born into this.
People started getting mobiles in school in my generation.
It is very difficult to escape it. There might be people who do escape, but it is not easy.
I have a niece. How do we tell her don't use a phone when everyone around her has a phone?
It is very difficult for today's generation.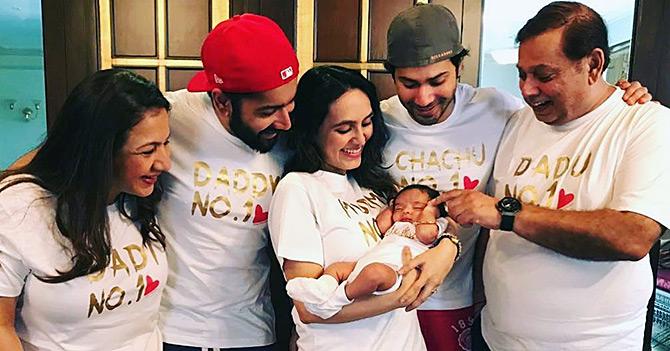 Do you think the crazy stardom from Amitabh Bachchan's time is over?
Yes. It's because we are more accessible now.
My fans love me and they get very excited when I do something new.
For me, it is more like a friendship with them.
You are doing Coolie No 1 with your father and he said it is going to be a tough film.
There will be hopes and there will be expectations. But at the end of the day, what matters is that when the film releases, people like it.
The reason why I wanted to do this film was that it's the funniest and most entertaining film of my life. I had a good time watching it.
It has an amazing screenplay and was done by brilliant actors.
We are adapting the film. It is not a remake. I just want to bring back that fun.
My father has changed a lot of things in the script.
How do you keep yourself grounded after so much success?
It's because of the people around me.
My team is amazing. My manager is the same age as me, and has been with me from the beginning.
My PR team is also the same; they are quite blunt.
They shout at me, including my driver. He will come and say 'gaadi mein baito chalo, kya kar rahe ho?.'
My team constantly shouts at me.