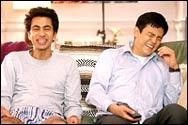 Kumar Patel is doing everything shocking he could imagine to avoid the real world -- which means staying out of getting into medical school. With his dad and brother being doctors, Kumar thinks there is no need for another doctor in the family. He devises outrageous pranks so that the recruiters make sure he is rejected.

On the other hand, his best pal and roommate Harold Lee appears to be eternally helpless. His colleagues have no scruples of dumping their work on him so that they could have a carefree weekend. Harold cannot bring himself to try his luck with the young woman he fancies.

The bored duo storm out of their home on a weekend.

What starts like a simple outing turns into an all-night odyssey for the two friends. They deal with an assorted cast of misfits, gangsters, racist policemen and a religious couple that is also into free sex. Not to forget the cheetah that provides a ride for the two young men across highways and country roads.

Depending on your mindset, Harold and Kumar Go to White Castle is either one of the raunchiest movies you have ever seen or it is a gross-out film with a heart.

New Line, an associate company of Warner Bros, will release the film in about 2,000 theatres across North America on Friday, July 30.


Big budget films are routinely released in 3,000 theatres in North America. Though Harold and Kumar is being released the same week as M Night Shyamalan's much-anticipated The Village and The Manchurian Candidate, Hollywood insiders believe the low budget comedy could hold its own, even gross an encouraging $18 million in its first weekend.   

If the previews of Harold and Kumar are a good indication, New Line has a breakout hit on its hands. The influential trade publications Variety and Hollywood Reporter gave the film fine reviews. They also predict that the movie could turn into a lucrative franchise for New Line. 

Kal Penn, who plays Kumar Patel, feels the movie will not have a dramatic decline at the box-office as many big budgeted and much hyped films do.
"The word of mouth for this film will be very strong," he says, "and each week there will be, we hope, millions of new audiences for it," says the actor, who was born Kalpen Modi and is the first Indian to helm a Hollywood movie in about 60 years!

"There seems to be plenty of appetite for comedies aimed at teenagers," says Penn, reviewing the success of such films as Dodge Ball and White Chicks. "But our comedy should have a bigger appeal because people haven't seen anything like the friendship in this film," he continues. "Here is a buddy film involving a Korean and an Indian. The foolish and wise things the two young men do is not different from what any other American kid could do."

"Underneath all the gross-out comedy and toilet humour there is a fine film that talks to all young people who are trying to find their way in life," says Penn.
No other Indian actor has received such wide exposure in mainstream cinema as Penn since Sabu became a  phenomenon in the 1940s with films like Elephant Boy.

Penn made his debut in the independent hit American Desi about four years ago. He went on to act as a nerdy Indian student in National Lampoon's Van Wilder. He sees his role in Harold and Kumar as something that desi artists would want to emulate.

"I am like any other American kid in the film," says the actor. He was raised in Montclair, New Jersey. Harold and Kumar is the biggest break of his young career. "I didn't even have to put on a sing-song desi accent that many Hollywood producers would have wanted in a film of this nature."

"I am glad the scriptwriters and the director of the film set out to show ethnic minorities in a refreshingly different light," he continues. "I hope that people across the country will notice that. I am glad I am not playing a high-achieving, terribly ambitious desi nerd, and that my character has the same flaws and strengths that many mainstream characters would have."
He knows some desi parents may get upset with his character in the film. After all, how many desi parents may even try to consider the possibility that their child enjoys dope? But Penn asserts that his new film is not a mindless farce filled with toilet humour and sex jokes. It is a dead serious comedy, he says.

On another level, the film is about the meek inheriting the earth. It was also about showing ethnic minorities without the usual labels.
Director Danny Leiner, whose low-budget comedy Dude, Where's My Car? became a surprise hit several years ago, says he was not prepared to direct yet another teen comedy. But he laughed silly when he read the script. More than the raucous gags and imbecile humour what won him over was the script's heart.
'It is a big silly comedy,' he says, 'but you just have to love these guys. Harold and Kumar are sweet characters you want to pull for.'

'In the end, the film takes a serious look at racial attitudes and stereotypes,' he adds, 'without banging the audiences over the head.'

He saw the film as a fable of two friends who are forced to confront the perceptions of who they really are. Finally the circumstances show Kumar that his rebellion against his father and brother is useless because he has the talent to be a good doctor. Harold learns standing up to the bullies is truly liberating. He even finds the courage to propose to the girl he likes.

One reason Kal Penn fell in love with the Harold and Kumar project was because of the sheer idea of the relationship between his character and that of Harold.

"We are both minorities," he says. "Yet our story could be the story of any two American friends."

"The refreshing thing about our characters is that they could belong to any other minority," he continues. "For that matter, even to mainstream communities."

"Harold and Kumar have been friends since they were probably in the kindergarten," he says. "So the friendship you have here is a really deep one. It is like John Cho's character is my brother."

"That is the nature of their friendship. The bond is so strong that none of the irritating things are going to break it."

Cho and Penn did not know each other before they were signed for Harold and Kumar.
For both young actors, their new film promises to be a career-launching film that could become a worldwide hit.
Penn hopes there are enough audiences out there who will see beyond the film's outrageously crude comedy. Among many things the film celebrates, is a friendship, which is deep and sincere.

"It took us less than a few days to develop a solid chemistry in real life and on the screen," Penn says. 
Cho readily acknowledges that building the chemistry was a natural and quick process.

'Before the filming started,' he explains, 'we were both focused on getting to know each other in a quick way to get close.'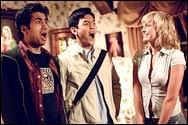 'I knocked on Kal's door and said "Here's the deal, let us become friends in real life." It was really easy because he is a great guy. We sync up on so many things and share a lot of the same values.'

Unlike Penn, who was raised in Montclair as Kalpen Mody, New Jersey, Cho was born in Seoul, South Korea, but was raised in Los Angeles.

Penn says while Cho and he are fully aware of their minority status in America, they also know they are as American as anyone else is.

Leiner, who worked on Dude, Where's My Car? with the better known Ashton Kutcher and Sean William Scott, calls his new leads 'phenomenal.'

'It is really fun when you get two leads that are phenomenal,' he explains. 'I could not ask for anything more than John and Kal.'

'These guys just elevated the movie and brought a great camaraderie to it.'