Home > Movies > Interviews

The Rediff Interview / Kalpen Modi

'Harold And Kumar is gross, yet sweet'

Arthur J Pais | July 19, 2004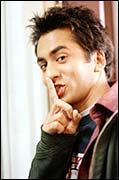 Imagine two young but essentially lonely friends – one an Indian, and another a Korean – deciding to spend a night out, looking for nothing but juicy White Castle hamburgers. Little do they know that before they reach a White Castle restaurant in suburban New Jersey, they will have the wildest and strangest time, including a ride on the back of a cheetah!

The wild, vulgar, crude, but very funny Harold And Kumar Go To White Castle opens on July 30 in more than 2,000 theatres across North America. Distributed by New Line, the company whose hits include The Lord Of The Rings trilogy and the current success The Notebook, the film offered Kal Penn the first leading role of his career. While Kal plays Kumar, John Cho plays Harold in the film.

Less than five years ago, Penn played a college kid in American Desi, a small film that grossed nearly $1 million in America. Now, he plays a college kid who has a wild time in Harold And Kumar, the comparatively small Hollywood film that could set a few records. The film is directed by Danny Leiner, whose comedy Dude, Where's My Car was a surprise hit in 2000.

Penn, 26, who was raised in Montclair, New Jersey, spoke to rediff.com about many things, including how the upcoming film changed his career, how he had to endure stereotypical reactions to his ethnicity, and why he changed his name.

Arthur J Pais

caught up with him soon after Penn appeared in several scenes with Ashton Kutcher in A Lot Like Love.
| | |
| --- | --- |
| | More on rediff.com! |
| | |
This is a very raunchy comedy. Some people could feel faint watching the toilet scene. How did you feel about taking it up?
I had a blast working on the film. It is a gross comedy, but there is something in it that is unique. As an Indian-American actor, it was very important to me to do this film because of the unique angle.
And what is it?
The film does not show minorities in stereotypical roles. I did not have to speak in an exaggerated accent. I do what many teenagers in America do. Beneath all the gross-out comedy, there is something sweet and serious about the film. It has many layers. You get to see them as the film unfolds.
Tell us more...
There is this process of self-discovery. My character is a sort of rebel. He does outrageous things because he does not want to get into medical school, like his father and brother. But he finally decides to pursue a medical degree after having had time to look within himself. The film carries plenty of social commentary.
Social commentary about what?
About combating racism, for instance. The writers looked at the two main characters in a refreshing away. It was one reason why I was attracted to the project.
What was the main reason?
Unlike many Indian-American films, my character does not face a culture clash. Kumar is part of a larger American society. He speaks and behaves like any ordinary American college student. Except that he is still rooted in his community. Harold [John Cho] is a refreshingly different concept of an Asian American.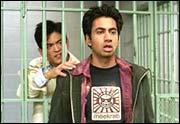 This is your first major break...
Yes, but more than that I get to play a title character. When did it ever happen last in Hollywood for an Indian actor?
How about Sabu in the mid-1940s and early 1950s?
Those films [Thief of Baghdad, Elephant Boy] were full of clichés. They had a lot of racism in the way Indians were made to behave towards the British.
You mentioned racism. In earlier interviews, you talked about what it was like to face racist and stereotypical notions as an actor.
Talking about stereotypes, many years ago I had auditioned for a television commercial. The casting director looked at me and said, 'Where is your turban?' I said I was not a Sikh. I don't wear a turban. She said something to the effect that I should run back home, and tie a bedcover or something like that around my head. Needless to say, I did not go to the audition again.
And racism?
You have to be aware that there are people who always judge you by your skin colour or where your parents came from. There are also many people opposed to this kind of thinking. The most important thing is to keep thinking positively, refusing to accept parts that could demean your community and fight for good roles like professional actors.
You mean you have not done a part in a Hollywood film that you were uncomfortable with?
To a certain extent, I did not want to do the role of a stereotypical Indian student in National Lampoon's Van Wilder. I hesitated a lot and talked over the problem with some older Indian actors in Hollywood such as Anjum Nigam. When I accepted it, I told myself that while I played the part [Taj Mahal Badalandabad], I would try to make it a three-dimensional character, not a silly, nerdish Indian student.
Did your gamble pay off?
It did. The credit in Van Wilder meant something. The film was widely seen. Suddenly, there was no shortage of credit on my resume. It led me to Harold And Kumar, which is a far better comedy about two ethnic American guys.
What is your real name?
Kalpen Modi and it still is so, for all legal purposes.
Why did you change it?
There are many actors in Hollywood who still have their original names, which are not easy to pronounce. And I am not talking about Arnold Schwarzenegger alone.
And yet...
I really did not want to change my name, but my agent kept telling me that if I was made to sound like an American name, things could change. So I edited my name (laughs). But for all legal purposes, I am still Kalpen Modi.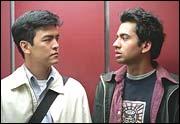 What are your main concerns while considering a role?
Apart from the fact that it is a challenging and meaty role, even if it is a short one, I will also see – in case of a role with an accent – if the accent masks the humanity of the character. I would not want such roles. If it is degrading to any community, I would not want to play it. This may seem too demanding, but it is important to live with convictions and principles.
What kind of promotion will you do for Harold And Kumar?
Apart from television and press reviews, I will visit many cities with the director, writers, and co-stars. I am excited about it. This is the first time I am doing something like this.
I will also have an opportunity to talk to people about what it means to be an Asian-American actor in Hollywood today.
How much fun did you have on this film?
I have never laughed so much. I read the script and I was dying laughing. Then there were these bizarre scenes. You are working 14 hours a day doing the oddest things, and when you think you cannot go farther, something more outrageous happens.
Tell us something that was utterly outrageous.
Riding the cheetah, for instance, on the highway. It was in the script, but the way the scene was filmed was a new experience.
Was it a real cheetah?
Yes, yes, for at least a few scenes. A very friendly cheetah.
The film's early reviews have been very encouraging. Variety thinks there will be another Harold And Kumar film.
We all hope so. This is a very funny comedy with a lot of maturity and heart in it. That combination should bring millions to the theatres.
Click here for
More Interviews


What do you think about the story?








Read what others have to say:





Number of User Comments: 10








Sub: what?

Hamburgers? Beef? I don't think many Hindus would like the film considering its about Hamburgers. I, for one, am one of thos Hindus. The fact ...


Posted by hmm









Sub: Stop prpogating cliches

Hi, Whats with these comments about food entering a movie review? Not watching a movie just because it shows a Hindu eating a hamburger and ...


Posted by Shekhawat









Sub: Kal Penn

Yes, but more than that I get to play a title character. When did it ever happen last in Hollywood for an Indian actor? I ...


Posted by Nazir Patel









Sub: Kal Penn

Kalpen Modi changed his name is Kal Peen ,the same reason Yusuf Khan (or something like that) ,changed his name to Dilip Kumar.... Its not ...


Posted by Shardul









Sub: Hey Guys Chill Out !!!

I am very sorry to say this but I believe you all are out of your minds. Where on earth do you all find any ...


Posted by Mayurdeep






Disclaimer