Most of us are familiar with the concept of EMI -- Equated Monthly Installment -- that enables us to repay loans on a monthly basis. Now, Sanjay Dutt will help us understand it better in this Friday's release, EMI. Also starring Arjun Rampal and Urmila Matondkar, the film is directed by first-timer Saurabh Kadra.
Interestingly, Saurabh does not have a film background. An engineering college dropout, he joined his family textile business. But he soon left that to pursue a career in advertising, and finally, films.
He talks to Nithya Ramani about directing Sanjay Dutt.
Tell us about yourself.
Films was a natural step for me, from advertising and ad films.
It all started when I did an audio-visual presentation for a family friend. I was motivated and started making short films with [actor] Prashant Narayanan. I also did animation films. I did not want to return to advertising after films, so I wrote the story of EMI.
How did you get Suniel Shetty to produce your film?
We lined up a list of producers, whom we could approach. We decided on Suniel Shetty, approached him and narrated the script to him. He agreed to produce the film instantly.
What about the cast?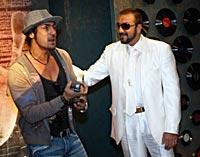 It was all pretty much the names I had in mind for my characters. For Sattarbhai, I wanted someone who could look like a 40-year-old recovering agent. He should be funny, lovable and unlike the clichéd dons. I couldn't think of anyone else but Sanjubaba for the role. When I narrated the story to him, it was overwhelming to hear him say that he wants to shoot tomorrow.
In case of Arjun Rampal, I wanted someone who looked like a 30 plus man, a deejay and know-it-all dude, who lives on his credit cards. After thinking of many options, I realised Arjun would fit the bill perfectly. The same goes for Ashish Choudhary.
In case of Urmila, I wanted someone who could look like a 35-year-old mother, with a five-year-old kid. I couldn't think of anyone else but Urmila. I enjoyed shooting with her.
How was your experience working with stars, being a first-timer yourself?
It was a great learning experience. We had a detailed narration and everybody gave in their inputs. You learn how to balance good and bad. There were no ego clashes. All of us had open minds and all suggestions were welcome.
EMI was the first film that Sanjay Dutt shot for after he was released from jail.
Yes. He had agreed to do the film before he got arrested. We shot two days before his arrest and the rest after his release. But that did not affect the shoot. He knew he would get out of jail. We all knew. He was stressed out, and tensed because of his arrest but he never let it show on his face during the shooting. We never saw the agony on his face. He was a fun loving person and always had fun.
How was your experience working with him?
He is a very warm person. Anyone can talk to him at any time, and he will always be there for you. He will listen to you. It is very easy to connect with him. He rehearses his parts so well that he takes a maximum of three takes for a scene. He takes a long time to rehearse but he makes sure the shot is perfect.
Why did you choose a subject like EMI for your first film?
I read a lot on global economics. I was meeting people and friends burdened with loans and paying installments. My wife had around two-three loans that she was paying off. They didn't look at the EMI as a problem. So I thought why not make a film where people don't forget that they have pay and EMI when they take a loan. 'EMI chukana hi padega'.
What is the film about?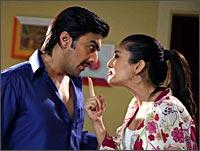 It is a satire with a message. it is about people, who take loans and forget to pay their EMIs. There is a bank called the All India Bank and Sattarbhai works as a recovering agent there. He's the common factor that links all the characters together.
Why did you title the film EMI?
I obviously can't name a film that talks about EMI as Karzzzz right (laughs)?
There were rumours about a tiff between Sanjay Dutt and Suniel Shetty. How much truth lies in it?
If there was any truth to it, I think we -- the crew -- would know it first. We didn't know of any such tiff. They are best friends. There is no truth to such rumours. I feel like beating up the person, who spreads such false news. It upsets me, as it gives a bad promotion for the film. I am fortunate to work with Anna [Suniel Shetty] and Baba [Sanjay Dutt]. Anna is very good man and has the goodwill of the actors.
Any memorable instances on the sets?
I remember going to Baba once and telling him that we needed to add two scenes. The scenes required him to grow his beard and he did. He didn't wear a false beard. It was an emotional moment for me when I learnt that he went out of his way to grow his beard for the film. That shows his level of commitment.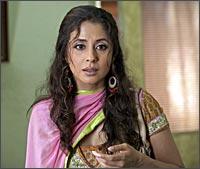 How tough is it for a person to make it in the film industry without a godfather?
It is not difficult. The industry has some good people. I don't have any godfather in the industry. All one needs is a good script. Thankfully, I did not have to struggle to get the big names in my film. It feels great when people are proud of your work.
How often would Suniel come on sets and supervise the shoot?
He came in only three-four times. He would come, play some pranks and leave. He would make the atmosphere very lively.
What kind of pranks?
I had got a new I-phone, which I guarded with my life. One day while shooting, it went missing. After hunting for it for more than three hours, a spotboy finally told me that Suniel Shetty had it.
There were reports that Sanjay's wife Manyata came on the sets and interfered in the shoot.
False. She came on the sets but those were just casual visits. Even Arjun's wife Mehr Jesia and Ashish's wife Samita Bangargi came to the sets. We would have family lunches and dinners at times.
Which is your favourite Sanjay Dutt gangster role?
The one in Vaastav, and Munnabhai.