Amitabh Bachchan's birthday bash...
The update on Don 3...
Mahesh Babu's Bollywood debut...

Subhash K Jha gives us the latest Bollywood lowdown.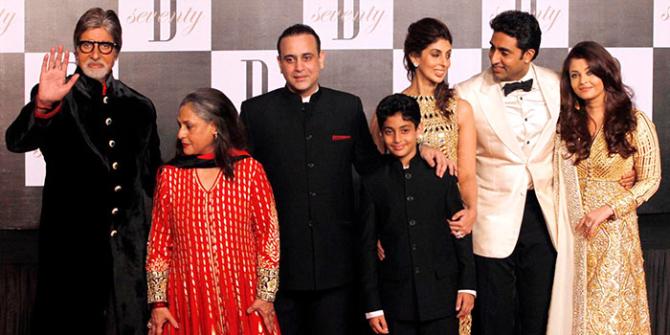 IMAGE: Amitabh Bachchan celebrates his 70th birthday with wife Jaya, son-in-law Nikhil, grandson Agstya, daughter Shweta, son Abhishek and daughter-in-law Aishwarya. Photograph: Pradeep Bandekar
The stage is set for Amitabh Bachchan's 75th birthday bash, even though he's been quite vocal about the fact that he doesn't want a party.
"Just not allowed. Nope. No bash. No party. No celebration," he insists.
Is that final?
Well, no.
The Bachchan family is not known to take his stubborn decisions seriously and will go right ahead with a grand birthday bash.
"They had a huge 60th birthday and 70th birthday bash. Seventy-five is an important age too. For some reason, he has decided he won't 'allow' any 75th birthday celebration. But the family has come up with two celebration options: either the Bachchans will move out of Mumbai for a family get-together or they will have a get-together in Mumbai for close family and friends," says a family friend.
'Close family and friends' means a guest list of at least 150 people, for which the immediate family has started planning.
"While Jaya feels the family should comply with the patriarch's will to keep it low key, Abhishek and Aishwarya are planning a relatively restrained birthday party," says the family friend.
But why is Mr Bachchan so adamant on not having a bash this time?
Your guess is as good as ours.
***
'Don 3 will be made...'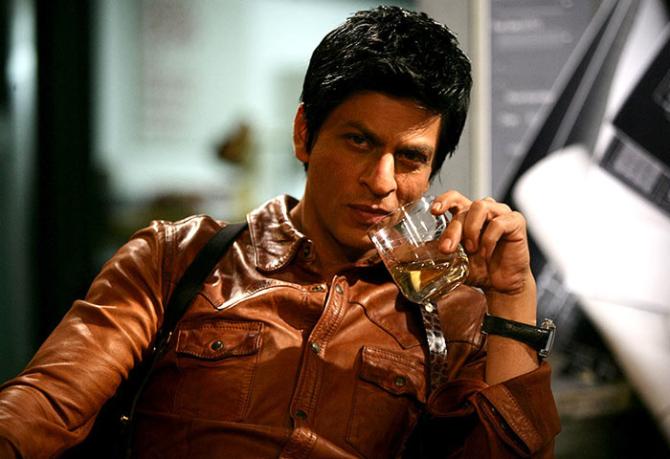 IMAGE: Shah Rukh Khan in Don 2
Farhan Akhtar is afraid to speak about the film that everyone is waiting for him to direct.
"I know what you mean," says Farhan with a chuckle. "But I am really afraid to say anything about Don 3 because anything I say will be held against me. If I am asked, 'Am I making Don 3?' and I say I am thinking about it, the next day I see screaming headlines announcing a date for Don 3!"
Farhan feels raising the hopes and expectations of the franchise's fans is unfair.
"I am surprised at how much the Don series matters to moviegoers. The interest level has not diminished at all," he says.
So what is the status of Don 3?
"I do have an idea for Don 3 but it's just an idea at the moment," Farhan says. "We need to develop it. I have been very busy with my acting assignments in the past few years. After Lucknow Central, I am committed to acting assignments with Nishikant Kamat and Mohit Suri."
Farhan promises another Don film in the near future.
"It will happen sooner rather than later," he says. "Otherwise, Shah Rukh's fans and the fans of the series would be extremely unhappy."
***
Mahesh Babu's Spyder in Hindi?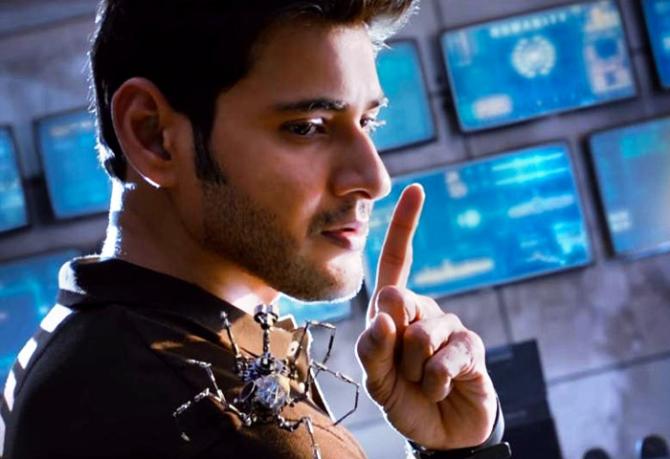 IMAGE: Mahesh Babu in Spyder
A R Murugadoss is very happy with the way his new film Spyder has been received.
Curiously, the film has opened better in Tamil than in Telugu.
The director explains why: "Mahesh Babu's home audience expects a certain kind of heroism from him. In Spyder, he is not larger than life. So it's taking his fans in Andhra and Telangana longer to accept him in an understated low key hero avatar. Whereas, in Tamil Nadu, the audience is more accepting of Mahesh Babu's scaled-down heroism."
Murugadoss is all set to make Spyder in Hindi. "The producers will finalise the deal in the next 10 days," he says.
This may mark Mahesh Babu's long-delayed Bollywood debut.
***
"I don't think my life is ordinary'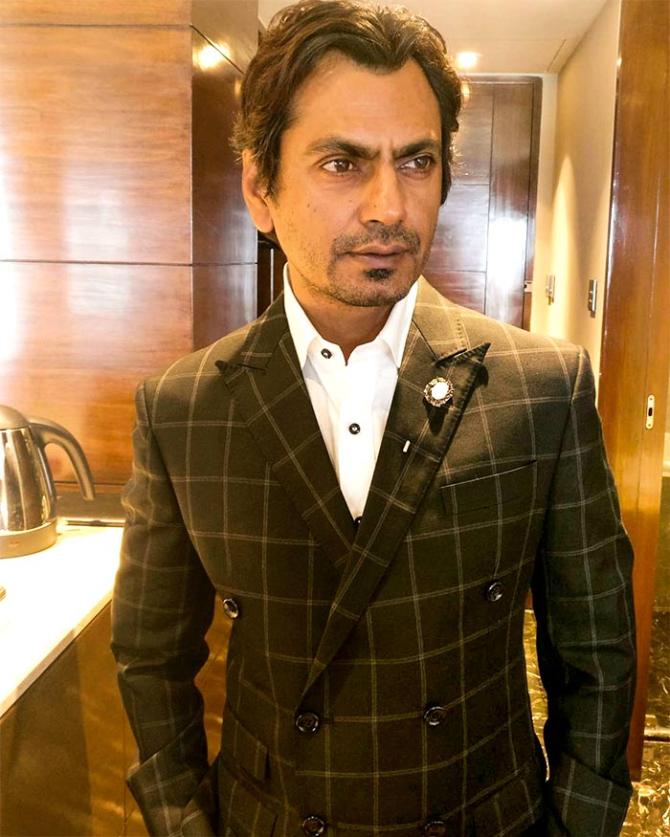 Photograph: Nawazuddin Siddiqui/Instagram
Nawazuddin Siddiqui is all set to release his memoir, titled An Ordinary Life.
"It will be officially released in October; we haven't decided on a date as yet," says Nawaz.
"It will cover the entire period from my childhood to the time I arrived in Mumbai. It's pretty much written at the mid-point of my life," he adds.
"I've been as honest in my memoirs as I could be; I haven't hidden anything. In fact, some people in my life are going to be deeply offended when they read what I have to say. To those who are hurt by my memoirs, I want to say sorry. But I had no choice. I could either tell my story with utmost honesty or not tell it at all. There's no point in telling lies and half-truths."
Nawaz is aware that many Bollywood actors and filmmakers have jumped on the biographic bandwagon but he hasn't read any of his colleagues' biographies. "Waqt kahaan hai? I barely had time to complete my own memoirs," he explains.
Nawaz says he took the plunge because his publishers were keen. "Penguin India not only convinced me to tell my story, they also got a co-author on board. Rituparna Chatterjee is from the US. She came down to India to spend time with me and record my experiences as and when I had the time," he says.
The busy actor says it has been a rollercoaster of recorded experiences for Chatterjee.
"Whenever I have had time, I called her over to share my experiences. It wasn't just about finding time in my schedule lekin mood bhi toh honi chahiye na (one has to be in the right frame of mind too)? I couldn't start introspecting about my life any time I was free to do so. Every phase of my life has a different connotation, relevance and significance for me. I can't respond to every experience in the same way. So my writer had to wean all the information out of me."
The result, says Nawaz, is impressive.
"My memoirs have turned out the way I hoped they would. I think I've a lot to share with people who come from small towns to big cities to achieve their big dreams. If I didn't find my story inspirational, I wouldn't have put it down in a book," he says.