The legendary star turns 75 today!
Not many can boast of a success like Jeetendra's.
To understand the pulse of your audience is equivalent to a super power in showbusiness and the star's 'acting wohi hai jo public enjoy kare' mantra stood him in good stead.
He didn't exactly grow up harboring celluloid dreams -- he started as simply 'Ravi Kapoor' to his friends and family, lending a helping hand in his father's modest costume jewelry business by delivering pieces to Bollywood's leading ladies.
The youngster's frequent trips to movie studios led to a stint as an extra in V Shantaram's films.
It wasn't long before the legendary filmmaker decided to cast the handsome 20-year-old as the rechristened lead in Geet Gaya Pattharon Ne.
Of course, Jeetendra's first official success came about playing a dashing spy in the 1967 golden jubilee, Farz. From there on, as the phrase goes, there was no looking back.
Dubbed 'Jumping Jack' for his exuberant dancing style and boyish charisma, the star found his signature look in white clothes and shoes. His onscreen hijinks may not have endeared the critics but where box office is concerned, the man struck gold.
Keenly aware of his limitations, Jeetendra's sensible approach to stardom found its niche in family-friendly melodramas like Bidaai, Apnapan, Aasha, Judaai, Swarg Narak and Ek Hi Bhool.
Although he demonstrated a rare sensitivity exclusively under Gulzar, the lure of blockbuster-ready South Indian remakes proved too tempting to ignore. Certainly Himmatwala, Mawaali, Maqsad, Justice Chaudhary and Tohfa paid richer dividends than his pet project Deedar-E-Yaar, a Chaudhvin Ka Chand rehash that sank without a trace and nearly emptied Jeetendra's coffers.
Extraordinary fitness extended his shelf life as hero significantly till he graduated to senior citizen roles in weepies like Santaan and Udhaar Ki Zindagi. After cavorting around pots and palm trees in over 200 movies, the actor felt he's ready to retire and watch his children -- Ekta and Tusshar -- take the show forward.
Jeetendra may have had enough of donning the greasepaint but his groovy moves and infectious zeal is part of Hindi cinema's iconic imagery.
On his 75th birthday, we celebrate 15 of his notable works.
Farz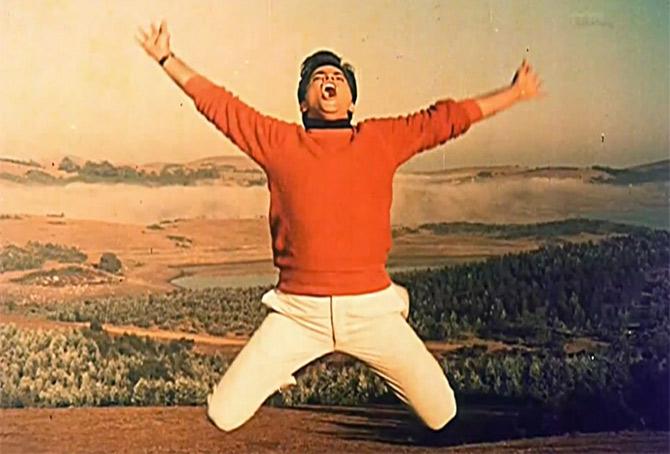 IMAGE: Jeetendra in Farz.
A sprightly Jeetendra engages in Bond-inspired shenanigans to play Agent 116 in the campy spy caper, Farz. If it means leaping like a carefree frog over Aruna Irani or going gaga over Babita's beauty under the pretext of saving the world, so be it.
Geet Gaya Patharon Ne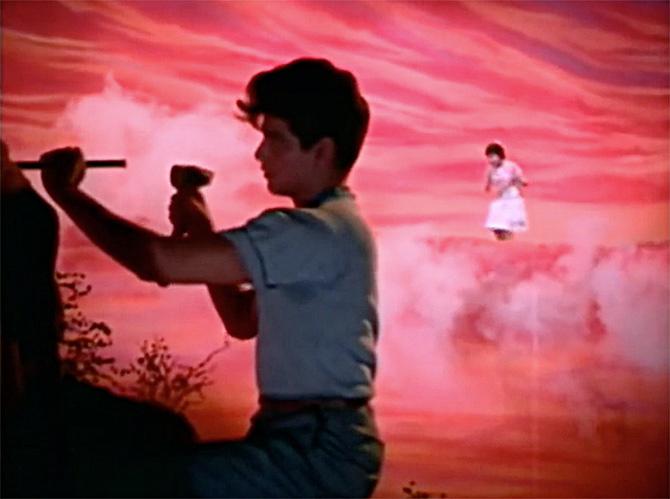 IMAGE: Jeetendra in Geet Gaya Patharon Ne.
With Geet Gaya Patharon Ne, Jeetendra grabbed the opportunity to play a penniless sculptor in love with V Shantaram's daughter Rajshree. Although he's a tad gawky and self-conscious in most scenes, the star quality that would eventually take him places is hard to miss.
Humjoli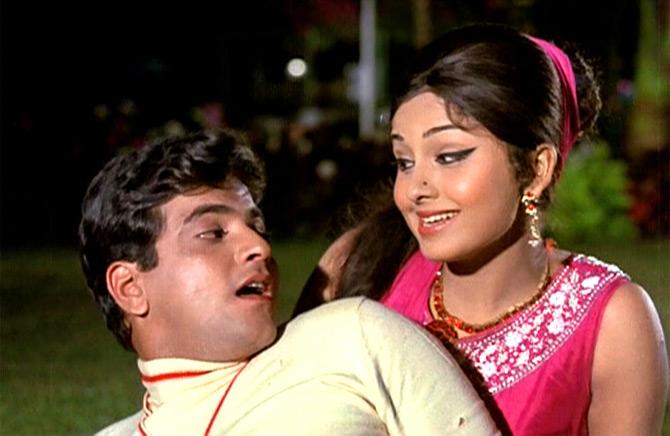 IMAGE: Jeetendra and Leena Chandavarkar in Humjoli.
A typical '60s romp with a good dose of action, comedy, romance thrown in, Humjoli's nostalgic worth comes from Mehmood's enthusiasm for mockery and Jeetendra's delightful rhythm around the silliest of steps. Never before had dancing with a badminton racket or quivering under pouring rain looked this much fun.
Jeene Ki Raah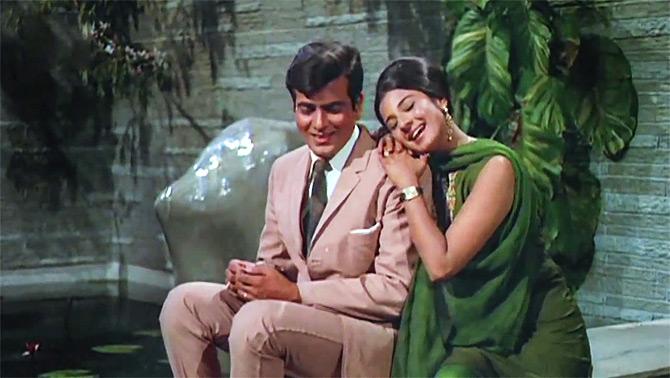 IMAGE: Jeetendra and Tanuja in Jeene Ki Raah.
Jeetendra conveys the idealism and guilt of a decent village bloke forced to hide his marital status in order to secure a job in the city. Complications arise when the boss's daughter falls for him.
Jeene Ki Raah marked the beginning of a successful partnership between the actor and its director L V Prasad.
Caravan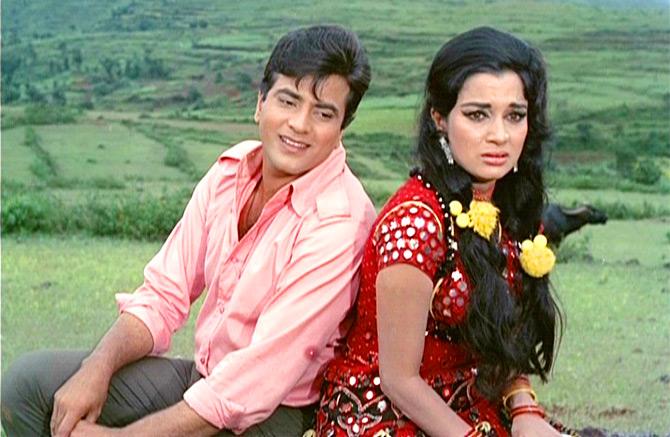 IMAGE: Jeetendra and Asha Parekh in Caravan.
Nasir Hussain's dazzling showmanship paired with Rahul Dev Burman's snazzy soundtrack provides the perfect setting for Jeetendra's nomadic soul to flicker between a runaway heiress and fiery gymnast in Caravan. Needless to say, our hero makes the most of it.
Parichay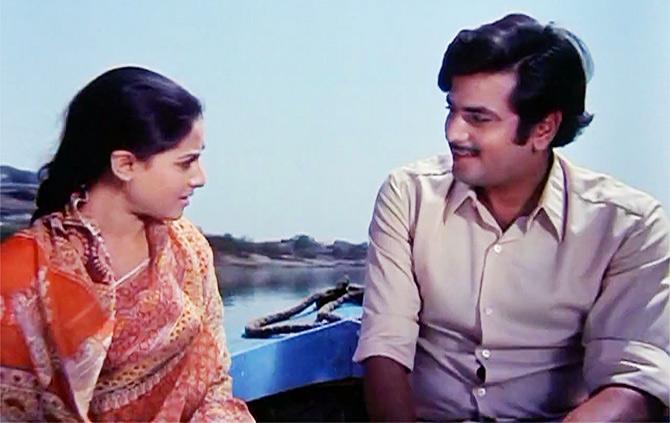 IMAGE: Jaya Bachchan and Jeetendra in Parichay.
Bengali novel Rangeen Uttarai meets Hollywood musical The Sound of Music when Jeetendra gently disciplines a bunch of disorderly kids and reconciles them to their estranged grandfather. Under Gulzar's lighthearted treatment, the actor accomplishes a winning combination of heart and humour.
Khushboo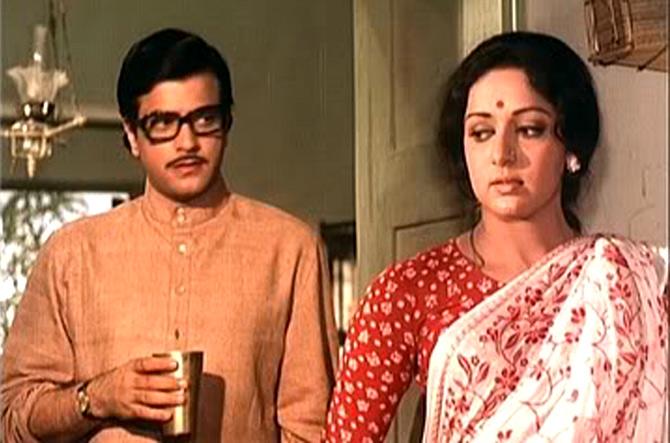 IMAGE: Jeetendra and Hema Malini in Khushboo.
Jeetendra delivers the best work of his career as the courteous, compassionate doctor sporting thick glasses and a thin moustache, as if playing Gulzar in the director's melancholic adaptation of Sarat Chandra Chattopadhyay's Panditmashai.
Kinara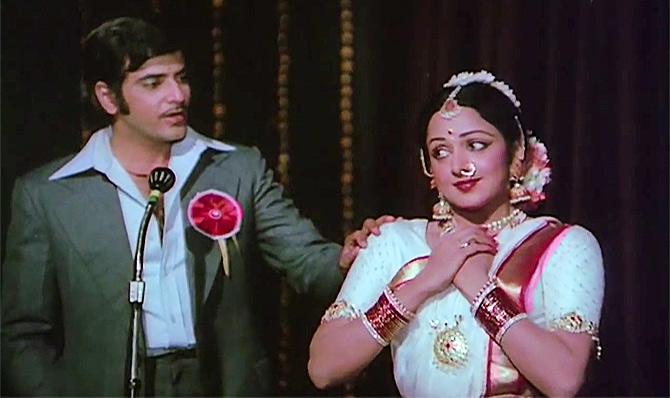 IMAGE: Jeetendra and Hema Malini in Kinara.
As a man atoning for his mistake by involving himself in the heartache he's caused, Jeetendra yet again surrenders to the sublime vision of Gulzar. This wholehearted commitment outside his comfort zone is what makes Kinara so richly rewarding.
Aasha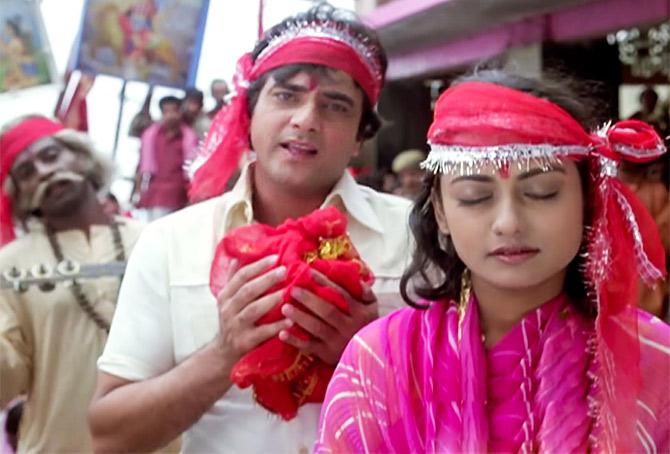 IMAGE: Jeetendra and Rameshwari in Aasha.
Apart from a six-year old Hrithik Roshan in a dancing cameo, his maternal grandfather J Om Prakash's kerchief caper woven around misinformation and romance martyrs relies on Jeetendra's emotional dexterity and Reena Roy's chartbuster assertion, Sheesha ho ya dil to sustain its viewer's interest.
Priyatama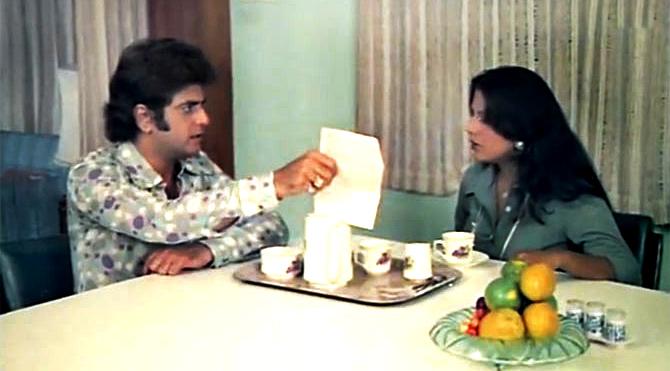 IMAGE: Jeetendra and Reena Roy in Priyatama.
Jeetendra and Neetu Singh offer fresh insights to the teething troubles faced by newly weds in Basu Chatterjee's reliably frothy, Priyatama. Always a joy in middle-of-the-road cinema, the actor strokes his loving, indulgent hubby with just the right quantity of sentiment.
Himmatwala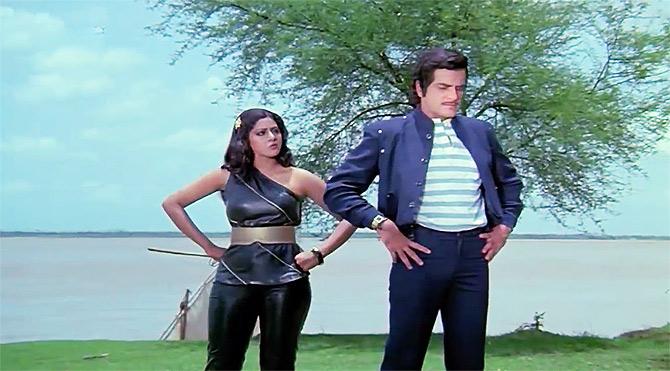 IMAGE: Sridevi and Jeetendra in Himmatwala.
The Jeetu-Sridevi jodi's success in K Raghavendra Rao's Himmatwala -- the highest grosser of 1983 -- set the stage for their active collaboration in a spate of formulaic entertainers. Jeetendra cashed in on the trend through unabashed fare like Mawaali, Justice Chaudhary, Maqsad.
Dharam Veer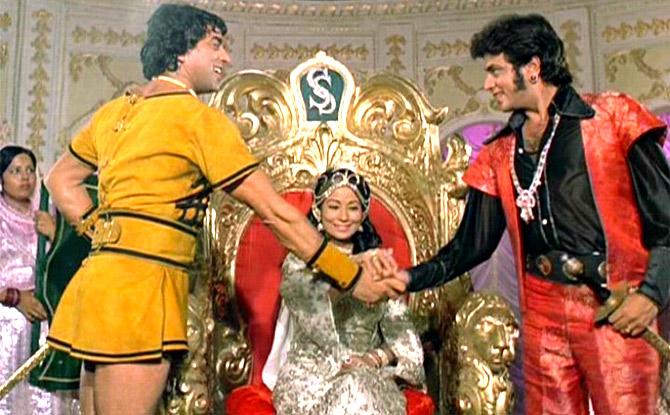 IMAGE: Dharmendra, Indrani Mukherjee and Jeetendra in Dharam Veer.
Jeetendra has starred in quite a few costume dramas but none as blatantly over the top and zany as Manmohan Desai's Dharam Veer. Ever the sport, the actor has no trouble getting into the mad spirit (or outlandish getups) of its lost and found saga.
Judaai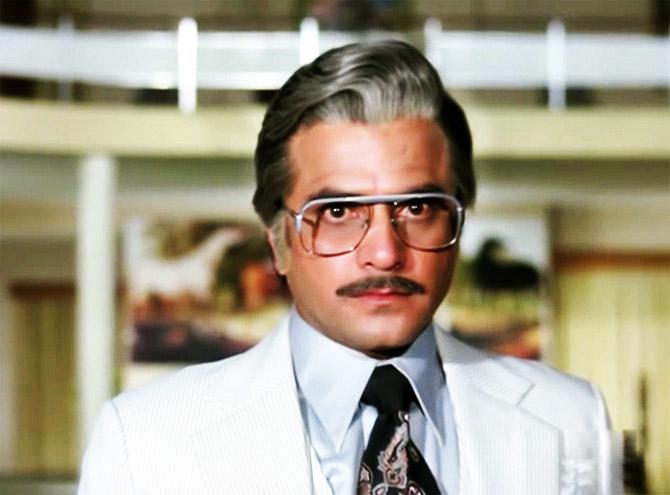 IMAGE: Jeetendra in Judaai.
A husband and wife drift apart following irreconcilable differences in T Rama Rao's remake of his Telugu hit Aalu Magalu.
Jeetendra's affinity for such parts made him a hot favourite for scripts like Sindoor, Pyaasa Saawan and Sada Suhagan but it's his effortless chemistry around co-star Rekha that renders it watchable even in its outdated avatar.
Khudgarz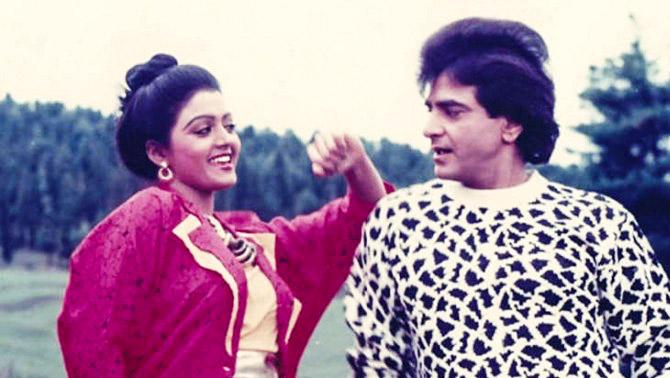 IMAGE: Bhanupriya and Jeetendra in Khudgarz.
Rakesh Roshan transforms Jeffrey Archer bestseller Kane and Abel into a desi tale of friends turned foes pitting Jeetendra's urban poise against Shatrughan Sinha's rustic pomposity in his directorial debut, Khudgarz. People lapped it up and Roshan Sr proceeded to direct 12 more films.
Udhaar Ki Zindagi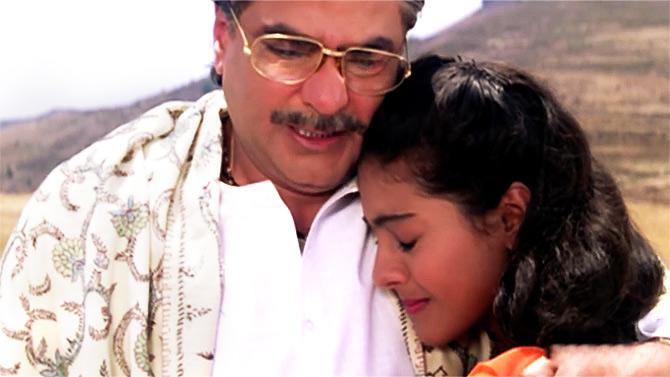 IMAGE: Jeetendra and Kajol in Udhaar Ki Zindagi.
Jeetendra's credible transition from grumpy to gentle grandpa prompted by Kajol's single-minded determination to win him over forms the emotional core of Udhaar Ki Zindagi's manipulative structure. While the audience wasn't particularly inclined to turn on the waterworks, critics hailed its lachrymose appeal as heartrending.