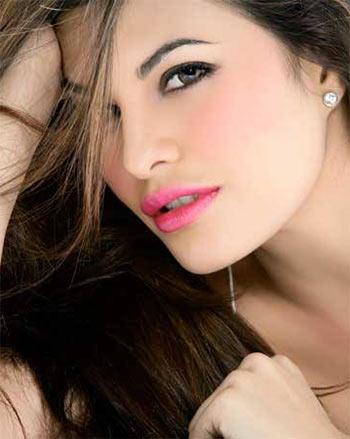 Jacqueline Fernandez was desperate to act in a comedy after her last release -- the serious drama, Brothers. You can imagine her delight when she was offered Housefull 3 -- a franchise she considers a family production.
Her co-star, Akshay Kumar, always has a joke to crack about her penchant for pointing out she is the only actresses to have appeared in all the three Housefull films.
The other thing she is addicted to -- besides her cat, Miu Miu -- is Snapchat; in fact, our interview starts with Snapchat and ends with one where she tells her followers we made her miss home with our questions.
The actress says she has been asked to take it easy on social media but loves the medium because it allows her to be herself and share the things she discovers.
In this interview with Jahnavi Patel/Rediff.com, Jacqueline gets candid about why she is not dating anyone, her relationship with Sonam Kapoor, her journey in Bollywood, her upcoming film Housefull 3 and more…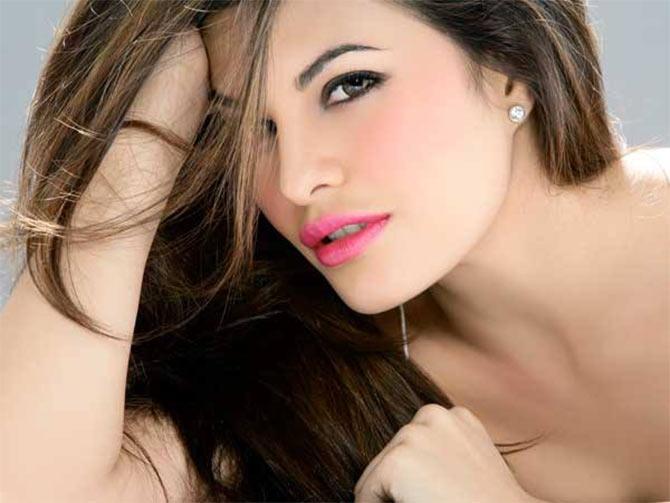 IMAGE: Jacqueline Fernandez. Photograph: Jacqueline Fernandez/Facebook
You're the only actress to be part of all three films in a franchise.
For me, Housefull has been a very special franchise. I have been part of it from the beginning. I was just the item girl in Housefull. I went on to become one of the actresses in Housefull 2. Then, when Housefull 3 was offered to me, I was like "Wow, that's actually cool!"
To do Housefull was my dream and, right now, doing Housefull 3 is like doing a family franchise.
It's the kind of comedy where you can get away with doing anything because people know the characters are very outlandish and situations, extremely absurd.
I wanted to explore that space in comedy. I had that opportunity in Housefull 2 as well, but I was too new then.
A lot of people asked me why I am a part of a multi-starrer when I should be concentrating on solo leads but Housefull is different. It was the biggest thing that ever happened to me -- my first blockbuster -- and I will never forget that.
Now that I am again a part of it, it's still a big deal for me.
What was it like to team up with Akshay Kumar (her co-star in Brothers) again?
Amazing! He is someone you can work with over a 100 times and still learn. He will be still able to crack new jokes everyday.

In Housefull 3, he went completely mad because he had come out of Brothers too and was back in his space (comedy).
To watch what he goes through to make people laugh is really so commendable. Besides, he is very funny to work with.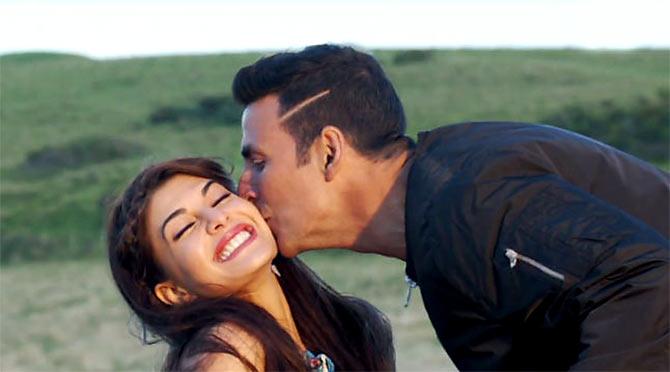 IMAGE: Jacqueline Fernandez and Akshay Kumar in Housefull 3

Are you more comfortable doing multi-starrers?
I don't think that is something I'd want to differentiate.
I have done so many multi-starrers and I have been very comfortable and happy doing them.
At the end it is what you do with your character; you can stand out, have fun and learn.

I feel it's the same thing as being in a solo film. People will still watch it and comment. You are still giving a performance. Of course, you need to be able to balance both (solos and multi-starrers).

We hear you bonded quite well with your female co-stars Nargis Fakhri and Lisa Haydon off the sets. Did that help when you guys were filming?
Ya! I have known Lisa from my early days when I came to India for the first time; we had auditioned for the Delhi Fashion week together and were sharing the same room. We have come a long way since then.
It's just amazing to be able to talk to someone who knows me from that time.
Nargis had done an item song in Kick and I know her since then. There is a lot that I can relate to with them; we have all come from aboard, we're trying to make it here. We were helping each other through this film.
It's amazing when you can actually find girls who are so confident and secure.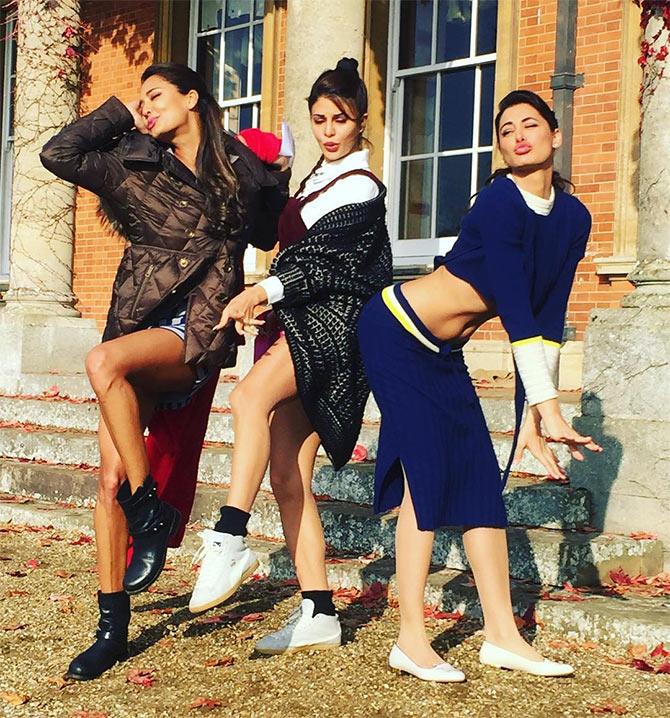 IMAGE: Lisa Haydon, Jacqueline Fernandez and Nargis Fakhri. Photograph: Riteish Deshmukh/Instagram
During Kick, you had mentioned that the industry wasn't kind to you. Has that changed now?
It wasn't that they weren't friendly; it was just that I didn't fit in. I was so uncomfortable at filmi parties because people were like, "Who is this girl?" I didn't know anyone and didn't have the confidence.
Things changed after Murder 2. Then Housefull happened, then Race 2. But people started taking me seriously after Kick. That was when I knew I had a foot in the industry.
I started being more confident and comfortable. People understood I was here to stay. This happens only when you have proved yourself as someone who works hard.
Would you like to do another comedy film?
Definitely! And if Akshay is in it, then 100 per cent (laughs).
Comedy is a genre that's so much fun to do. When the actress has to perform, and not just be the brunt of the comedy, it's even better.
Housefull 3 had that. We (Jacqueline, Lisa, Nargis) were very lucky because we have our own comic tracks.
How good is your comic timing?
I have always been the goofball, someone who makes stupid faces and does silly stuff. I enjoy it so much that now I feel I can actually bring it to the set and add to the scenes. It's always nice to keep energies light.
I feel doing a comedy as an actor is so fulfilling because you are actually making people laugh and that's such a nice thing.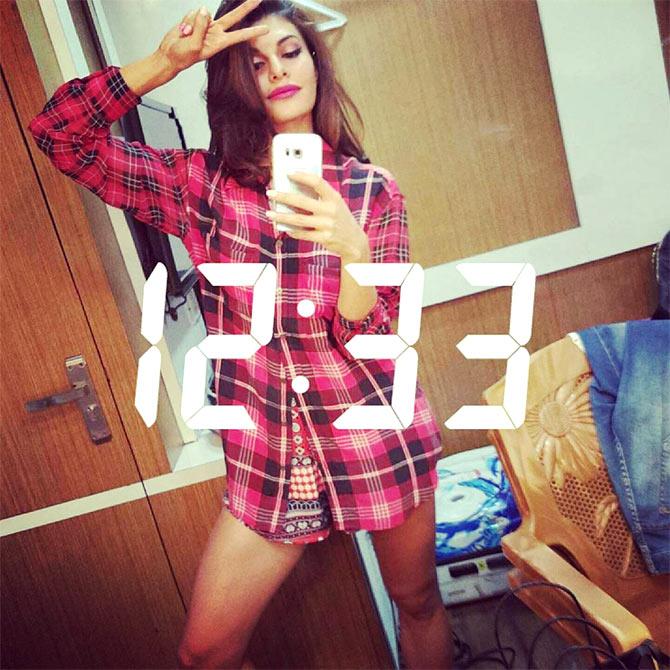 IMAGE: Jacqueline Fernandez. Photograph: Jacqueline Fernandez/Instagram
You are quite active on social media...
Social media is very important because it's our way to reach out to our fans.
Things were so different for me before social media. People had such a strong perception of me because they could only see me through a couple of odd films and a few appearances. They had no idea about who I actually was.
The coolest thing about social media is that you can actually show people who you are. You're not just about the characters that you play; it's like, 'Oh, she is a lot more relatable'.
I love the fact that my fans get to know who I am. It's a fantastic medium for celebrities.
Unlike you, a lot of celebs believe it's not good to be so active on social media.
You have to balance it; I know I put out everything out… it's just that I get so excited about the fact that you can share things. If I've discovered something or if there's a moment, I love to share it.
I have actually been told by a lot of people to calm down and not share so much, but I think that if you aren't making it too much about yourself then it's tolerable.
A lot of times they say that celebrities must have that mystery around them but I think it's about being yourself… that's important.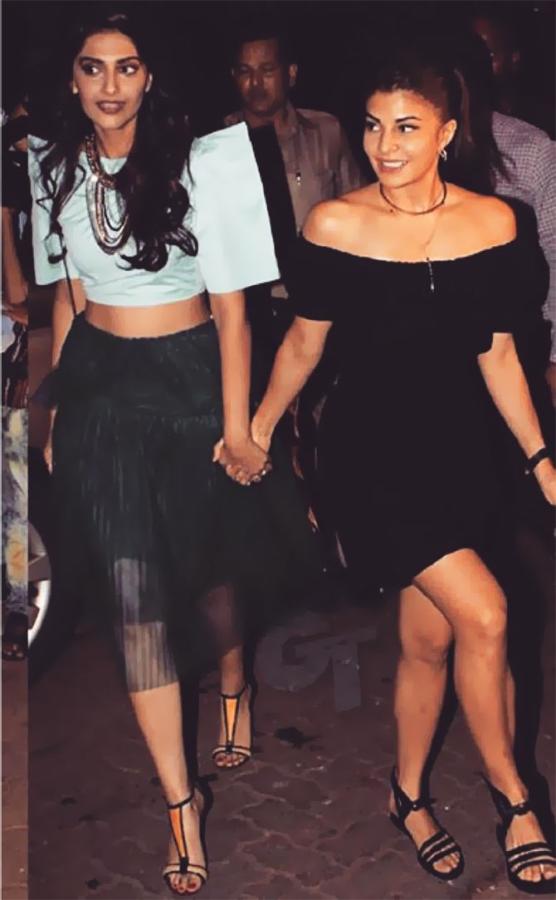 IMAGE: Sonam Kapoor and Jacqueline Fernandez. Photograph: Jacqueline Fernandez/Instagram
You share a very good bond with Sonam Kapoor. She was recently trolled for her red carpet outfit at Cannes.
I just wish that they (the trolls) try to walk the red carpet once at Cannes and then pass judgement.
I went only once to Cannes on a invite for a charity dinner and, let me tell you, it is so stressful to be on that red carpet and have hundreds of international press around you. On top of that, you are representing India; you are representing fashion and a brand. There is so much pressure to get it right.
People really need to give credit instead of sitting at a desk and making fun of it.
Everyone is entitled to their own opinion and Sonam (Kapoor) knows that. I don't think it affects her because she is still where she is and she will go further in life. She is very hard-working and is doing her country proud.
You said she is a very honest person and your family away from home. How much does her opinion matter to you?
Her opinion really matters because it is genuine. If she says, "Listen, that dress you were wearing is terrible, I will be like, "Ya, you are right."
Even when she watches my films, she will say, "No, I think you should do this." Sometimes, I bounce ideas about films off her; we discuss scripts and directors. The industry is very small so, most times, the actresses know what films are going around.
She gives a very honest opinion about things. Her advice is very valuable. At times, whatever she has said has been true.
Even work-wise, she has worked with some of the best directors so I think I should take her advice.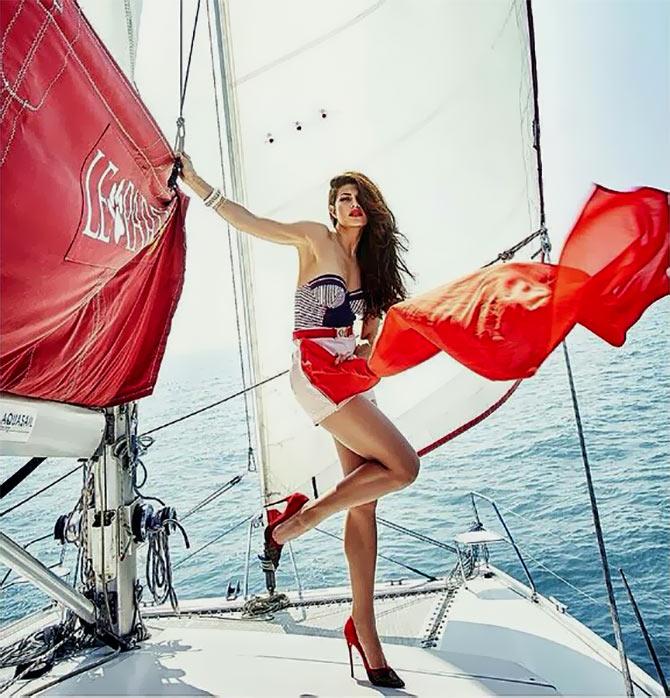 IMAGE: Jacqueline Fernandez. Photograph: Jacqueline Fernandez/Twitter
For Brothers, you went deglam. If you had to go to an extreme for a role --like put on or lose a lot of weight or go bald -- would you do it?
I would like to.
It's definitely demanded from many actresses, like say Vidya (Balan) in The Dirty Picture. I would love to get to that point where it's demanded from me. And I would go to that extreme.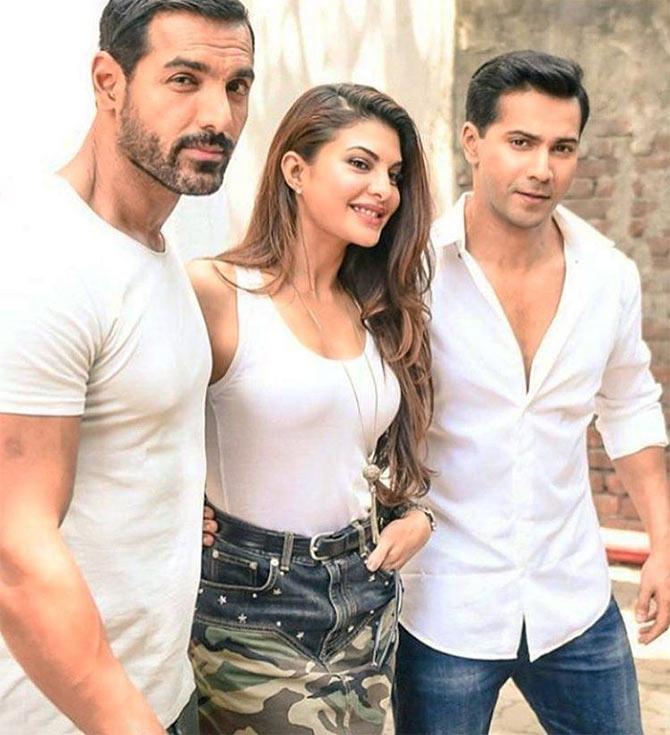 IMAGE: John Abraham, Jacqueline Fernandez, Varun Dhawan. Photograph: Jacqueline Fernandez/Instagram
Do you have action sequences in your upcoming films, Dishoom and A Flying Jatt?
Well, unfortunately, not in A Flying Jatt. I really wish I was doing action scenes like Tiger (Shroff). In A Flying Jatt, I am more like Jane from Superman -- the love interest of the super hero.
In Dishoom, I play a rebellious a girl you don't want to mess with; she is not the most law-abiding person you will meet.
It was cool because I got to be a part of all the action that John (Abraham) and Varun (Dhawan) did. I was also a part of the chase sequences that we shot in Morocco and Abu Dhabi.
I love the fact that, like the guys, I was also there.
Is there any actor on your wishlist you'd love to work with?
Before I came to India, there were only four actors I only knew of in Bollywood -- Amitabh Bachchan, Salman Khan, Aishwarya Rai Bachchan and Shah Rukh Khan.
When people spoke about other actors, I used to be like, 'Who?' And they were really big actors. I have worked with Amitabh in my first film (Aladin). I had the opportunity to work with Salman (Kick).
Ash is someone I would love to work with because she is a big inspiration to a lot of girls and she is a big icon to a lot of people. I would also love to work with Shah Rukh.
IMAGE: Jacqueline Fernandez with her cat Miu Miu. Photograph: Jacqueline Fernandez/Facebook
What's happening on the personal front? Are you dating?
I know it's very boring to say, but my social life is completely zero. I don't even have time for my family and friends.
I am asked a lot of times if I don't miss being in a relationship. The fact is, my work is so consuming. I am a workaholic. I don't have space for anyone in my life except Miu Miu (her cat).
My parents visit me as often as they can but they also see that I am running from place to place.
Eventually, I know I will have to take a step back and enjoy my life a little more or get a boyfriend or something (laughs) but I think it has to happen organically.
Maybe, because I am having such a good run and my plate is full, I don't want to mess it up or lose out on opportunities.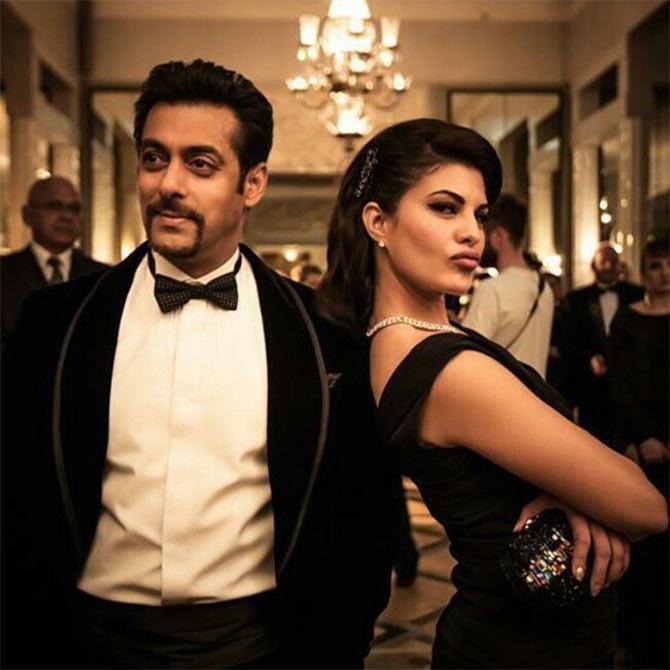 IMAGE: Salman Khan and Jacqueline Fernandez. Photograph: Jacqueline Fernandez/Instagram
Salman Khan's marriage is currently the talk of the town. Your comment?
I wish him all the best and hope he finds happiness in whatever he wants to be, whether it's being married or not being married.
He deserves to be happy.