'I have always been told 'thoda sa aur, thoda sa aur.'
'That's why I was always hamming.'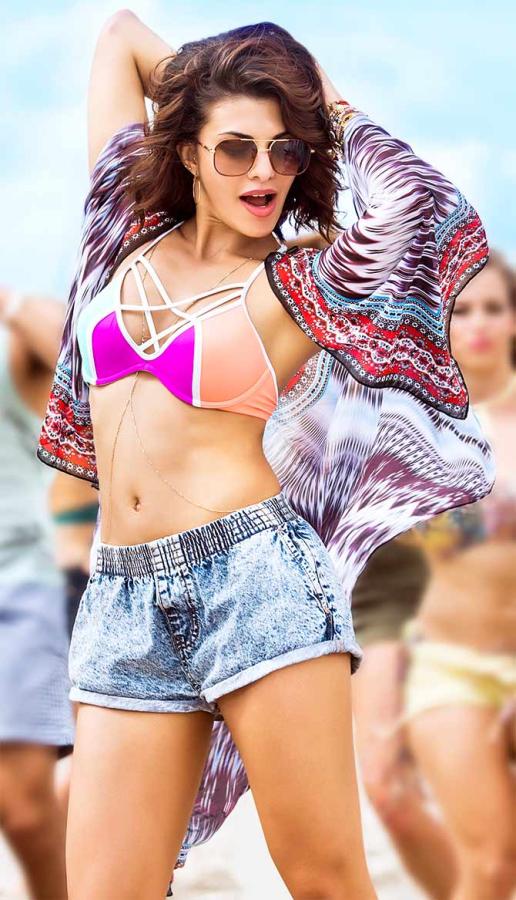 IMAGE: Jacqueline Fernandez shows off her moves in A Gentleman.
"This is my first release of the year. It feels like ages since I have promoted a film," Jacqueline Fernandez says.
The Sri Lankan actress tells Rediff.com's Patcy N more about A Gentleman in her life.
You have done quite a few action films -- Kick, Dishoom, Brothers and now A Gentleman.
I have been a part of big action movies, but you haven't seen me doing action yet. That is really upsetting for me.
I keep hoping that I get a good action film where I get to perform stunts.
I think I can do my own stunts; they won't have to spend on a body double. But I have not been so lucky.
You seem to have aced pole dancing. What were the rehearsals like?
It was crazy!
We were shooting the song Chandralekha in Miami.
The premise is an office party song, and I thought that it would have the same old dancing and choreography.
I asked them how can we make it different for someone like me, who enjoys dancing.
I told them, 'Look around. We're in Miami! It's all over the place -- on beaches, gyms, clubs... It's pole dancing!'
I thought we could incorporate it in the song. The choreographers agreed and the trainer was called.
But when I started training, it was so difficult, I said, 'Let's not do it.'
Since the trainer had already flown in, I decided to do my best.
It was amazing! Not only did I learn this different dance form, but it has also become a part of my fitness regime.
It helps me maintain my upper body strength. Plus, it looks good in the song.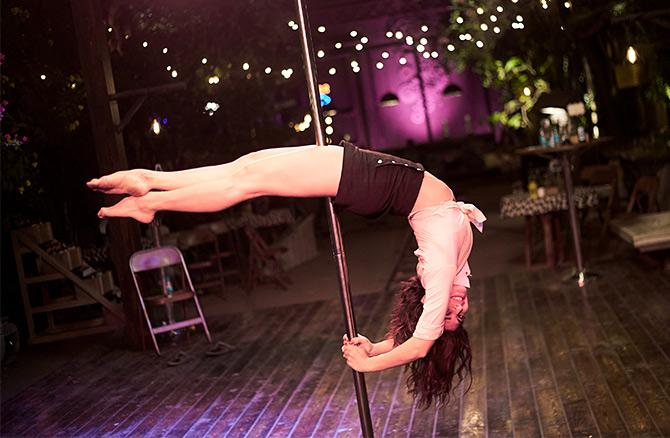 IMAGE: Jacqueline aces the pole dancing routine in A Gentleman.
You have worked with Abbas-Mustan and now, Raj-DK. What is it like working with two directors?
Abbas-Mustan are very quiet and soft-spoken. Actually, they are not that quiet, but Raj and DK talk more, so they seem quieter.
With Abbas-Mustan, I was relatively new in the industry, so we didn't have that much conversation.
Raj and DK are very chilled out and quirky. I had more to talk to them.
Abbas-Mustan's genre is very specific -- they do thrillers and action.
Raj and DK do action comedies very well.
Raj and DK work as one unit. Both of them call 'action' or 'cut' together, they both say 'Okay good' or 'Got it' together. It's funny!
Both are amazing, informative and amazing at poker!
Both come to the sets together.
Only once or twice was DK at sound mixing and Raj came for the shoot (alone) and vice versa.
Can you relate to your character Kavya?
During the narration, I thought the girl is a lot like me.
Our jobs are different -- Kavya works in an office in Miami. Since she has a 9 to 5 job, she wants adventure in life. That's why she loves fast cars.
She is always pushing Gaurav (played by Sidharth Malhotra) to do cool things and gets really upset with him when he wants to stay home and cook or when he invites my parents for dinner.
I just don't understand it because that's not my sensibilities. That's why she enjoys Rishi's (Sidharth's double role) company.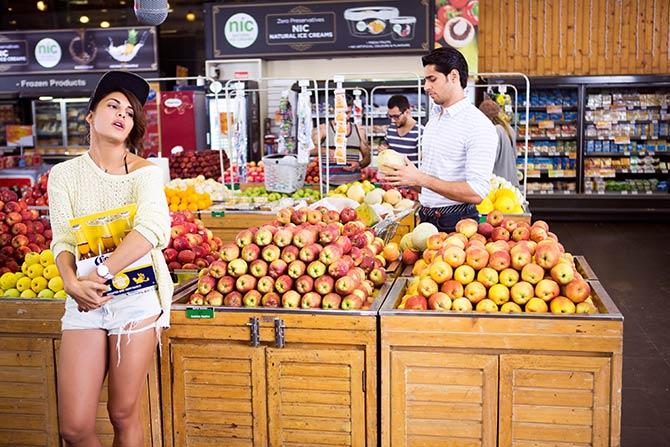 IMAGE: Jacqueline with Sidharth Malhotra in A Gentleman.
In what way do you relate to her?
I am very adventurous. It was instilled in me from a very young age.
I was very outgoing. I would spend a lot of time with my brothers after school.
Every single moment we got, we would go out.
Our parents would think we were doing homework, but we weren't.
We would be out playing football, roaming the streets...
We would do dangerous things like jumping buildings, explore deserted houses and look for a ghost. It was ridiculous!
I've been a risk taker, just like Kavya. There is no situation that scares her. She's always looking for an adrenaline rush.
What made you choose this film?
When this film came to me, I was very excited about working with Raj and DK as they are cool and fun. I love their aesthetics.
I loved Go Goa Gone. It was funny, different and youthful.
Shor In The City had a nice element of drama.
I thought these directors could do both.
You learn a lot. They extract a lot from you.
I am at a point in my career where I want that to happen as much as possible.
I went with them as they would make it real. They won't have me hamming.
When I first started shooting, I was playing the character very loud. That's what I am used to. I have always been told 'thoda sa aur, thoda sa aur (a little louder, a little louder).' That's why I was always hamming.
Raj and DK told me to drop it a bit. It was hard as I was used to this style of acting.
I like that they mellowed me down and made me relatable.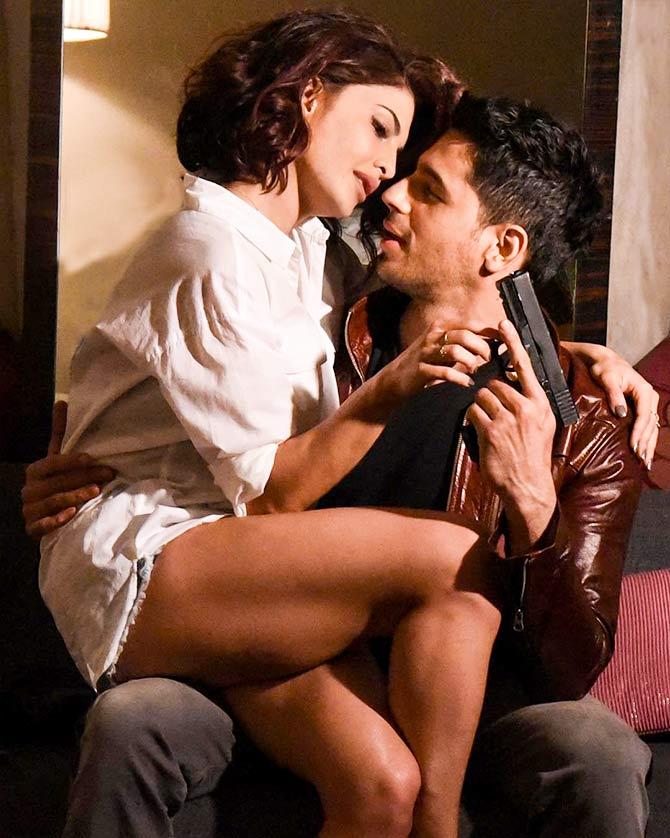 IMAGE: Jacqueline getting *Risky* with Sidharth.
What was it like working with Sidharth after Brothers?
I played his bhabhi. (Laughs loudly.)
I told Sid, 'Just forget it ever happened!'
In real life, which man would you choose?
I like the fact that Rishi is a risk-taker. He is a mysterious character.
But in my heart, if I want to settle down with a guy, it would be like Gaurav. That happens with men as well.
There's a lot of excitement when the girl is crazy and outgoing, but when they want to settle down, they want a homely girl.
What I like about Gaurav is that he can cook. But there are aspects of Rishi that are fun.
Balance is important; you can't have extremes of both sides.
Do you watch films like Shor In The City and Go Goa Gone because you are working with Raj and DK?
I watched Shor In The City because I am attracted to offbeat films. I loved Filmistaan and Parched.
I knew Go Goa Gone was a weird film because it was about zombies. I knew I would definitely be watching that film.
It was a cool crazy film with Saif (Ali Khan) playing a Russian. Yeah, I knew their work and really wanted to work with them.
But we never see you in offbeat films.
I know. I am never offered offbeat films. I would love to do them.
Ever since I started working, I had been doing a lot of commercial films. That's amazing and important because at the end of the day you want to be part of films that make money.
But I would like to do an offbeat movie for my personal space. But it has to be low budget so that there's no pressure on me.
There shouldn't be so much money riding on me. Then, I can get to explore and experiment.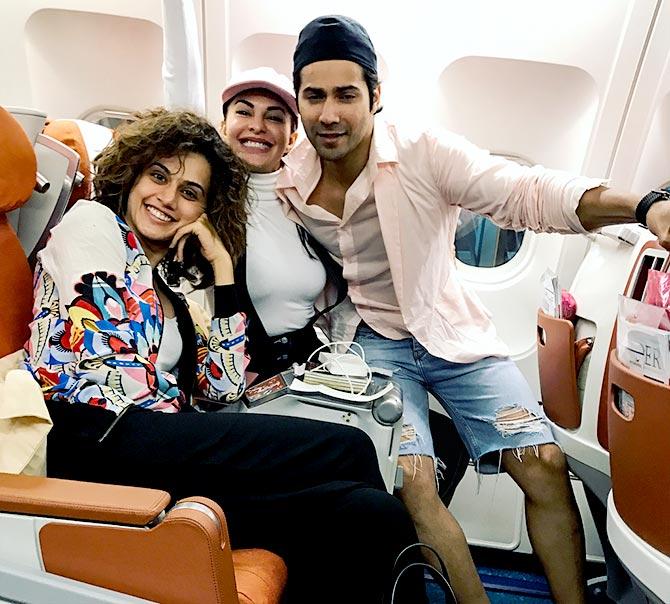 IMAGE: Jacqueline with her Judwaa 2 costars, Taapsee Pannu and Varun Dhawan. Photograph: Kind courtesy Jacqueline Fernandez/Instagram
You are a part of Judwaa 2.
I didn't realise how big it was when I was offered the film. I just said okay.
I was not in India when Judwaa released. In fact, I did not watch Hindi films then. I never understood the rage about the film.
Some of my friends went crazy when they heard I was in the sequel. But I still didn't get it. It didn't hit me.
The minute we started shooting the film, I started realising it was a really big film. That's when I felt the pressure.
It was especially when we started shooting the Oonchi Hai Building song. The sound is still so relevant, it gives you goose bumps.
The day we had Salman on set, I saw how emotional David (Dhawan) sir was.
Both Sidharth and Varun are doing double roles in your films.
A Gentleman is in the action space while that has more comedy.
Also, Sid has to carry the Gaurav character, who is safe and boring, as well as Rishi, who is rough and tough.
You can see what Varun has done with Raja and Prem in the Judwaa trailer.
Your Hindi has improved over the years.
Last year, I made a conscious effort to speak to everyone in Hindi. I would speak Hindi in all my interviews too.
I made sure to speak Hindi on Jhalak Dikhhla Jaa as well. And all this really helped.
I was always studying Hindi. I never left it. I was reading and writing, but I never had the confidence to speak the language.
Last year when I made that effort, it became easier.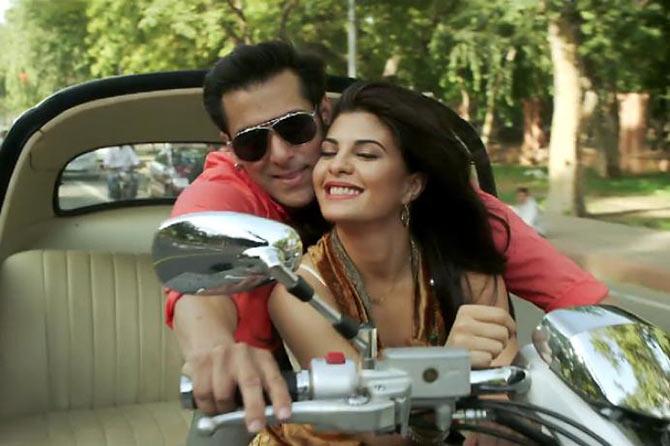 /p>
IMAGE: Jacqueline with Salman Khan in Kick.
How excited are you to work with Salman in Remo D'Souza's next film?
Very excited! I will be working with Salman (after Kick) and Remo (after A Flying Jatt) again.
I am waiting for them to lock the content and then we will work together.
Is your Hollywood film Definition of Fear releasing in India?
It will release in November. It's an interesting film.
I also have a Sri Lankan film According To Mathew in September. We will take that film to (film) festivals. We will see the response, and then bring it to India.