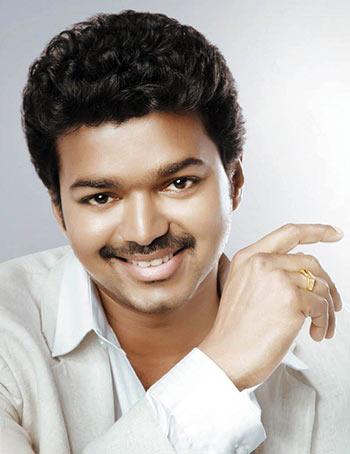 Tamil superstar Vijay was far from rattled by the income tax raids that were carried out on his premises ahead of the release of his new film Puli.
If reports are to be believed, it was 'jealous rivals' of the actor who may have tipped off the authorities.
But Vijay, known to be extremely media shy, remained unperturbed.
A source close to the actor says, "He dealt with the setback calmly and told the authorities to do their job.

"His stoicism in the face of adversity is reminiscent of Rajini Sir (Rajnikanth)?"

Arguably the most popular actor in Tamil cinema since Rajinikanth, Vijay seems to be following in the Thailava's footsteps a little too closely.

He's not just dedicated to building himself a fan following that rivals Rajnikanth's, Vijay has also started maintaining a studied distance from the media.
"Vijay doesn't give press interviews, nor does he attend any media or promotional events for any of his releases," a source from Chennai reveals.
With his latest -- the extravagant epic Puli -- also being released in Hindi, the 41-year-old actor was apparently asked to promote his film aggressively.
"Forget promotions, Vijay even refused to do a handful of crucial press events in Mumbai, in spite of repeated requests.

"As a policy he doesn't promote his films. He doesn't see the point of talking to the media just because he has a film coming out," the source adds.
Meanwhile Sridevi, who makes her Tamil comeback with Puli, has been spotted at a few promotional events for the film.