'We have proven that whenever there are problems anywhere in the world, Indian culture and history shows some solutions.'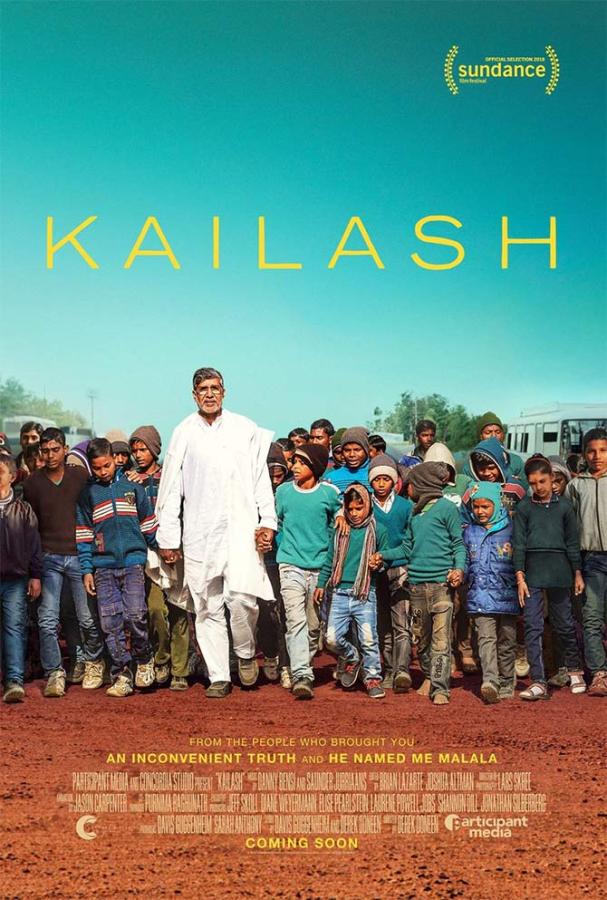 Until 2014, Kailash Satyarthi and his organisation Bachpan Bachao Andolan were quietly working to liberate thousands of children bonded in slavery in various parts of India. He has often said that few Indians knew about his or the Bachpan Bachao Andolan's work.
Everything changed when he was awarded the Nobel Peace Prize along with another South Asian -- Malala Yousafzai, who was already a celebrity for her work related to girls' education in Pakistan.
The award changed Satyarthi's life.
Many people in India suddenly realised the selfless work this activist had been doing for decades.
The courts and the police force became more supportive of Satyarthi's work.
Satyarthi's work is now the subject of a documentary.
The Price of Free (earlier titled Kailash) is a moving film that often works like a thriller. It won the Grand Jury Prize at this year's Sundance Film Festival.
The film is produced by Davis Guggenheim -- Oscar winner for An Inconvenient Truth and also the prime backer of He Named Me Malala.
The Price of Free released on YouTube on November 27 and will stream across the world at no charge to the consumer.
"Hollywood producers and stars said they could not believe that slavery still exists," Satyarthi tells Aseem Chhabra.
Kailashji, I have known about your work. But the film brings home issues with so much clarity and urgency. Why did you decide to participate in the film and how does it help your cause?
On the day of the Nobel Peace Prize ceremony, Davis Guggenheim approached me.
He wanted to bring out the truth to the world.
I had seen An Inconvenient Truth and knew how that led to a movement against global warming and climate change.
The conversations went on for a few months after which my office agreed to the idea of the film. In fact, they were making the documentary on Malala at that time.
We agreed to make the film since we definitely want consciousness among ordinary people, influencers, policy makers, corporations and especially young people to bring a change in society.
The film won a top award at Sundance. It must have been unique for you to share a subject like this with the audience.
I was at the film's premiere screening at Sundance and the people were so moved. Many of them were shocked.
Even some Hollywood producers and stars said they could not believe that slavery still exists in this form.
The film is not about despair and pain, it is about hope -- the journey from darkness to light, from slavery to emancipation and freedom.
I made it clear to the film-makers that they had to present the subject in such a way that people should feel that simple and ordinary people can change the world. And Kailash Satyarthi is one of them.
It is not about a Nobel Laureate, but about the journey of an ordinary person in India.
The shoot must have gone on for quite a while. Having the camera present, did it impact your work in some way? How did the children, who had been rescued, feel?
It took about two years to complete the film.
They kept visiting India and the camera was present, but they were very sensitive about it.
They didn't interview any child.
They just filmed what was happening around them.
They spent about two weeks with the children who had been freed, eating with them, playing with them, without asking anything... just watching.
All the discussions were mainly between my staff and the children, my wife and me. The film-makers maintained their distance.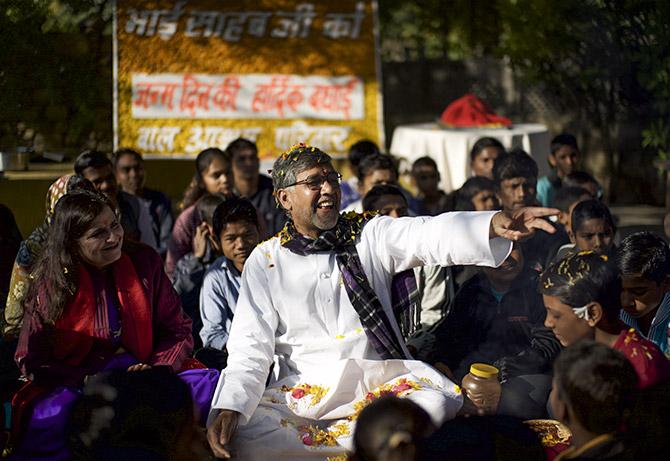 You have been doing this for so long, I am sure there have been disappointments along the way. What keeps you motivated?
Right from my childhood, I was passionate about this issue.
The hardest decision for me was to give up a comfortable career as an electrical engineer.
I belong to a modest family. My father was a constable in the police. He died when I was young.
My elder brother and my mother put in effort for my studies.
My mother sold her ornaments to pay for my education.
Everybody warned that it was a lucrative career, but I gave it up. I could not accept modern day slavery of children in any form and it became a mission for me.
In the very first rescue mission in 1981, when I freed a group of children -- there is an animation segment in the film, that experience where a man's daughter was about to be sold to a brothel -- gave me so much self-confidence in my mission.
Watching those children -- they were born into slavery in a brick kiln -- they were jumping on a street near Mandi House as they walked from the court in Delhi. Cars were honking.
I read about India's freedom struggle and Martin Luther King's movement in the US. I am a big admirer of Mahatma Gandhi.
But that day I felt I had been freed and liberated by freeing those children.
I could see a glimpse of God on the faces of the mothers who had lost all the hope. Their children could have been sold to brothels.
That was beginning and I never looked back.
Each time I free a child, I think I am worshiping my god.
There are laws against child slavery, but the government and the police do not act unless an NGO like yours approaches them with evidence. Why is that? Why doesn't the police take the initiative?
It is ironic and a sad state of affairs that most human rights and welfare-related laws that should impact the marginalised communities remain unused and dormant.
The police are not active on their own.
There is the age-old complacency in society and disempowerment of those children.
And there is widespread corruption.
The combination of these factors, plus the children and their parents do not have voices to go to the courts or register complaints with the police.
So the police and the labour department authorities only responds when we approach them. They don't do anything on their own.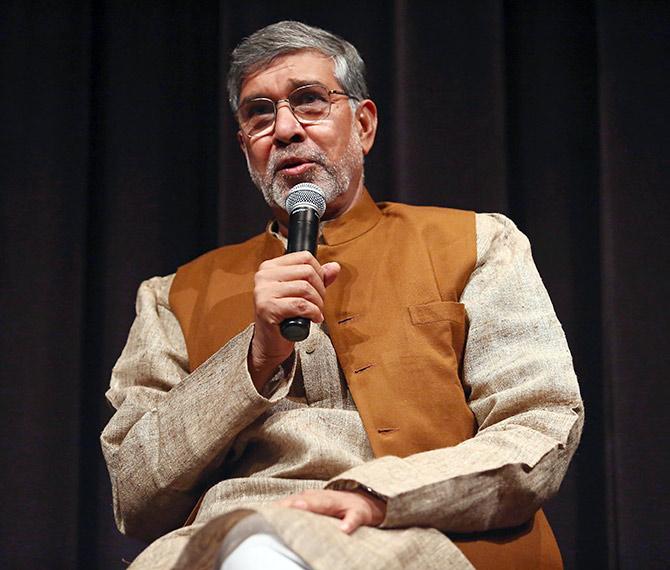 You have a good relationship with the police now. They don't say that you keep approaching them unnecessarily?
No, no ab to nahin ho sakta (No, no, now it cannot happen). Especially if the raids have to be conducted in Delhi.
Was it a challenge earlier?
Yes, it was a challenge before the Nobel Prize was awarded.
I was not a celebrity or a popular activist who knows senior officers.
I did not spend any time on the media or PR or things like that.
But my organisation Bachpan Bachao Andolan continued to free children.
The situation was difficult.
Just a year before the Nobel Prize was awarded, my people were attacked in Delhi as well as in the carpet industry of Mirzapur, Varanasi and Bhadoi or in Sivakasi in Tamil Nadu, where children make firecrackers.
In the remote parts of India, it is still dangerous. In Delhi, things have changed.
Every senior police officer as well as the Delhi high court and Supreme Courts judges know my name. That makes things easier.
The rescue missions shown are easier compared to the time before I was awarded the Nobel Prize.
When you were awarded the Nobel Prize, there were some voices -- organisations and individuals, maybe they were jealous of your global recognition -- but they made allegations that you were getting the award because you were had received Western funding.
Some people said you were shining the light on the ugly side of India. How do you respond to such critics?
First of all, I strongly believe in and practice the ethos of India, which is Vasudhaiva Kutumbakam.
I believe the entire world is one family.
I don't differentiate. I have worked in Pakistan, Nepal and India.
When I got the Nobel Prize, I was working across 144 countries.
No problem in the world can be solved in isolation, as everything is interconnected.
If a company is based out of Los Angeles, New York, London or Paris and if it is making money from the exploitation of children in India, Pakistan, Mexico or Sudan, we have to work with everyone.
Jahaan tak Nobel Prize ki baat hai woh itefaq sey ek Western country se diya jata hai (it is a coincidence that the Nobel Prize is given by a Western country).
I never cared for the criticism.
If the cry of my mother when I left my job or the cry of my family when I was attacked could not deter me, then such criticism has no impact on me.
After the Prize was given, some people in the international media said I had brought spotlight to India's child slavery. My response was that I had been working in all places where children are exploited.
India may be the land of hundreds of problems, but it is also the motherland of a billion solutions.
We have proven that whenever there are problems anywhere in the world, Indian culture and history shows some solutions.
How did you use the money you got from the Nobel Peace Prize?
When the Award was announced, I decided it was not my personal money.
I also said I would not spend it on my organisation.
Instead, I would use it for other organisations working for this cause. And that is how the money is being spent.
Itna paise maine zindagi main chua nahin tha, jitna us din mila (I had never touched so much money in my life).
Also, I didn't want to keep the medal at home. Mujhe woh ghamand nahin chahiye tha (I didn't want that arrogance).
I donated the medal to (then) President Pranab Mukherjee and it has been placed in the President's museum.
This prize does not belong to me alone. It belongs to every Indian and the nation.