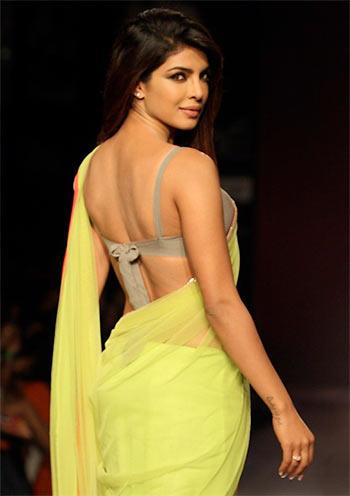 'You don't control who you love. Pyaar ho jaata hai. Decide thodi na karte hai isse pyaar karna hai. It just happens.'
'Bandisho mein hum bahut bandhe rahte hai. We have too many rules. We judge people too much. Society puts so much pressure.'
After Shah Rukh Khan, more love talk from Priyanka Chopra.
P Rajendran/Rediff.com in New York takes notes.
Priyanka Chopra was exhausted after a 7 am flight to New York. This, after finishing a day of seven scenes (of filming Quantico) in Canada.
"When you want global domination, you have to pay a price -- and I'm paying it," she says, with a laugh.
Priyanka was addressing the media during a promotional event for her big release, Bajirao Mastani. Of course, she's used to working long hours -- she flew down to Mumbai for a press conference for her film, spending 48 hours in flight just for it.
Her humour stays intact.
She mock complained about the weekends people enjoy in the US. "You're really spoiled, you have weekends. We even go to school on Saturday!" she exclaims.
The one thing she refuses to compromise on, she says, is Indian food, and a cook ensures she always gets it. ("Best after party food: Anda Paratha!").
She then gets down to business, and starts fielding questions about herself and her role as the rejected wife in Sanjay Leela Bhansali's Bajirao Mastani, a character that history forgot."
Your journey has been phenomenal -- from Bollywood to Hollywood, and Hollywood to Bollywood. What are the challenges you've faced so far?
There are challenges in everything that you do. I'm not looking for one country or two, I'm looking for global domination (laughs).
Seriously, it's never been a calculated plan for me. I'm a nomad army officer's daughter. I can adjust anywhere. So I go where my work takes me.
People always ask me where is home and I always say, 'a plane,' because, you know, when Bajirao releases I'm in India, when Quantico releases I'm in America.
My work dictates my life. It has since I was 17 years old, and I hope that it keeps taking me to fascinating new places.
Of course, the most challenging thing for me was from Hindi films -- I don't like calling it Bollywood -- to Quantico. The difference between movies and television was difficult for me.
I've been trained in one of the most prolific film industries in the world, so I had an edge over almost everybody. I knew what I was doing. I had to just go on sets and bang out the scenes.
But (the difference between) movies and television, nobody sent me that memo. I didn't know then that we shoot 16 hours a day and, like, nine scenes a day. That took a toll on me. But, besides that, it was super fun.
And I was shooting Bajiraoand Quantico together, so it was pretty schizophrenic.
This is a question to an army officer's daughter from a late army officer's wife. What would be your message to your younger you now?
That's a great question.
I think I would tell the younger me not to panic. I used to panic a lot as a kid because I started working when I was 17.
Do you remember yourself at 17? It was a lot of responsibility, you know, to arrive on film sets.
I didn't know what it was to be a professional actor. I did not know what it was to be a professional anything.
My acting career has been sort of my film school. I learned everything there.
So I think I would tell my younger self that as much as life is short, it's really long. You have enough time to savour and you don't have to know everything at that moment.
Life gives you the opportunity to be whoever you want to be as long as you are willing to work hard at identifying what you want to be. You shouldn't be afraid of hard work, and I think I never was afraid of hard work.
But I used to really get scared when I was put in situations I didn't know.
So I would tell myself that if you learn, if you're willing to acquire knowledge, you can do anything.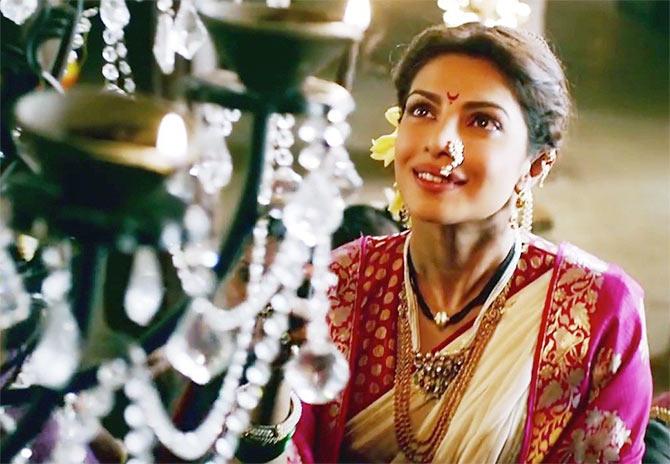 IMAGE: Priyanka in Bajirao Mastani.
Your character Kashibai, Bajirao's wife, was one of the figures in history that was forgotten. How important was it for you to get the details? How much research did you do?
This is a film Sanjay sir (Sanjay Leela Bhansali, director) has been wanting to make for almost 12 years. He's such a stickler for details that that part was taken care of for me.
I always play such badass stuff, like modern-day powerful characters, that to go into the body of someone who is like her (Kashibai) is, you know (pauses), heartbroken, a silent sufferer, dignified, resilient, can't take charge of her life, goes with whatever life throws her way... Just grace under fire, I guess.
I hadn't played characters like that, who is so gentle, fragile, and naive. I always played intelligent, smart, you know, ballsy girls. And Kashi wasn't that.
That was really hard for me. I don't know if I've pulled it off -- to have people believe that I can't take care of myself (laughs) because I kinda can. That was hard.
The outfits took me about four hours to get into because it was a 11-yard sari which has to be draped in a Brahmin Maharashtrian style, with a trail and everything. It used to take about to two hours to drape it. And standing there when someone's draping it is a lot!
The dialect wasn't even Marathi, it was a 500-year-old dialect, which none of us will know what it sounds like. We had a lot of dialect coaches. It's a Hindi film so it's obviously Hindi-spoken but I have a sort of Maharashtrian spoken lilt. All of those detailings were hard.
But more than anything, Kashi was emotionally difficult. I'm a very instinctive actor. I'm not method. I'm not someone who preps, someone who reads their lines. I come on set and it happens.
I let my instincts take control -- and I was all over the place with Kashi because the way I would react is probably the opposite of the way Kashi would react (laughs).
The film starts with me. It starts with my house, Shaniwarvada, which is Kashi and Bajirao's home. So the film started with me and they finished my bits by July. Then they did Deepika's (Padukone) parts because I had to travel for Quantico.
How would you describe Bajirao Mastani?
It's epic. That's the one way of explaining it. The scale is massive. The grandeur is massive. It's the forbidden story. And that's what's amazing.
It's not what the history books tell you. It's what happened in between the wars. What happened when Bajirao was at home. What happened when Kashibai was at home. What were they thinking. You know, the things the history books don't talk about. It's the imagination of the director, and the book on which it's based.
I think that's what is very fascinating for me -- that we've taken historical figures and told the story that no one knows or talks about.
Bajirao-Mastani's love story has been known for eons. It's the forbidden love story that's been never accepted.
We need to see Bajirao, but it apparently looks like it's going to overtake Dilwale.
I don't even want to encourage that (view) because I don't see both films as competing with each other. As much as people are trying to pit the films (against each other), you can't. I mean, come on, I want to watch both films!
What message did you take from this film, being Kashibai?
That you cannot force love, I think.
I was trying to understand what would someone's position be in this situation. None of them are wrong. You don't control who you love. Pyaar ho jaata hai (Love happens). Decide thodi na karte hai isse pyaar karna hai(You don't decide you're going to love). It just happens.
Bandisho mein hum bahut bandhe rahte hai (We get tied up by constraints). We have too many rules. We judge people too much. Society puts so much pressure.
This story is 500 years old. Obviously, it (an affair) was extremely forbidden. But grace in situations like this -- especially as a woman -- is very important, and that's what Kashi showed. She had dignity and self-respect. And she accepted the fact that she loves someone, and that person loves someone else, but she still can't stop loving him. It's so sad.
I took her home every day. Yes, the love story is about Bajirao and Mastani. That's what the film is. But Kashi is so pivotal. She's like a petal that somebody walked on, so gentle and fragile.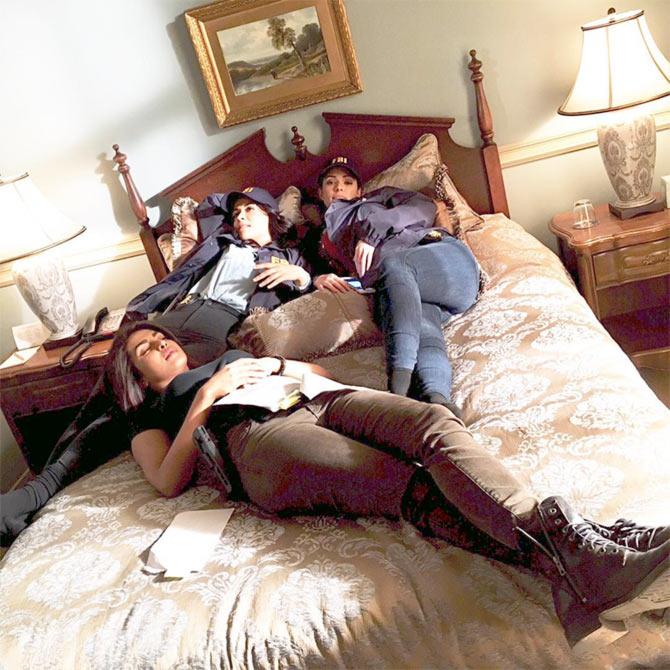 IMAGE: Priyanka takes a break on the sets of Quantico. Photograph: Priyanka Chopra/Instagram
You have constantly reinvented yourself, whether it's Mary Kom, Barfi!, Quantico... Does Kashi live up to that standard of reinvention to you?
For me, yes.
I don't know about you. When you watch the film, you can tell me.
I've never seen myself like that. First of all, I've never done a costume drama. I always wanted to do a period film, and doing one with Sanjay Leela Bhansali is even better. It's the icing on the cake. Plus to embody a character that has no reference.
That happened to me with Barfi! I had no reference to play Jhilmil. She was like nothing I had ever known. And Kashi is like nothing I've ever played before.
I like to play characters which I don't repeat because I think I've got ADD (Attention Deficit Disorder). I get bored very soon. I need to keep myself entertained, challenged. I always look for what next to do, how else to outdo myself.
What was preparing to play Kashi like?
Very difficult. I had to depend a lot on my director because he's done research for a decade. Nothing I could do could compare to that research. But being a modern-day girl, every time I used to enter the set, I felt like time travel happened.
I felt I was in a time machine because the sets were so beautiful and real and huge and we had our own rooms. We used to call my room Kashi Villa (laughs). It was a huge room.
How different is Kashi from the other roles you've done?
She's not empowered. She's just a housewife. She's the peshwinbai (the peshwa's wife) . She's the queen, not a warrior or a dancer. She takes care of the home and waits for her husband to come back from wars.
She's simple and ordinary.
When an ordinary person goes through so much pain, that journey becomes extraordinary. And to me, that's what happened with Kashi.
What are your views on women empowerment?
You know, women empowerment has become a (term) we've begun using without really knowing what it means. Like 'feminism,' you know.
Basically, women want to be treated and given opportunities that makes them the best that they can be.
For years, we've been told how to behave, what to say, what to wear, how we need to be. It's time you own whoever you are.
Most of the time -- and not just women -- (all) young people today are always trying to (meet local standards) because of peer pressure. It happened to me when I was in high school (in Bayside, Queens, New York). There was major pressure.
But I think you should be proud of who you are -- it's damn cool to be desi!
Secondly, all of us have flaws, no one is perfect. You should see my pictures from when I was 13. I've burned them all!
We're all super flawed but that's what makes us so unique. And that's what feminism stands for -- it's to own whoever you are, whatever you look like. Eventually we all have the same features; we just come from different countries.
We've started dividing ourselves too much, I think, as a world.
Since I've been in America, I did not know so many colours existed in human beings. I'd like to see the world as colour blind, you know.
I think we've forgotten humanity along the way. We've lost our perspective a little bit. Let's go back to seeing what humanity was rather than saying this is better. We're judging people so much.
For me that is what empowerment is. Whether it is woman or man, it doesn't matter.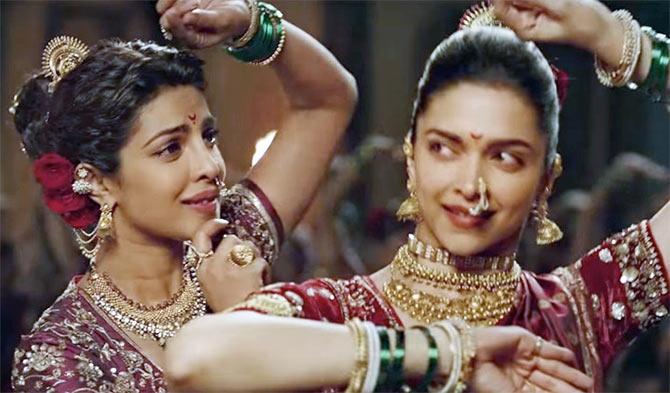 IMAGE: Priyanka and Deepika Padukone in Bajirao Mastani.
What was it like acting with Deepika Padukone?
I was super happy. I've known Deepika from before she joined the business. We had common friends. I've known her for a really long time. We've been friends before we became colleagues.
Ranveer (Singh, who plays Bajirao) and her are both great.
Ranveer and I have done three films together, so there's a huge comfort zone. I can bully him as much as I want. You know, I've been in the business longer.
Deepika and I used to gang up against him all the time. It was great fun.
She's a great girl, super talented, extremely beautiful. I could not have asked for a better partner.
I don't think anyone could be better than Ranveer and Deepika to play Bajirao and Mastani. They are carrying the movie, so it's very important that these two characters were correctly cast.
I remember I was the first one to be cast. There was so much deliberation in that office. I was doing Mary Kom at that time and I used to see (the cast) pictures changing every day and conversations about who could do what.